Skyweb Digital Media Named Commercial Distribution Partner for Wi3
Skyweb and Wi3 to Offer Revolutionary MoCA Compliant Wireless Access Point Over Existing Coax Cabling
(January 09, 2012)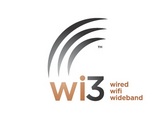 KENILWORTH, NJ -- (Marketwire) -- 01/09/12 -- Skyweb Digital Media announced today that the company has been named the Master Commercial Distributor partner for Wi3's newly developed "Media Social" ecosystem for the commercial vertical markets in the U.S. The featured product, WiPNET, delivers the speed and security of hardwired Ethernet connections to any television or room using existing coax cabling for instant, fast, easy and reliable networks. Skyweb, a national provider of satellite television services, will market the product to key partners and accounts serving the hospitality, sports stadium, higher education, healthcare, government and enterprise vertical markets.
"The T.V. everywhere age is upon us, linear or time shifted, the WiPNET product can turn any coax distribution system into a wideband wireless network with little reconfiguration and at an unbelievable cost," said Gregory Frasca, President of Skyweb Digital Media, which presently provides television service to thousands of commercial locations nationwide. "The timing of the marriage of this product and our client base couldn't be better to meet market demands for higher speed internet, closer to the edge device, over a client's existing, secure coax infrastructure."
The award-winning Wi3 platform makes media social by allowing many devices to access HD and rich media digital Web content at the same time, on the same hardwired network using existing coax cable infrastructure. This innovative application of MoCA technology, which layers Ethernet over the Satellite signal, eliminates the problem of network buffering caused when several devices are accessing the Web within the same environment.
"We're obviously excited about this unique partnership," said Wi3 CEO Bill Thompson. "With Skyweb's reputation bolstering our products, we're quite confident that we'll be able to help countless businesses expand their use and enjoyment of the new wave of digital entertainment now coming online across the country."
Wi3 uses a series of interchangeable cartridges that can accommodate an array of Web-ready devices. The platform automatically configures new devices to its "WiPNET" so device swapping is free of connection hassles. WiFi cartridge options are also available that eliminate the need for traditional wireless routers and signal repeaters, and allow for "barrier-free" wireless Internet access.
Wi3 cartridges are paired with "sleeves" that are inserted in-wall at the existing coax output, which allows the cartridge to replace the exterior wall plate. Wi3 offers an alternative "on-wall" surface mount option that is also designed to attach to VESA brackets, common to the majority of televisions sold today. A free-standing shelf and desk module will also be available soon.
About Skyweb Digital Media
Skyweb Digital Media is a leading provider of DIRECTV Commercial Satellite Television subscription services in the U.S. Since 1997 the company has provided service to many of the Fortune 500. In September 2011 the company merged with Distinct Holdings, parent company of Diversified Systems and Diversified Media Group. Through this merger the company is positioned with a unique infrastructure of Systems Integration, Network Operations, Digital Signage and Design/Build Service capabilities. www.skywebdigitalmedia.com
About Wi3
Established in 2008, Wi3 is a multiple award-winning leader in innovative home and commercial networking solutions with its MoCA-based patented products. Wi3's products include 2-port ethernet, WiFi, HDMI, thin client and energy management solutions as part of the company's sleeve and cartridge system, allowing for retrofitting installations, backwards compatibility and an easy to upgrade platform. The name Wi3 is derived from its three core technologies -- Wired, Wireless, Wideband. www.mywi3.com/
Media Contacts:
Olivia Parrilla
SkyWeb Digital Media
Tel: (732) 936-8360
Email: olivia.parrilla@skywebdigitalmedia.com

Tiffany Iwankiw
Max Borges Agency for Wi3
Tel: (305) 374-4404 x140
Email: tiffanyiwankiw@maxborgesagency.com


Copyright @ Marketwire
Page: 1
Related Keywords:
Wi3, Home, Internet, Networking, Security, Parents, WiFi, Web, Home Networks, WiFi Routers, Security, Education, Security, Networking, Internet, Business Issues, Security, Management, CEO/CFO, USA, Marketwire, , Sports, Television, Communications Technology, Internet Technology, Entertainment, Internet, Sports,
---