SiteGrinder 3 PSD to HTML Website Templates Now Available
Creating a Website in Photoshop Is Easy With SiteGrinder 3 Templates
(December 16, 2010)

LOGAN, UT -- (Marketwire) -- 12/16/10 -- Media Lab Inc., premier provider of Photoshop web plug-ins and PSD to HTML website editing software, announces that you can create a website in Photoshop even faster with Media Lab's new SiteGrinder 3 pre-hinted Photoshop templates. SiteGrinder 3 users will be able to immediately upload these website templates directly to their website hosting service and use SiteGrinder's built in Design Manager and CMS to modify the design, add and change content, add images, and even add or duplicate pages.
If you know Photoshop then you already know enough to start creating websites for yourself and your clients. Creating a website in photoshop is easy with SiteGrinder 3 certified pre-hinted PSD website templates. Now you can go directly to the web with your selected design saving even more time and money for yourself and your clients.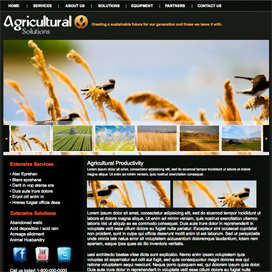 "SiteGrinder 3 pre-hinted PSD templates are a great way to speed your website development," said Cornel Pitica of TrendyTuts.com, "You start with a pre-developed web design, make any design edits you would like in Photoshop, run it though the SiteGrinder engine, and you have a full functioning standards compliant website just the way it was designed -- without any coding or slicing!"
How Does SiteGrinder Work?
SiteGrinder works by simply adding "hints" to layer and layer comp names to tell SiteGrinder how to code a layer into an HTML or CSS web component. SiteGrinder's intelligent engine can convert simple type layers into search-engine friendly menus that are dynamic and visually appealing. Image layers can also become buttons and menus. SiteGrinder's smart handling of slicing and image compression also gives the designer complete flexibility in customizing how SiteGrinder will optimize each layer. SiteGrinder uses Photoshop's "layer comps" feature to organize layers into beautiful web pages. Once the layers have been hinted and saved into hinted layer comps SiteGrinder will output a website that looks just like it was designed! As a bonus, the standards-compliant websites generated in SiteGrinder 3 can be put through XHTML validators and pass without error. This means that any SiteGrinder website can be modified by any CSS/XHTML web design program, such as Adobe Dreamweaver.
"Our customers have been asking for pre-hinted Photoshop templates for a while now to help them further speed the development of their websites," said Michael D. Nelson, COO of Media Lab. "We also see this as a great way for SiteGrinder 3 developers to display their skills and earn extra income by submitting web designs to Media Lab for resale."
Photoshop website Templates
SiteGrinder 3 Photoshop web Templates sell for $147 for a multi-page site. All SiteGrinder templates are pre-hinted and certified for seamless operation with the SiteGrinder 3 Photoshop plug-in.
Media Lab is accepting submissions for pre-hinted or un-hinted PSD website templates at [email protected]. Media Lab requires that all designs and images contained in the design are original work of the submitter and carry no encumbrances of any kind.
Requirements
SiteGinder 3 Compatibility
On the PC, SiteGrinder 3 is compatible with Windows XP and later, including Windows 7. It requires Photoshop 7 or later including the latest Photoshop CS5, or Photoshop Elements 6, 7, 8 and 9. On the Mac, SiteGrinder 3 is compatible with Mac OS X 10.1 or greater, Photoshop CS3, CS4 or CS5 (Mac OS X 10.4 or later for the Intel-based Mac), or Photoshop Elements 6, 7, 8 and 9. Websites created using SiteGrinder 3 are compatible with all popular web browsers including the iPad, iPhone and iPod touch. Visit www.medialab.com for complete details and to download your copy of SiteGrinder 3.
About Media Lab, Inc.
For over a decade, Logan, Utah-Based Media Lab, Inc. has specialized in creating interactive Photoshop tools that make it easy to bring amazing web designs to life. In addition to its flagship product SiteGrinder 3, Media Lab's SiteGrinder 2 has also enjoyed an array of favorable reviews and accolades since it debuted in April 2000 under the name of Photowebber. Prior to the release of Photowebber, Media Lab's innovative multimedia design tools, PhotoCaster, PSD2FLA, and AlphaMania, were used to create pioneering special effects seen at Disney World's EPCOT Center in Florida, as well as in numerous popular music videos and motion pictures, such as "X-Men 2," "Spiderman 2," "Air Force One," and "Armageddon." For complete information on Media Lab, Inc. and its current products, visit www.medialab.com.
Image Available: http://www2.marketwire.com/mw/frame_mw?attachid=1455298

Add to Digg Bookmark with del.icio.us Add to Newsvine
Media Lab, Inc.
801-660-1040
Email Contact


Copyright @ Marketwire
Page: 1
Related Keywords:
SiteGrinder, Photoshop Template, PSD to HTML, CSS Websites, PSD to CSS, CMS, PSD Website Template , Graphics Designer, Web Designers, Multimedia, Graphics, Display, Design, Graphics/Design, Design, Interactive/Multimedia, OS (Operating System), Windows, Mac, WinXP, OS9, OSX, Marketwire, Inc., Apple Computer, Music, Internet Technology, Browsers,
---