Simplee Launches First Error Detection System for Medical Bills
Simplee Tracks for Errors & Suggests Ways to Save to Help Consumers Better Manage Time, Money and Stress of Medical Bills
(June 20, 2012)

PALO ALTO, CA -- (Marketwire) -- 06/20/12 -- Simplee today unveiled the first completely automated error detection system for medical bills as part of its mission to help consumers reduce the cost and hassle of health care while maximizing their health plan benefits.
It is estimated that 40(1)-80(2)% of medical bills contain errors, exposing Americans to millions of dollars in improper billings every year. According to Kaiser Health News, almost $68 billion in health care spending is lost to fraud and billing mistakes every year(3).
The new Simplee system automatically scans all member explanation of benefit (EOB) statements, using a simple red, orange and green color-coded system to communicate when it has identified an error, an issue that requires further explanation, or a money-saving opportunity. It is seamlessly integrated within the Simplee medical expense management platform and is available to all members.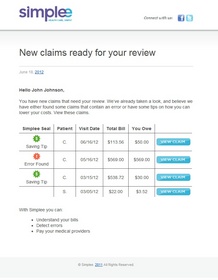 "Consumers tell us that they are frustrated by complex and confusing medical bills that make it difficult to tell if a bill is accurate or reasonable, or even if they could have saved money. They feel that they are at the mercy of insurers and providers," said Tomer Shoval, co-founder and CEO of Simplee. "Simplee relieves some of this pressure by giving them control over the medical billing process -- making it easy to manage health plans and expenses while instantly identifying potential billing errors and future money-saving strategies."
Simplee Saved Craig Luchtefeld $968
Using Simplee, Craig Luchtefeld discovered that his insurer had mistakenly charged him out-of-network rates for a procedure that by law should have been covered at in-network rates. By contacting his insurer, he was refunded $968 on a single inaccurate medical bill.
Unfortunately, the limitations of the insurer's billing system have caused this error to repeatedly occur. Now, Mr. Luchtefeld uses Simplee to help him scan all bills and automatically identify errors so he can pursue an adjustment when necessary.
"Simplee helped me quickly identify and resolve an error I would have normally missed because EOBs are too confusing and time-consuming to decipher without help," explained Mr. Luchtefeld. "I rely on Simplee to validate all the claims from my insurer now before I pay them."
How it Works
Simplee tracks all communications from health insurers to help members better organize, review and manage their health care financials. Simplee then identifies some of the most common types of billing issues based on the nearly half a billion dollars in member medical visits managed by Simplee. These issues fall into three basic color-coded categories:
Error (red): Simplee tracks for known and possible errors to identify inaccuracies or call attention to claims that should be reviewed further;
Needs Review (orange): Simplee highlights problems with claims that should be reviewed or helps to clarify charges and coverage decisions;
Savings Tip (green): Simplee identifies future strategies that might save members money on medical procedures or providers.
When one of these three issues is detected, Simplee notifies a member via email and through the Simplee online dashboard. Each code also generates a next step recommendation for members, including the best way to contact an insurer.
"This is a completely unique service that will continue to evolve and expand along with our members' needs," said Shoval. "Simplee's goal is to help consumers take a more active, engaged role in managing their healthcare that will ultimately result in a deeper understanding of their bills and a reduced cost of care."
For a list of the most common errors, insights and savings tips offered by Simplee, please contact a Simplee communications representative. For more information on Simplee and how to take control of your health care expenses please visit http://www.simplee.com.
About Simplee
Simplee is a privately held company that empowers consumers to take control of their health care expenses. The free, web-based service helps users better understand and manage their health care expenses, and identify ways to save money and find better care at lower costs through an easy-to-use, simple dashboard with a set of powerful customization tools. The company is located in Palo Alto, California, and maintains a development center in Israel. For more information visit: http://www.simplee.com.
(1) Stephen Parente at University of Minnesota, http://www.fiercehealthfinance.com/story/hospital-payer-billing-errors-abound/2012-05-07
(2) Medical Billing Advocates of America, http://www.billadvocates.com/index.php?option=com_easyblog&view=entry&id=21&Itemid=131
(3) Kaiser Health News' Daily Report, http://www.kaiserhealthnews.org/daily-reports/2010/april/05/health-care-billing-errors.aspx
Image Available: http://www2.marketwire.com/mw/frame_mw?attachid=2017743

Add to Digg Bookmark with del.icio.us Add to Newsvine
Press Contact:
Michael Azzano
Cosmo PR
415/596-1978
Email Contact


Copyright @ Marketwire
Page: 1
Related Keywords:
Simplee, Israel, Marketwire, Medical, Email,
---