Silicon Valley's Cupertino Inn Supports Tech-Savvy Business Travelers With Uninterrupted Wi-Fi From Meru Networks
Boutique Hotel Goes From Complaints to Compliments on Guest Wi-Fi in Weeks
(January 14, 2014)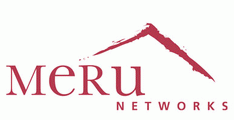 SUNNYVALE, CA -- (Marketwired) -- 01/14/14 -- Meru Networks® (NASDAQ: MERU), a leader in Wi-Fi networking, today announced that The Cupertino Inn has deployed a Meru Virtualized Wireless LAN to deliver uninterrupted service across its 128 guest and meeting rooms. After a series of inadequate solutions proffered by other vendors, the Inn, located across the street from the Apple® headquarters and highly trafficked by employees and visitors from Apple, Google®, Yahoo !® and others, switched to Meru and was finally able to deliver consistent, reliable connectivity in a very high-density mobile environment. The hotel's Wi-Fi network is now the source of compliments and has helped the hotel increase guest satisfaction and bookings.
"In the past, we had people check out of the hotel and tell us that they love the hotel, but they couldn't stay here anymore because of the low-quality Internet access. Now we have Yelp reviews about the quality of our Wi-Fi and Internet," says Barbara Perzigian, general manager of the Cupertino Inn. "Once the Meru network was deployed and everyone realized how good it was, word spread quickly. As a family-owned and operated hotel, when people tell us that our Wi-Fi is the best, they're telling us that Cupertino Inn is better than the big chain hotels."
The architectural design of Cupertino Inn was the first hurdle in deploying high-performance Wi-Fi. The Silicon Valley hotel, with a decentralized floor plan and multiple buildings, has long been popular among tech-savvy business travelers who commonly use multiple mobile devices and work from their rooms. In addition to supporting as many as 500 mobile devices at a time, the Wi-Fi has to support bandwidth-hungry applications like voice and videoconferences as well as heavy usage of email, enterprise applications and Web access. Cupertino Inn selected Meru for its high-density device support as well as for the ease of deployment and management enabled by the single-channel, Virtual Cell deployment option of the MobileFLEX architecture. The hotel's reservation manager maintains the wireless LAN for the property.
"Cupertino Inn is a four-star example of smaller hotels' ability to cost-effectively offer the most in-demand amenity -- uninterrupted Wi-Fi service," said Srinath Sarang, co-founder and general manager of the hospitality and entertainment business unit at Meru. "The ease of use of Meru's solution gives hotels both large and small the ability to meet business and leisure travelers escalating need for Wi-Fi in their rooms and in conference spaces."
Additional information about the Meru Uninterrupted Service solution for hospitality is available here: http://www.merunetworks.com/industries/hospitality.html
About Meru Networks
Meru Networks (NASDAQ: MERU) is a market leader in the development of mobile access and virtualized Wi-Fi solutions. Meru's MobileFLEX wireless architecture addresses the ever-growing need for higher bandwidth and higher client densities. The Meru Identity Manager solution greatly simplifies secure device on-boarding and the company's unique Context-aware Application Layers enable dedicated channel assignments for specific applications, devices and usage scenarios. Meru customers include Fortune 500 businesses as well as leaders in education, healthcare and hospitality. Founded in 2002, Meru is headquartered in Sunnyvale, Calif., with operations in North America, Europe, the Middle East, Asia Pacific and Japan. Visit www.merunetworks.com or call (408) 215-5300 for more information.
©2014 Meru Networks. Meru and Meru Networks are registered trademarks and the Meru logo is a trademark of Meru Networks, Inc. in the United States. All other trademarks mentioned in this document are the property of their respective owners. Apple is a trademark of Apple Inc., registered in the U.S. and other countries. Google is a registered trademark of Google Inc. Yahoo ! is the trademark and/or registered trademark of Yahoo!
Press Contact
Wilson Craig
Director of Public Relations
Meru Networks
+1 408 516 6182
wcraig@merunetworks.com


Copyright @ Marketwire
Page: 1
Related Keywords:
Applications, Public Relations, Education, Productivity Applications, Networking, Internet, Software Development, Other Applications, Connectivity, Wireless, Architecture, Internet Server Applications, E-mail, Management, USA, Japan, Marketwire, Inc., IT (Information Technology), Enterprise Applications, Networking, Apple Computer, Internet Technology, Business, Entertainment, Internet, Email, middle east, Other,
---