Show Mom You Were Really Listening This Mother's Day With a Gift That Gives Back
MyInchofTheEarth.com Helps People Capture Life's Meaningful Places, Share Stories and Create Memorials, All While Supporting Global Causes and Nonprofit Organizations
(May 04, 2012)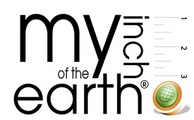 MADISON HEIGHTS, MI -- (Marketwire) -- 05/04/12 -- Mother's Day is the one time of year when children of all ages honor their mothers and other significant women in their lives; the ones who show them how to love and enjoy life, and who teach the importance of sharing, giving back, doing good deeds and helping others. This Mother's Day, MyInchofTheEarth.com invites people to show their mothers that they were really listening by giving a gift that gives back in a variety of ways.
At MyInchofTheEarth.com, anyone can claim a virtual piece of the earth or ocean that has significant meaning to them and the women in their lives. Using stories and images, they can share why the location is important to them. The pictures and memories are preserved on the MyInchofTheEarth.com map, creating an interactive, global quilt of fun and fond memories for the world to share. The gift is affordable -- inches can be claimed for $1 a month per inch (paid annually) -- and proceeds support one of several causes or organizations, including The Pink Fund, which provides short-term financial aid to individuals who are in active treatment for and recovery from breast cancer. Those claiming the inches can print and give a personalized GoodDEED™, with a special design choice just in time for Mother's Day.
"Every memory is associated with a place," said Michele Favoretto, president of TerraYebo and creator of MyInchofTheEarth.com. "Remember the park where mom took you to play? Remember where grandma took you for ice cream? Remember the long walks on the beach talking and collecting seashells? Or any crazy family story that makes you laugh no matter how often it's told? Now, you can claim these places; preserve and share the memories; and give a personalized gift while supporting organizations that are changing the world; a gift that is fun for you and good for everyone."
My Inch of The Earth® is a web application that connects people around common interests and converts the sharing of everyday life experiences into social acts for global good. MyInchofTheEarth.com is also a social fundraising platform that helps nonprofits to launch and manage fundraising campaigns. The software is free for these organizations at start-up and to use, and includes tools to help them support their donor bases. Nonprofit organizations can learn more at www.MyInchofTheEarth.com or by contacting 248.677.5581.
About TerraYebo
TerraYebo, Inc. is a Michigan-based technology company and social enterprise, creating web and mobile solutions designed to generate user interest, educational insights and connect people to global causes and preservation organizations. My Inch of The Earth® is a patent-pending web application and social fundraising platform that connects people around common interests and converts the sharing of everyday life experiences into social acts for global good. For more information, visit www.TerraYebo.com or www.MyInchoftheEarth.com.
Add to Digg Bookmark with del.icio.us Add to Newsvine
Media Contact:
Kevin Wilson
Email Contact
513-898-1008


Copyright @ Marketwire
Page: 1
Related Keywords:
social fundraising, mothers day, mothers day gift, good deeds, pink fund, fundraising, fundraiser idea, Marketwire, Inc., , Financial, Internet Technology, Cancer, Family, Children, Other, Women,
---