Shareable Ink Gains Competitive Edge With Pentaho Big Data
Healthcare Enterprise Cloud Computing Provider Incorporates Pentaho Business Analytics to Operationalize Unstructured Data
(February 29, 2012)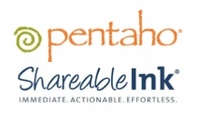 SANTA CLARA, CA -- (Marketwire) -- 02/29/12 -- Strata Conference -- Delivering the future of business analytics, Pentaho Corporation today announced that Shareable Ink®, an enterprise cloud computing provider that transforms paper documentation to structured data, has incorporated Pentaho Business Analytics to help create an innovative big data analytics platform for healthcare. Shareable Ink Analytics extracts clinical and operational data that originates from natural input tools such as iPads and digital pens, and visualizes it into dashboards and drill-down analyses and reports.
Shareable Ink enables healthcare organizations to distill valuable clinical data that has never-before been digitized and to incorporate analysis into daily operations and workflows. A common use case for Shareable Ink Analytics is the need to instantly review, report, and manage real-time performance, compliance, and efficiency metrics, such as SCIP (Surgical Care Improvement Project) measures, anesthesia turnover times, and on-time case starts. Instead of customizing data management and analytics for every hospital or healthcare organization, Shareable Ink lowers IT infrastructure costs by creating a common data store, analytics and reporting platform for all its end customers -- regardless of the type, shape, and format of data they use.
"We wanted to spend time creating an innovative platform that was distinctly valuable to our audience and not spend time re-inventing in-house big data analytics functionality," said Gerry Andrady, vice president of product management, Shareable Ink. "Pentaho Business Analytics provides a cloud-based analytical platform to extract, prepare and analyze loosely structured data, helping Shareable Ink to provide visualizations and sharing of this free-form healthcare information to a large population of healthcare users such as doctors, nurses, and administrative staff."
"By pairing Shareable Ink with Pentaho, information can automatically be recorded, accessed, analyzed and visualized in reports and dashboards in as little as five minutes," said Richard Daley, founder and chief strategy officer, Pentaho. "Built for the future of analytics, Pentaho's easily embeddable platform allows companies such as Shareable Ink to cost-effectively deploy a big data solution that is efficient, fast and scalable."
About Shareable Ink
Shareable Ink helps healthcare organizations of all sizes transition to electronic health records without disruption to workflow or burdensome IT projects. Its enterprise cloud-based platform incorporates natural input tools, including iPads and digital pen and paper technology featuring Anoto functionality. The resulting structured and clinically-encoded output populates the EHR with discrete data, as if typed in directly. Built-in analytics give hospitals and practices insight into their operations -- from a clinical, quality and efficiency standpoint -- all previously inaccessible from traditional paper records. For additional information, visit www.shareableink.com.
About Pentaho Corporation
Pentaho is building the future of business analytics. Pentaho's open source heritage drives our continued innovation in a modern, integrated, embeddable platform built for the future of analytics, including diverse and big data requirements. Powerful business analytics are made easy with Pentaho's cost-effective suite for data access, visualization, integration, analysis and mining. For a free evaluation, download Pentaho Business Analytics at www.pentaho.com/get-started.
Add to Digg Bookmark with del.icio.us Add to Newsvine
Copyright @ Marketwire
Page: 1
Related Keywords:
Pentaho Corporation, Marketwire, ,Healthcare,Hospitals,Medical,Business,
---