Seven Arts and Prodigy Pictures Announce Lorenzo di Bonaventura to Join Production Team of "Neuromancer"
(April 30, 2012)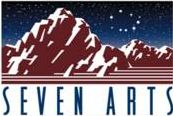 HOLLYWOOD, CA -- (Marketwire) -- 04/30/12 -- Seven Arts Entertainment Inc. (NASDAQ: SAPX) ("Seven Arts") and Prodigy Pictures ("Prodigy") announced today that Seven Arts has executed an agreement with di Bonaventura Pictures for the services of Lorenzo di Bonaventura. Di Bonaventura and his producing partner, Mark Vahradian, along with Prodigy's Jay Firestone and Vincenzo Natali's partner, Steve Hoban, will produce the highly anticipated feature film "Neuromancer," which is based on the best selling novel of the same name by William Gibson. "Neuromancer" is to be directed by Vincenzo Natali.
During his tenure as a senior production executive at Warner Bros., Lorenzo di Bonaventura, among other accomplishments, discovered and shepherded the production of "The Matrix" and "Harry Potter" series of films. His production company, di Bonaventura Pictures, is currently based at Paramount Pictures and is responsible for producing the "Transformers" series of films, "G.I. Joe," "Salt," "Red," and the recently released "The Devil Inside" and "Man On A Ledge."
Natali's credits include "Splice," starring Adrien Brody and Sarah Polley, as well as the cult psychological thriller "Cube." "Splice" was released in thousands of theaters nationwide by Warner Bros., following a sensational debut at the Sundance Film Festival.
Published in 1984, "Neuromancer" was the first winner of the science fiction "triple crown," receiving the prestigious Nebula Award, Philip K. Dick Award and the Hugo Award. "Neuromancer" was also listed on Time magazine's list of 100 best English-language novels written since 1923. By 2007, William Gibson's archetypal cyberpunk novel had sold more than 6.5 million copies worldwide.
"Neuromancer" will be produced as a UK-Canadian-Hungarian co-production by Neuromancer Productions UK Limited (an affiliate of Seven Arts and GFM Films LLP) in the UK, Pioneer Pictures KFT in Hungary and an affiliate of Prodigy in Canada. Shooting on the $60m budget feature is planned for later this year, with anticipated distribution ready for the autumn of 2013.
GFM Films LLP, Seven Arts' joint venture partner, and Jon Levin at CAA were both instrumental in securing the deal with di Bonaventura and his producing partner, Mark Vahradian.
Peter Hoffman, CEO of Seven Arts, commented, "Jay and I are thrilled that two of the most successful and talented producers in the industry have joined our most important project. Lorenzo and Mark will also join with Vincenzo Natali, our very talented director, in bringing to the screen the incredible vision of William Gibson."
Jay Firestone commented "Lorenzo and Mark bring a wealth of success and experience to this project. Having them on board solidifies a strong and creative team that is dedicated to producing the groundbreaking and thought provoking cult classic that is 'Neuromancer.'"
Guy Collins, Partner in GFM, commented, "It is a great plus for 'Neuromancer' that has been developed with such passion and commitment by Peter, Vincenzo and Jay to have Lorenzo and Mark taking the production helm. Their knowledge of this genre and success in production augurs well for the movie and all our distribution partners who have already joined the film."
About Seven Arts: Seven Arts Entertainment Inc. is the successor to Seven Arts Pictures Plc, which was founded in 2002 as an independent motion picture production and distribution company engaged in the development, acquisition, financing, production, and licensing of theatrical motion pictures for exhibition in domestic (i.e., the United States and Canada) and foreign theatrical markets, and for subsequent worldwide release in other forms of media, including home video and pay and free television.
About Prodigy Pictures: Founded in 2006 by Jay Firestone, Prodigy Pictures leads the way in the production of quality film, television, and cross-platform media. Prodigy is responsible for the critically acclaimed television series "Lost Girl," which has electrified viewers around the world and is currently in production on its third season in Toronto. In January 2012, "Lost Girl" made its highly successful U.S. broadcast debut on Syfy channel and will begin airing season two on Syfy in April. Also in production is "XIII.2," the second season of the Canada-France coproduction and international success, "XIII: The Series." Prodigy's other credits include the critically acclaimed feature "Stuck" and the television mini-series "XIII," broadcast on NBC. The company has several feature film and television projects in development, including William Gibson's "Neuromancer" and "Weapon," in partnership with Studio 37.
About di Bonaventura Pictures: Formed by Lorenzo di Bonaventura in January 2003, di Bonaventura Pictures is based at Paramount Pictures. Most recently di Bonaventura Pictures has produced the box-office hits "Transformers," "Transformers: Revenge Of The Fallen" and "Transformers: Dark of the Moon," all directed by Michael Bay and starring Shia LaBeouf; "Shooter," directed by Antoine Fuqua and starring Mark Wahlberg; the big screen adaption of the popular comic book, "G.I. Joe: Rise Of The Cobra" and its forthcoming sequel "G.I. Joe: Retaliation;" the espionage thriller "Salt" for Sony Pictures and starring Angelina Jolie; Summit Entertainment's "Red," an espionage thriller based on the graphic novel by Warren Ellis starring Bruce Willis, Morgan Freeman and Helen Mirren; the sleeper hit "The Devil Inside;" and "Man On A Ledge," starring Sam Worthington. Upcoming productions include "The Last Stand" starring Arnold Schwarzenegger for Lionsgate; "The Bitter Pill," directed by Steven Soderbergh and starring Rooney Mara, Jude Law and Channing Tatum; the film adaptation of John Grisham's "The Associate," directed by Adrian Lyne; the sequel to 2010's "Red," starring Bruce Willis; "Asteroids," based on the 1980s Atari videogame for Universal Pictures; the live-action feature "Lion, Tigers and Bear," based on the Mike Bullock comic book series for Paramount Pictures; and the crime thriller "Delivering Gen." The company is also developing a series of feature films based on Michael Scott's young-adult fantasy novels "The Secrets of the Immortal Nicholas Flamel." In 2011, the company branched into television production with the formation of di Bonaventura Pictures Television. Based at ABC Studios, di Bonaventura Pictures Television is currently developing the comedies "The Wonderful Women of Will's World," about a charismatic man who tries to juggle life with his two ex-wives, his new younger wife and his three children, and "Blondie & Clyde," a modern-day "Laverne & Shirley" about two women with big-town dreams who live in small-town Iowa; and several yet to be titled dramas.
Cautionary Information Regarding Forward-Looking Statements: Forward-looking statements contained in this press release are made under the Safe Harbor Provision of the Private Securities Litigation Reform Act of 1995. Any such statements are subject to risks and uncertainties that could cause actual results to differ materially from the anticipated.
Contact:

Peter Hoffman
Seven Arts Entertainment Inc.
323-372-3080
[email protected]


Copyright @ Marketwire
Page: 1
Related Keywords:
Seven Arts Entertainment Inc., Camera/Film, Broadcast Technology, Broadcast, Canada, Hungary, USA, Toronto, Marketwire, Inc., , Sony, Theaters, Film, Television, Lifestyle, Entertainment, Science, Children, Other, Women,
---