Seven Arts Entertainment Releases DJ Lade's Debut Single
(April 25, 2012)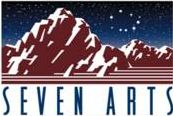 LOS ANGELES, CA -- (Marketwire) -- 04/25/12 -- Seven Arts Entertainment Inc. (NASDAQ: SAPX) announced today that it has released the debut single by production artist, DJ Lade. The single can be purchased via iTunes, or most major online music retailers.
Recognized as one of the few New York City DJs who spins in a more traditional and musical style (without benefit of a computer or software), DJ Lade has set his sights on expanding his reach to other cities and countries. As a result of the recent Ultra Music festival in Miami, he is now collaborating with several top European DJs.
"His live energy and superb production abilities ensure that DJ Lade's mission to exist as one of the top electronic producers and DJs is nothing short of inevitable," said Jake Shapiro, founder of Big Jake Music, a subsidiary of Seven Arts.
DJ Lade added: "I'm really excited to be a part of the Seven Arts and Big Jake team. This release is just the beginning of what will be an exciting relationship, and I look forward to bringing innovative dance music to larger and larger audiences."
About Seven Arts Music:
Seven Arts Music intends to develop new talent and label-establishing artists in the genres of hip hop, R&B, pop, dance and rock. David Michery's prominent career includes the production of numerous platinum albums and an executive role as Head of Urban Music for All American Communication, d/b/a Scotti Bros. Records, A&R for MCA Records and Zoo/BMG, and founder of Breakaway Entertainment and American Music Corporation.
About Seven Arts Entertainment Inc.:
Seven Arts Entertainment Inc. is the successor to Seven Arts Pictures Plc, which was founded in 2002 as an independent motion picture production and distribution company engaged in the development, acquisition, financing, production and licensing of theatrical motion pictures for exhibition in domestic (i.e., the United States and Canada) and foreign theatrical markets, and for subsequent worldwide release in other forms of media, including home video and pay and free television.
Cautionary Information Regarding Forward-Looking Statements.
Forward-looking statements contained in this press release are made under the Safe Harbor Provision of the Private Securities Litigation Reform Act of 1995. Any such statements are subject to risks and uncertainties that could cause actual results to differ materially from the anticipated.
Contact:

Seven Arts Entertainment Inc.
Peter Hoffman
323-273-3080
[email protected]


Copyright @ Marketwire
Page: 1
Related Keywords:
Seven Arts Entertainment Inc., USA,Marketwire, Inc., ,Television,Music,Entertainment,Other,
---