Seven Arts Entertainment Inc. Announces Third Quarter Fiscal 2012 Financial Results and Release of DMX Singles and Albums; Seven Arts Also Addresses Recent Stock Issues and Trading of Common Stock
(May 21, 2012)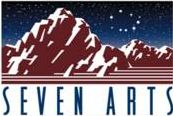 LOS ANGELES, CA -- (Marketwire) -- 05/21/12 -- Seven Arts Entertainment Inc. (NASDAQ: SAPX) announces its financial results for its fiscal 2012 third quarter and nine months ended March 31, 2012. Year-over-year comparisons refer to results from the Company's listing predecessor, Seven Arts Pictures PLC. Effective August 31, 2011, the Company became a fully reporting United States issuer upon the transfer of the predecessor's NASDAQ listing.
Financial highlights for the third quarter include:
Revenues were $188,000 for the quarter compared with $273,000 in the year-ago third quarter as there were no new releases in the 2012 period, the majority of the income being for the films "The Pool Boys" and "Nine Miles Down."
Gross profit was negative during the quarter as the Company amortized 100% of the revenue achieved and utilized certain media credits for the first time for the release of "The Pool Boys."
G & A costs in the quarter were skewed by the set-up costs of the music division ($279,000) being charged to Profit and Loss; otherwise, there would have been a reduction compared to the previous year's quarter as certain legal costs were assumed by PLC -- those costs were related to PLC liabilities and the expenses related to the cost of equity being raised were reflected as a reduction of proceeds versus legal expense.
Net loss was $(1,586,000) or $(0.05) per share compared with a net loss of $(973,000) or $(0.57) per share in the year-ago third quarter.
Production debt decreased to $4,921,000 at March 31, 2012, from $10,890,000 at June 30, 2011.
$1,200,000 of existing Other Loans were paid or converted to equity since June 30, 2011. $1,500,000 of new convertible loans were taken out in the March 2012 quarter as the Company began gearing up for the production of "Neuromancer" and "Winter Queen" and the launch of the music company.
Stockholders' equity improved to $25 million (excluding the positive effect of an additional $1.3 million of debt conversions post quarter-end) compared with $8 million at June 30, 2011.
19,300,000 shares were issued in the March 2012 quarter that retired $2,200,000 of debt and $1,100,000 of other liabilities and raised $600,000 of equity investments (restricted stock).
Film project development and creative highlights for the third quarter include:
Completed the formation of Seven Arts Music Inc.
Release of multi-platinum artist DMX's single "I Don't Dance" and DMX's music video on "I Don't Dance."
Scheduled release of DMX's album "Undisputed" for August 28, 2012 and the next two singles "Time To Get Paid" and "I Got Scared" in the next six months.
Executed agreement with leading film producer Lorenzo di Bonaventura for the Company's $60 million production of "Neuromancer" scheduled for commencement of principal photography for next fiscal year.
Peter Hoffman, Chief Executive Officer of Seven Arts, said,
"Seven Arts had little revenue in this quarter as 'Pool Boys' was released in the first quarter and the release of 'Drunkboat' and 'Nine Miles Down' is scheduled for early next fiscal year. We expect our first revenues from our new music subsidiary will be in the fourth quarter. We also expect substantial revenues upon placing our affiliated production and post-production facility in New Orleans in service in the fourth quarter. We have continued our program of debt reduction and have reduced film and production loans by $6 million to under $5 million and reduced our other liabilities (accounts payable, accruals, participations and other loans) by a net $2.2 million to under $6.6 million from the amounts at our last year end. Our overhead expenses included organizational costs of the music company but otherwise would have been substantially below the prior year's quarter. Stockholder equity continued to increase to $25 million in our Third Quarter based on debt converted in the quarter. We continue on the business plan as outlined in our earlier communications with stockholders and are optimistic about our prospects."
DMX Single and Mix Tape Release
The Company recently commenced its major marketing campaign for the DMX single and video, "I Don't Dance," with encouraging results. Radio airplay is impacting now and building significant rotation daily. Digital sales of the single have exceeded expectations at this early stage. We expect a major jump in digital sales with the spike in radio rotation. The video of "I Don't Dance" is slated to be aired within the next 7 days on MTV, BET and Fuse, with live appearances by DMX on MTV and BET.
In addition, DMX privately offered a digital DMX mix tape entitled "The Weigh In" as part of the Company's promotional campaign for the album, "Undisputed," featuring Lil Wayne, Dr. Dre, Snoop Dog and Tyrese. "The Weigh In" was released on May 15, 2012 after being featured on MTV, VH-1 and BET. Through close of business on May 17, 2012, 2,045 "downloads" of this mix tape have been reported, demonstrating, in the Company's opinion, strong consumer interest in DMX. As MTV stated on its cover: "The Grand Champion is Back." Below are the links to the MTV clip and Live interview:
http://www.mtv.com/news/articles/1685181/dmx-the-weigh-in-ep.jhtml
Highly respected and popular Hip-Hop blog hiphopdx.com just posted their top 10 Hip-Hop singles of the week and rated the DMX single with Dr. Dre & Snoop the number 1 single.
Recent Stock Issues and Trading in the Company's Common Stock
Since March 31, 2012 to May 10, 2012 the Company issued approximately 26 million new shares of common stock as part of its program of reducing debt and increasing stockholders' equity. Aggregate production loans are now only $4 million, other debt has been reduced by $0.3 million and $0.5 million of music company overhead has been cleared. The Company's balance sheet has never been stronger and the Company's book value per share remains above five times the quoted market price.
In the opinion of management, the trading volume in the Company's common stock is far in excess of the new shares issued in the last three months. Management believes the high trading volume and the pricing activity in the Company's common stock represents short-term trading strategies or other forms of market activity unrelated to the Company's business or prospects.
About Seven Arts
Seven Arts Entertainment Inc.'s listing predecessor was founded in 2002 as an independent motion picture production and distribution company engaged in the development, acquisition, financing, production, and licensing of theatrical motion pictures for exhibition in domestic (i.e., the United States and Canada) and foreign theatrical markets, and for subsequent worldwide release in other forms of media, including home video and pay and free television.
About Seven Arts Music
Seven Arts Music intends to develop new talent and label-establishing artists in the genres of hip hop, R&B, pop, dance and rock. David Michery's prominent career includes the production of numerous platinum albums and an executive role as Head of Urban Music for All American Communication, d/b/a Scotti Bros. Records, A&R for MCA Records and Zoo/BMG, and founder of Breakaway Entertainment and American Music Corporation.
Seven Arts Entertainment Inc. Summary Data Table Three Months Three Months Ended Ended March 31, March 31, 2012 2011 (*) ------------- ------------- Total Revenue $ 187,793 $ 272,703 Cost of Revenue $ 448,931 $ 542,206 Gross Profit $ (261,138) $ (269,503) Operating Expenses $ 610,378 $ 663,085 Income (Loss) from Operations $ (871,516) $ (932,588) Net Interest Expense $ (744,469) $ (40,446) Income (Loss) Before Taxes $ (1,585,789) $ (973,034) Provision for Taxes $ 0 $ 0 Foreign Exchange Translation Gain (Loss) $ 0 $ 0 Net Income (Loss) $ (1,585,789) (973,034) Weighted Average Common Shares Used in Earnings/(Loss) per Share Calculation: Basic 30,421,315 1,717,451 Diluted 30,421,315 1,717,451 Earnings/(Loss) per Share - Basic $ (0.05) $ (0.57) Earnings/(Loss) per Share - Diluted $ (0.05) $ (0.57) December 31, June 30, Balance Sheet Data 2011 2011 ------------ ------------- Total Assets (in 000's) $ 41,269,929 $ 27,945,644 Total Loans Payable (in 000's) $ (8,566,875) $ (12,645,680) Shareholder's Equity (in 000's) $ 24,978,803 $ 7,958,250 (*) Comparative data is for the predecessor entity, Seven Arts Pictures, Plc.
Cautionary Information Regarding Forward-Looking Statements: Forward-looking statements contained in this press release are made under the Safe Harbor Provision of the Private Securities Litigation Reform Act of 1995. Any such statements are subject to risks and uncertainties that could cause actual results to differ materially from the anticipated.
Contact:

Seven Arts Entertainment Inc.
Peter Hoffman
323-372-3080
email: [email protected]


Copyright @ Marketwire
Page: 1
Related Keywords:
Seven Arts Entertainment Inc., Home,Communications,Digital Photography,Movies & Music,Web,Distribution,Music,Video,Blogs/videoblogs,Post/Production,Management,Camera/Film,Prosumer/Consumer,Business,Tape,Marketing,Broadcast Technology,Facilities,USA,Marketwire, Inc., ,Financial,Film,Television,Music,Business,Entertainment,Other,
---