Seven Arts Entertainment Inc. Announces Second Quarter Fiscal 2012 Financial Results and Addresses NASDAQ Bid Price Compliance
(February 21, 2012)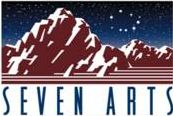 LOS ANGELES, CA -- (Marketwire) -- 02/21/12 -- Seven Arts Entertainment Inc. (NASDAQ: SAPX) announces its financial results for its fiscal 2012 second quarter and six months ended December 31, 2011. Year-over-year comparisons refer to results from the Company's listing predecessor, Seven Arts Pictures PLC. Effective August 31, 2011, the Company became a fully reporting United States issuer upon the transfer of the predecessor's NASDAQ listing.
Financial highlights for the second quarter include:
Film revenues of $207,790 for the quarter compared with $1,137,647 in the year-ago second quarter as there were no new releases in the 2011 period, the majority of the income being for the film "The Pool Boys." Almost $1 million of sales on the title "Deal" were reported in the 2010 period following several audits carried out on distributors during the period.
Gross profit was negative during the quarter as the Company amortized 100% the revenue achieved and had to write off the costs of the theatrical release of "The Pool Boys."
G & A costs in the quarter were skewed by higher than normal legal costs which included the set-up of Seven Arts Entertainment Inc. and the music division contracts, and the comparison with the 2010 quarter is affected by a salary accrual reversal in the 2010 accrual.
Net loss continued to $(1,095,995) or $(0.07) per share compared with a net profit of $569,711 or $0.32 per share in the year-ago second quarter.
Production debt has decreased from $15,876,640 at December 31, 2010 and $10,890,430 at June 30, 2011 to $6,025,508 at December 31, 2011.
$700,000 of existing Other Loans have been paid or converted in the last twelve months. However $1 million of new convertible loans have been taken out in the last quarter as the Company gears up for the production of "Neuromancer" and "Winter Queen" and the launch of the music division.
Stockholder's equity improved to $15.2 million, with an additional $1.46 million of stock authorized but not yet issued, i.e. a total of $16.8 million compared with $3 million at December 31, 2010 and $8 million at June 30, 2011.
11.5 million shares issued in the three months to December 31 retiring $2 million of debt and $50,000 for investor relations (restricted stock) and director's salary (restricted stock).
Film project development and creative highlights for the second quarter include:
Announced plans to acquire the music assets of David Michery, who will become CEO of Seven Arts Music Inc., the Company's newly formed subsidiary. These music assets include recording agreements with several artists, including two completed albums with multi-platinum artist DMX.
Announced initial funding for two films that will be produced by Dark Arts, a division of Seven Arts' affiliate, Esplanade Pictures LLC.
Completed principal photography on "Schism," the first of the Dark Arts' titles directed by Adam Gierasch and starring Callum Blue and Vinnie Jones.
Acquired worldwide rights to Nick Cassavetes' new feature, "Yellow," with its joint venture partner, GFM Films LLC. "Yellow" is expected to be ready for release this Spring.
Premiered "The Pool Boys" in Hollywood and released in 50 markets in September 2011.
Continued progress on financing for "Winter Queen" with principal photography planned for September.
Negotiations on-going for casting and financing of "Neuromancer."
Finalizing refurbishment of 807 Esplanade post production unit which is planned to open in Spring 2012.
Peter Hoffman, Chief Executive Officer of Seven Arts, said, "Seven Arts had little revenue in this quarter as 'Pool Boys' was released in the previous quarter and the release of 'Drunkboat' and 'Nine Miles Down' is scheduled for the Fourth Quarter. We also expect our first releases from our new record subsidiary will be in the Fourth Quarter. We have continued our program of debt reduction and have reduced film and production loans by $5 million to under $6 million and reduced our other liabilities by $2 million to under $7.5 million from the amounts at our last year end. Our overhead expenses were higher than customary due to what we believe are non-recurring legal expenses. Stockholder equity continues to increase and will increase by another $2 million in our Third Quarter based on stock issued in this quarter to date. We expect to announce closing of the acquisition of David Michery's music assets including two existing DMX albums this week. We continue on the business plan as outlined in our earlier communications with stockholders and are optimistic about our prospects."
NASDAQ Listing Requirement
The Company also announces its plans for addressing the NASDAQ bid price compliance requirement. As previously announced, on September 29, 2011 ("Press Release"), the Staff of The NASDAQ Stock Market LLC (the "Staff") granted Seven Arts a 180-day compliance period within which it is required to demonstrate compliance with the NASDAQ $1.00 per share bid price requirement (the "Bid Price Requirement"). Pursuant to the NASDAQ Listing Rules, Seven Arts can achieve compliance by demonstrating a closing bid price for its common shares of at least $1.00 per share for a minimum of ten consecutive business days by March 20, 2012. The Press Release stated that the date for achieving the $1 per share closing bid price was March 1, 2012, but in fact the applicable date is March 20, 2012.
In the event that Seven Arts does not regain compliance with the Bid Price Requirement by March 20, 2012, Seven Arts intends to request that the Staff grant it an additional 180-day compliance period. In order to qualify for the additional compliance period, Seven Arts must make application to the Staff and demonstrate compliance with all applicable requirements for initial listing on The NASDAQ Capital Market, with the exception of the bid price requirement and market value of publicly held shares requirement, as of March 20, 2012. Based on the financial information contained in the Company's Quarterly Report on Form 10-Q for the period ended December 31, 2012, which was filed with the U.S. Securities and Exchange Commission, Seven Arts currently expects to qualify for the additional 180-day compliance period available under the NASDAQ Listing Rules. If such an additional grace period is granted, Seven Arts will not be required to demonstrate compliance with the Bid Price Requirement until approximately September 17, 2012.
The Chief Executive Officer Peter Hoffman stated, "Seven Arts intends to take all steps necessary to maintain its listing on The NASDAQ Capital Market which has been an excellent trading platform for the Company's common stock. We intend to timely request the additional compliance period available to the Company under the Listing Rules, and we look forward to continuing our trading on The NASDAQ Capital Market."
About Seven Arts
Seven Arts Entertainment Inc.'s predecessor was founded in 2002 as an independent motion picture production and distribution company engaged in the development, acquisition, financing, production, and licensing of theatrical motion pictures for exhibition in domestic (i.e., the United States and Canada) and foreign theatrical markets, and for subsequent worldwide release in other forms of media, including home video and pay and free television.
Seven Arts Entertainment, Inc. Summary Data Table (Unaudited) Three Months Three Months Ended Ended December 31, December 31, 2011 2010 (*) Total Film Revenue $ 207,790 $ 1,137,647 Cost of Revenue $ 620,476 $ 869,014 Gross Profit $ (412,686) $ 838,662 Operating Expenses $ 354,367 $ (12,121) Income (Loss) from Operations $ (767,053) $ 850,783 Net Interest Expense $ (328,942) $ (281,072) Income (Loss) Before Taxes $ (1,095,995) $ 569,711 Provision for Taxes $ 0 $ 0 Foreign Exchange Translation Gain (Loss) $ (3,427) $ (323,992) Comprehensive Income (Loss) $ (1,099,422) $ 245,719 Weighted Average Common Shares Used in Earnings/(Loss) per Share Calculation: Basic (in 000's) 15,753 1,762 Diluted (in 000's) 15,753 1,927 Earnings/(Loss) per Share - Basic $ (0.07) $ 0.32 Earnings/(Loss) per Share - Diluted $ (0.07) $ 0.30 December 31, June 30, Balance Sheet Data 2011 2011 Total Assets (in 000's) $ 28,729 $ 27,945 Total Loans Payable (in 000's) $ 8,025 $ 12,646 Shareholder's Equity (in 000's) (1) $ 16,788 $ 7,958 (*) Comparative data is for the predecessor entity, Seven Arts Pictures, Plc.
(1) Includes $1,539,000 shares to be issued
Cautionary Information Regarding Forward-Looking Statements: Forward-looking statements contained in this press release are made under the Safe Harbor Provision of the Private Securities Litigation Reform Act of 1995. Any such statements are subject to risks and uncertainties that could cause actual results to differ materially from the anticipated.
Contact:

Seven Arts Entertainment Inc. US contact
Michael Porter
Porter, LeVay & Rose
+1-212-564-4700
[email protected]

Seven Arts Entertainment Inc. UK contact:
Kate Hoffman
+44 203 006 8223
[email protected]


Copyright @ Marketwire
Page: 1
Related Keywords:
Seven Arts Entertainment Inc., Home,Communications,Digital Photography,Movies & Music,Distribution,Post/Production,Camera/Film,Business,Production/Post,Post Production,Production,USA,Marketwire, Inc., ,Financial,Film,Television,Music,Business,Entertainment,Other,
---