Seven Arts Entertainment Inc. Announces Acquisition of Domestic Rights to European Dance Artist Abie Flinstone
(March 28, 2012)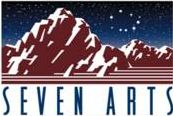 LOS ANGELES, CA -- (Marketwire) -- 03/28/12 -- Seven Arts Entertainment Inc. (NASDAQ: SAPX) announced today that Big Jake Music, part of Seven Arts Music, has acquired the domestic rights to European dance artist Abie Flinstone, and has initiated marketing of her newest single, "Get Outta My Way," pursuant to a joint venture with Europe's Mostiko Records. Abie's single will be available through all digital outlets by April 20, 2012.
Abie Flinstone's single has already achieved success in Europe, reaching #2 in Belgium's dance charts, and receiving radio and video play in other European countries. Hailing from Southern Davao (Philippines) but currently residing in Belgium, this nineteen year-old international artist was quickly signed to independent label Mostiko Records. Through a joint venture agreement, Seven Arts Music has acquired the distribution rights for the United States and Canadian markets for Abie Flinstone's music.
Big Jake Music founder Jake Shapiro stated, "Abie's old-school flow, combined with great lyrics and her sense of humor, impressed me the first time I heard her records. I think Abie is a star and will appeal to hip hop, top forty, and crossover radio stations and music fans."
Seven Arts Music CEO David Michery stated, "Dance music is selling well domestically. Initial radio reaction to Abie has been positive."
About Seven Arts Music:
Seven Arts Music intends to develop new talent and label-establishing artists in the genres of hip hop, R&B, pop, dance and rock. David Michery's prominent career includes the production of numerous platinum albums and an executive role as Head of Urban Music for All American Communication, dba Scotti Bros. Records, A&R for MCA Records and Zoo/BMG, and founder of Breakaway Entertainment and American Music Corporation.
About Seven Arts Entertainment Inc.:
Seven Arts Entertainment Inc. is the successor to Seven Arts Pictures Plc, which was founded in 2002 as an independent motion picture production and distribution company engaged in the development, acquisition, financing, production and licensing of theatrical motion pictures for exhibition in domestic (i.e. the United States and Canada) and foreign theatrical markets, and for subsequent worldwide release in other forms of media, including home video and pay and free television.
Cautionary Information Regarding Forward-Looking Statements
Forward-looking statements contained in this press release are made under the Safe Harbor Provision of the Private Securities Litigation Reform Act of 1995. Any such statements are subject to risks and uncertainties that could cause actual results to differ materially from the anticipated.
Contact:

Seven Arts Entertainment Inc.
Peter Hoffman
323-273-3080
[email protected]


Copyright @ Marketwire
Page: 1
Related Keywords:
Seven Arts Entertainment Inc., USA, Marketwire, Inc., , Television, Music, Entertainment, Other,
---