Seven Arts Entertainment CEO Issues Letter to Stockholders Regarding Retirement of Debt, Strengthening of Balance Sheet and Recent Developments
(November 03, 2011)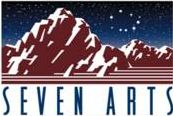 LOS ANGELES, CA -- (Marketwire) -- 11/03/11 -- Seven Arts Entertainment Inc. (NASDAQ: SAPX) ("Seven Arts" or the "Company") issued a letter to stockholders today from its CEO Peter Hoffman to discuss current events, including the recent volatility in the Company's stock price.
Dear Fellow Stockholders:
As a fellow stockholder and the CEO of Seven Arts, I am writing to you today to update you on the Company's progress and discuss our plans for the upcoming year. We have strengthened the Company's balance sheet and improved its financial performance, and in this letter I will communicate many of the steps we have implemented to affect those improvements.
We released on October 31, 2011 earnings for the fiscal year ended June 30, 2011 of our listing predecessor Seven Arts Pictures plc ("PLC"). PLC reported net income of $1,462,000 and basic and diluted earnings per share of $0.77 for that fiscal year.
Retirement of Debt and Strengthening of Balance Sheet
As set forth in PLC's previously filed Form 6-K and subsequently, the Company and PLC have issued approximately 10,000,000 ordinary or common shares since June 1, 2011 to retire debt and increase our stockholder equity. As of October 31, 2011, we had approximately 12,550,000 shares outstanding. As discussed below, certain indebtedness of PLC was not assumed by the Company and will remain an obligation of PLC, which will be administered and liquidated in accordance with English law.
As a result of the foregoing, as of October 31, 2011, but taking into account committed reductions in debt and the elimination on the Company's balance sheet of PLC's retained indebtedness, our indebtedness has been reduced in total by approximately $10,000,000 from the approximate $17,500,000 that was reported by PLC as of December 31, 2010. As a result, our stockholder equity or book value has increased from the approximate $3,500,000 that was reported by PLC as of December 31, 2010 to approximately $18,000,000 as of October 31, 2011, taking into account committed reductions in indebtedness and proposed elimination of PLC indebtedness. Our per-share equity is in excess of $1.30 as of today, which also reflects PLC's earnings for the fiscal year ended June 30, 2011.
Recent Developments
In the upcoming fiscal year, we believe several recent developments will have a favorable impact on the Company, and I would like to share the details with you.
First, the financial results for the year ended June 30, 2011, separately announced on October 31, 2011, reflect earnings per share in excess of the market price of our common stock for several months up to October 31, 2011. Future periods will include the expected revenues from the United States theatrical release of our film "Pool Boys" and three other unreleased completed films we currently expect to release in this fiscal year, "Nine Miles Down," "Drunkboat" and "Radio Free Albemuth."
Future periods will also include accruals resulting from the judgment we obtained in February of this year reclaiming ownership of copyright interests in five important films produced by our predecessors, including "The Believer" and three Paramount-released films: "Rules of Engagement," "An American Rhapsody" and "Who is Cletis Tout." This court victory should result in substantial economic recoveries that may exceed our current market capitalization.
Second, we continue our development of "Neuromancer" and "The Winter Queen," both larger budget films on which we expect to start production later this fiscal year. Both, if produced, should generate "pre-sales" or guaranteed revenues well in excess of the gross revenue reported for PLC's fiscal years ended June 30, 2010 and June 30, 2011.
Third, we have announced that we are arranging financing for up to six lower budget motion pictures to be produced in Louisiana, including "Schism," to be directed by Adam Gierasch, with whom the Company has had two successful releases. The Company also expects to complete and commence operations by January 2012 of its production and post-production center located in New Orleans, Louisiana, which is expected to be an additional source of revenue for the Company.
Fourth, as we announced, we have signed definitive agreements for and expect to close shortly our acquisition of Big Jake Music, which will result in expanding our digital distribution strategy into all types of recorded media. Our prior release on this issue may not have been clear on this question. We have signed the definitive agreements (and closed on the agreements) but not completed the issuance of preferred stock required by those definitive agreements which we expect will occur shortly. We have already arranged for the release of soundtrack albums for our prior release "Night of the Demons." Our first recording artist contracts and releases will be announced shortly after the closing of this acquisition. In response to stockholders' inquiries, I want to let you know that the stockholders of Big Jake Music did not receive freely tradable common stock, but rather convertible preferred stock for the acquisition of their company. The stock cannot be sold for at least one year, and the number of common shares to be issued is subject to downward adjustments based on the financial performance of Big Jake Music and the realization for Seven Arts' benefit of the pre-paid advertising credits that Big Jake Music holds. The conversion price of the preferred stock into common stock will be based on a premium to the Company's per share equity, not on the current market price.
Fifth, on October 5, 2011 we arranged a mutually acceptable settlement of our dispute with Fletcher Asset Management arising out of an investment agreement purportedly terminated by Fletcher, as we announced on June 7, 2011 in a press release. In the settlement, the Company waived all claims against Fletcher, and BRG Investments, Inc. (an affiliate of Fletcher) acquired 250,000 shares of our common stock at a price of $1.00 per share. BRG received a warrant to buy an additional 100,000 common shares at $1.00. Further, BRG has the right to buy an additional 250,000 shares of our common stock within six months based on a volume weighted average price, but no less than $1.00 or more than $1.50. If BRG buys these shares, it will receive an additional warrant to buy an additional 100,000 shares of our common stock on the same terms as the warrant we have issued.
Sixth, the Company's listing predecessor, PLC, will shortly be placed in administration or liquidation under English law as part of an operational transfer to a US domestic issuer. Certain indebtedness of PLC remained with PLC and will be subject to administration or payment in these administration proceedings. PLC will own 2,000,000 shares of common stock of the Company which are not included in the shares outstanding discussed above. Those shares, plus additional unregistered common shares of the Company owned by my holding company, Seven Arts Pictures Inc., may, upon completion of these proceedings, be distributed to PLC's non-US creditors. Management believes that these administration or liquidation proceedings should not have any material effect on the Company's operations. I will be devoting such time as the administrator or liquidator of PLC may request to assist in the winding-up or administration of PLC's affairs, which we believe will be in the interest of the continuing stockholders of the Company.
PLC expects to file its final Annual Report on Form 20-F with the SEC on or about its due date of December 31, 2011. For that filing, PLC has elected to report its results of operations and financial statements for the fiscal years ended June 30, 2010 and June 20, 2011 under US generally accepted accounting principles and has asked our current auditor to audit both years for this purpose.
I also would like to address the recent substantial decline in the Company's stock price. As of the market close on June 1, 2011, SAPX stock was trading at approximately $3.00 per share. Since then, we have witnessed a sharp decline from that level. Like you, I have been deeply concerned over this unwarranted shift in our stock valuation.
Management does not believe that this decrease in stock price is related to any specific adverse event regarding the Company, nor do we believe that it is representative of the Company's operations or financial condition, both of which have improved during this time. We have received reports from stockholders and others of "manipulation" or short-selling of our common stock in violation of applicable securities rules and regulations. We have contacted the relevant regulatory authorities on this matter.
The Board and management team of Seven Arts continues its optimistic outlook for the Company's prospects and believes our market valuation will correct itself in time. We are particularly excited about the "digital revolution" in film distribution, as it will benefit both our library and our new small budget productions. We expect "Pool Boys" to appear on more than 72 digital transmission platforms, reaching more than 50 million households in the United States alone, commencing on October 3, 2011. The digital and social network platform for both marketing and distribution of our films provides a significant catalyst for our future growth. In our industry, at least for independent films of the nature and quality produced by us, we can utilize these highly effective channels to reach our core audience, and believe this will result in the successful launch of new films and the "rebirth" of films in our library.
As always, we want to provide our stockholders with the most up-to-date information on the Company. Please visit www.7artspictures.com to learn more about our latest developments or email me at phoffman@7artspictures.com. Your comments, questions and concerns are always welcome. In conclusion, I wish to express my deepest gratitude for your continued interest and support in Seven Arts.
Sincerely,
Peter M. Hoffman
CEO
About Seven Arts
Seven Arts Entertainment Inc.'s predecessor was founded in 2002 as an independent motion picture production and distribution company engaged in the development, acquisition, financing, production, and licensing of theatrical motion pictures for exhibition in domestic (i.e., the United States and Canada) and foreign theatrical markets, and for subsequent worldwide release in other forms of media, including home video and pay and free television.
Cautionary Information Regarding Forward-Looking Statements: Forward-looking statements contained in this press release are made under the Safe Harbor Provision of the Private Securities Litigation Reform Act of 1995. Any such statements are subject to risks and uncertainties that could cause actual results to differ materially from the anticipated.
Contact:
Seven Arts Entertainment Inc. US contact:
Peter Hoffman
+1 323-372-3080
phoffman@7artspictures.com
Or
Seven Arts Entertainment Inc. UK contact:
Kate Hoffman
+44 203 006 8223
khoffman@7artspictures.com

Michael Porter
Porter, LeVay & Rose, Inc.
+1 212-564-4700
mike@plrinvest.com


Copyright @ Marketwire
Page: 1
Related Keywords:
Seven Arts Entertainment Inc., Home, Movies & Music, Camera/Film, email, USA, Marketwire, Inc., , Financial, Asset Management, Film, Television, Music, Entertainment, Email, Other,
---