Seven Arts Entertainment Announces Primary Earnings per Share of $.77 for Fiscal Year Ended June 30, 2011
(October 31, 2011)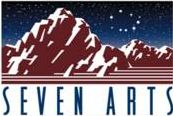 LOS ANGELES, CA -- (Marketwire) -- 10/31/11 -- Seven Arts Entertainment Inc. (NASDAQ: SAPX) ("Seven Arts" or the "Company") announced today the results of operations of its NASDAQ listing predecessor, Seven Arts Pictures plc ("PLC"), for the fiscal year ended June 30, 2011. PLC reported revenue of $3,328,000 and net income of $1,462,000, representing $0.77 of basic and diluted earnings per share.
These results compare to the results of operations for the fiscal year ended June 30, 2010, in which PLC reported revenue of $6,417,000 and a net loss of $476,000, which was a result of profit before interest and taxes plus other income from debt settlement, offset by net interest expense of approximately $1,706,000.
In the reported fiscal year, PLC recognized net cancellation of indebtedness revenue of $4,459,000 reflecting its continued efforts to reduce indebtedness and increase net shareholder equity. As reported in prior fiscal years, such cancellation of indebtedness income reflects adjustments to debtors' claims on future film revenues and in management's view represents continuing revenue and profits from core operations.
Peter Hoffman, Chief Executive Officer of Seven Arts, stated, "We are pleased our listing predecessor achieved net income of $1,462,000 and basic and diluted earnings per share of $0.77 in the last fiscal year. We are particularly pleased with the increases in our net shareholders' equity from $2,200,000 as of June 30, 2010 to $7,958,000 as of June 30, 2011. This increase does not reflect the further, substantial reduction of debt and increase in net stockholders equity since the end of the fiscal year, as set forth in our letter to stockholders to be released this week.
"The independent film industry has experienced many challenges in the last fiscal year, which led to changes in our expected revenue model. Seven Arts reduced production during the fiscal year ended June 30, 2011 as it completed new sources of financing. We currently believe that Seven Arts is poised for success in the current fiscal year and beyond.
"PLC successfully completed the transfer of NASDAQ listing to the Company effective August 31, 2011. The Company is now a fully reporting United States issuer and will in the future report its results of operation under United States Generally Accepted Accounting Principles ("US GAAP"). Application of US GAAP to our listing predecessor's reported results of operation will not result in any material changes to PLC's reported results of operation under International Financial Reporting Standards. We expect Seven Arts' first quarterly report will be for the fiscal quarter ended September 30, 2011."
Selected Financial Data (in $ 000's, except per share data) Fiscal Fiscal Fiscal Year Year Year Ended Ended Ended June 30, June 30, June 30, Summary Profit and Loss Data 2011 2010 2009 ---------- ---------- ---------- Total Revenue $ 3,328 $ 6,417 $ 10,222 Cost of Sales $ (3,448) $ (2,399) $ (4,633) Gross Profit $ (120) $ 4,018 $ 5,569 Operating expenses $ (2,120) $ (2,939) $ (4,125) Income before interest and taxes $ (2,240) $ 1,080 $ 1,444 Other Income $ 4,459 $ 150 $ 5,602 Net interest (expense) $ (758) $ (1,706) $ (2,308) Income/(Loss) Before Taxes $ 1,461 $ (476) $ 4,737 Provision for Taxes $ 0 $ 0 $ 0 Net Income/(Loss) $ 1,461 $ (476) $ 4,737 Weighted Average Common Shares used in Earnings/(loss) per share calculation Basic (in 000's) 1,889 1,403 6,051 Diluted (in 000's) 1,889 1,403 8,147 Earnings /(loss) Per Share - Basic $ 0.77 $ (0.35) $ 0.78 Earnings/ (loss) Per Share - Diluted $ 0.77 $ (0.35) $ 0.58 June 30, June 30, June 30, Balance Sheet Data 2011 2010 2009 Total Assets $ 27,946 $ 28,625 $ 27,387 Total Loans Payable $ 12,646 $ 18,301 $ 17,828 Shareholders' Equity $ 7,958 $ 2,200 $ 1,717
About Seven Arts:
Seven Arts Pictures PLC was founded in 2002 as an independent motion picture production and distribution company engaged in the development, acquisition, financing, production, and licensing of theatrical motion pictures for exhibition in domestic (i.e., the United States and Canada) and foreign theatrical markets, and for subsequent worldwide release in other forms of media, including home video and pay and free television.
Cautionary Information Regarding Forward-Looking Statements:
Forward-looking statements contained in this press release are made under the Safe Harbor Provision of the Private Securities Litigation Reform Act of 1995. Any such statements are subject to risks and uncertainties that could cause actual results to differ materially from the anticipated.
Porter, LeVay & Rose, Inc.:
Michael Porter
Seven Penn Plaza
Suite 810
New York, NY 10001
212-564-4700
[email protected]


Copyright @ Marketwire
Page: 1
Related Keywords:
Seven Arts Entertainment Inc., USA, Marketwire, Inc., , Financial, Film, Television, Entertainment, Other,
---