Seven Arts Entertainment Announces Cancellation of Proposed Convertible Debenture and Confirms No Current Plans to Implement a Reverse Stock Split
(April 16, 2012)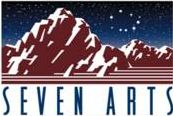 LOS ANGELES, CA -- (Marketwire) -- 04/16/12 -- Seven Arts Entertainment Inc. (NASDAQ: SAPX) (the "Company") announced today that it had terminated negotiations for a $3,000,000 convertible debenture, the proceeds of which were to have been used for reacquisition of approximately twelve of the Company's motion pictures controlled by an existing lender. The Company terminated negotiations in light of the current market price of the Company's common stock that would have resulted in an unacceptable level of dilution to the Company's common stockholders. At present, the Company's common stock is trading at a market price of approximately 20% of the Company's current stockholders' equity per share. As a result of this decision, the Board of Directors of the Company will not exercise the authority given to it by passage of Resolution No. 5 at the Company's stockholder meeting on March 27, 2012, described in CEO Peter Hoffman's letter to stockholders of April 2, 2012 as Item 5 in connection with this proposed convertible debenture.
The Company is also aware of certain incorrect news reports that indicated that the Company has made a decision to do a reverse stock split. These news reports are incorrect. As previously announced, the Company has until September 20, 2012 to be in compliance with NASDAQ's continued listing standards regarding the minimum bid price of its common stock. The Company has no plans to implement a reverse stock split except to protect the Company's NASDAQ listing, which will not be necessary until September 20, 2012. The Board will consider a reverse split at that time if necessary. Management does not currently believe a reverse split will be necessary in light of the prospects of the Company's business, including the release of DMX's new album "Undisputed" and production of Neuromancer.
About Seven Arts: Seven Arts Entertainment Inc. is the successor to Seven Arts Pictures Plc, which was founded in 2002 as an independent motion picture production and distribution company engaged in the development, acquisition, financing, production, and licensing of theatrical motion pictures for exhibition in domestic (i.e., the United States and Canada) and foreign theatrical markets, and for subsequent worldwide release in other forms of media, including home video and pay and free television.
Cautionary Information Regarding Forward-Looking Statements: Forward-looking statements contained in this press release are made under the Safe Harbor Provision of the Private Securities Litigation Reform Act of 1995. Any such statements are subject to risks and uncertainties that could cause actual results to differ materially from the anticipated.
Contact:
Seven Arts Entertainment Inc.
Peter Hoffman
323-372-3080
[email protected]


Copyright @ Marketwire
Page: 1
Related Keywords:
Seven Arts Entertainment Inc., USA, Marketwire, Inc., , Television, Business, Entertainment, Other,
---