Seven Arts Announces Letter of Intent to Acquire Music Assets Including Two Unreleased Albums by Multi Platinum Recording Artist DMX
(November 07, 2011)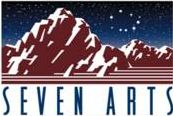 LOS ANGELES, CA -- (Marketwire) -- 11/07/11 -- Seven Arts Entertainment Inc. (NASDAQ: SAPX) ("Seven Arts") announced today that it has executed a letter of intent to acquire the music assets of David Michery, a music industry veteran with an extensive track record within the industry. These music assets include recording agreements with several artists including two completed albums with multi platinum artist DMX. DMX's last four albums released between seven and twelve years ago earned United States gross revenues according to Soundscan of more than $140 million, or an average of more than $35 million. Seven Arts believes that consumer interest in DMX remains after this period strong, and expects that the next two DMX albums will generate similar gross revenues. The addition of these potential revenues and the revenues from other expected album releases from Mr. Michery's assets should in the current fiscal year alone more than double Seven Arts' gross revenues for the last two years. Seven Arts CEO Peter Hoffman stated: "Dave's assets are expected to make a very substantial addition to our revenues and profits this year, as well as raise awareness of our brand and expand our reach. We believe this acquisition will be an exciting game-changing event for our company."
DMX has become the only artist in the history of The Billboard 200 to reach No. 1 with his first five albums. His new album titled "Undisputed" is scheduled for release this upcoming December. DMX's last solo album, "The Great Depression," topped the chart with debut week sales of 440,000 copies. Earlier albums, "...And Then There Was X" and "Flesh of My Flesh, Blood of My Blood," both sold more than 600,000 units in their opening weeks.
Seven Arts has formed a new music division, Seven Arts Music, which shall initially include Big Jake Music, and Mr. Michery's assets such as DMX. Seven Arts Music intends to develop new talent and label establishing artists in the genres of hip hop, R&B, pop, dance & rock. Upon completion of the acquisition of the music assets, David Michery shall be appointed Chief Executive Officer of Seven Arts Music.
David Michery has an extensive background in the music industry. His career includes the production of numerous platinum albums and an executive role as Head of Urban Music for All American Communication, D.B.A. Scotti Bros. Records, A&R for MCA Records and Zoo/BMG and founder of Breakaway Entertainment and American Music Corporation.
"David is a proven leader in the music industry, with a strong vision and point of view," stated Peter Hoffman, Chief Executive Officer of Seven Arts Entertainment. "David's enthusiasm and strong professional reputation are well known, and he is a terrific addition to the Seven Arts Team," stated Jake Shapiro, founder of Big Jake Music.
About Seven Arts: Seven Arts Entertainment Inc. is the successor to Seven Arts Pictures Plc, which was founded in 2002 as an independent motion picture production and distribution company engaged in the development, acquisition, financing, production, and licensing of theatrical motion pictures for exhibition in domestic (i.e., the United States and Canada) and foreign theatrical markets, and for subsequent worldwide release in other forms of media, including home video and pay and free television.
Cautionary Information Regarding Forward-Looking Statements: Forward-looking statements contained in this press release are made under the Safe Harbor Provision of the Private Securities Litigation Reform Act of 1995. Any such statements are subject to risks and uncertainties that could cause actual results to differ materially from the anticipated.
Contact:
Michael Porter
Porter, Levay & Rose Inc.
Seven Penn Plaza
New York NY 10001
212 564 7400


Copyright @ Marketwire
Page: 1
Related Keywords:
Seven Arts Entertainment Inc., USA, Marketwire, Inc., , Television, Music, Entertainment, Other,
---