Send Word Now Hires Two New Professionals, Further Extending Its Incomparable Sales Team
(December 05, 2011)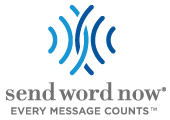 NEW YORK, NY -- (Marketwire) -- 12/05/11 -- Send Word Now, the leading provider of on-demand mass notification and incident management services, announced today the hire of Cort Wehmann and Michael Dutton as Regional Sales Managers. Wehmann and Dutton joined the Send Word Now team in order to assist with the company's continued growth in the emergency notification industry.
"We are delighted to welcome Cort Wehmann and Michael Dutton to Send Word Now," said Tony Schmitz, President and CEO of Send Word Now, adding, "The Company will benefit greatly from their decades of experience in technology sales, as they will provide the additional momentum and expertise that we need to continue our award-winning growth."
Cort Wehmann, who is based in the Metro Washington, D.C., area, joins Send Word Now with over ten years of high-level account management, sales, and customer service experience. Most recently, he worked as a National Brands Sales and Account Manager at Localeze, the leading provider of business data to search engines. While there, he achieved a 96% client renewal rate and managed dozens of strategic Fortune 500 Localeze accounts. Localeze was recently purchased by Neustar. Prior to that, Wehmann was a Sales and Client Service Executive at Marriott, a Real Estate Agent for Foxton's Real Estate, and a Regional Account Representative at Charles Schwab & Co, Inc. Wehmann received his B.A. from the College of William and Mary.
Michael Dutton is based in California, and will represent Send Word Now on the West Coast of the United States. Dutton has led a dynamic sales career across broad national and international industries, markets, and accounts. He is an expert in identifying and capturing market opportunities to accelerate expansion, increase revenues, and improve profit contributions. Before coming to Send Word Now, he was a Senior Director of Global Sales at Alinean, a Software as a Service (SaaS) technology company based in Florida. Prior to that, Dutton worked for many years as a Senior Director of Global Sales at Everbridge (formerly 3n Global), where he served as a primary contact for large Fortune 500 customers. He has also represented DIRECTV and the software technology company httprint. Dutton holds an MBA from Pepperdine University and a B.S. in Telecommunications Management from DeVry University.
About Send Word Now
Send Word Now is the leading provider of on-demand alerting and incident management services for both routine and emergency communication. The easy-to-use, web-based emergency notification service is used by government agencies, municipalities, universities, non-profit organizations and businesses, including many Fortune 500 companies, to ensure fast, effective, two-way communication in real-time. Send Word Now's Alert Tracer® provides a full audit trail of messages sent and received for after-action reporting and follow-up. Designed to reach anyone, anywhere, anytime, with any device over any type of connection, Send Word Now's mass notification system is capable of transmitting hundreds of thousands of voice and text message in minutes. The company is headquartered in New York City. Visit Send Word Now on the web at http://www.sendwordnow.com or email us at info@sendwordnow.com. Follow Send Word Now on Twitter at http://twitter.com/sendwordnow and check out our new blog for industry news and insights at http://www.sendwordnow.com/Company/Blog.
Add to Digg Bookmark with del.icio.us Add to Newsvine
Marketing Contact:
Sheri Ann Laza-Schmitz
Send Word Now
(212) 379 - 4937
slaza-schmitz@sendwordnow.com


Copyright @ Marketwire
Page: 1
Related Keywords:
mass notification, incident management service, emergency notification, business continuity planning, Internet, Digital Media Software, Web, Search, Blogs/videoblogs, EMail, Social Media, Sales, Sales & Marketing, Internet, Business Issues, Search, Search Engines, Career, Management, Sales, CEO/CFO, Sales, USA, Marketwire, Inc., , Internet Technology, Business, Email,
---