Searchmetrics to Speak at SMX West on Social's Impact on Search
Attendees Invited to Check Their SEO Visibility Score vs. Competitors at Searchmetrics Booth #413
(February 28, 2012)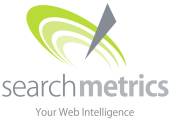 SAN JOSE, CA -- (Marketwire) -- 02/28/12 -- -- SMX West San Jose McEnery Convention Center Booth #413 -- Searchmetrics, the world leader in search and social analytics software, today announced participation by its executives in two sessions at SMX West 2012. Well known as the "must attend" search and social media marketing event of the year, SMX West will feature over 130 of the world's most knowledgeable search marketers.
"This year's SMX West is more relevant than ever given the continued changing search landscape as well as the recent algorithm changes impacting brands on a global level," said Dr. Horst Joepen, CEO, Searchmetrics. "We are delighted to once again participate in this conference and bring attendees the insights they can leverage in their strategic digital marketing strategies for 2012 and beyond."
Searchmetrics will be presenting at the following sessions:
Getting Personal, Part 2: How Google & Bing Personalize With Search History & Geography.
Two of the major players at the center of the personalization of search are Bing vs. Google -- and the fight intensifies.
Also heating up is the increase in localization for mobile searches. For example, if you were searching for a new hard drive on your mobile phone, the search engines would look to access geolocation information from your mobile or smartphone in order to tailor both organic search results and PPC (pay per click) adverts to where you are actually located.
Date: Tuesday, February 28
Room: Meeting Room A6 Session Moderator: Danny Sullivan
Solution Spotlight Speaker: Dr. Horst Joepen, CEO of Searchmetrics
Social's Impact on Search
Social Media is here to stay and so is the need for marketers to leverage it. Until now, however, the challenge has been how to quantify social media marketing initiatives and compare the different social networks i.e. where one should dedicate your resources. Without this capability, social media marketing has been just another shot in dark -- an intuitive sense, rather than a campaign based on customer analytics. With those analytics in hand, savvy marketers can maximize that data to put their companies ahead of the pack. This session will take a close look at social's ever-increasing influence on search.
Date: February 28 from 12:40pm - 1:00pm
Room: Theater A
Speaker: Mike Dutter, VP of Sales, Searchmetrics
Stop by Searchmetrics Booth #413 and Check Your SEO and Social Visibility Score
Searchmetrics is offering a special promotion to all attendees, inviting them to check their SEO Score at the Searchmetrics booth #413. Attendees can also try the newly-released Searchmetrics Essentials online dashboard featuring complimentary data on the over 75 million domains that Searchmetrics monitors around the globe.
About Searchmetrics
Searchmetrics is the global expert in search and social analytics software, empowering marketers to increase visibility and market share on the world's leading search engines. We create value by providing the best quality data on a global scale. Clients and partners worldwide rely on Searchmetrics to maximize return from search investments with actionable insights that help better manage, improve and scale search marketing campaigns.
Searchmetrics' robust search marketing tool, Searchmetrics Suite, is supported by a unique server infrastructure that offers monitoring of over 100 search engines in 36 countries worldwide. Searchmetrics Suite is also home to the Searchmetrics Essentials data modules, SEO+SEM and Social, encompassing the largest, fastest databases for search and social media available.
Headquartered in Berlin, with subsidiaries and offices in New York, London and Paris, the company delivers real web intelligence to a growing international customer base. You can follow Searchmetrics on Twitter @Searchmetrics or on Facebook at www.facebook.com/Searchmetrics. For more information, please visit: www.searchmetrics.com.
Media Contact:

Marina Greenwood
Activa PR for Searchmetrics
415.776.5350
Email Contact


Copyright @ Marketwire
Page: 1
Related Keywords:
SEO, SEM, search engine optimization, SEO tools, Searchmetrics, social media, SEO platforms, , Home, Internet, Digital Media Software, Communications, Web, Smart Phone, Search, Google, Social Media, Sales, Marketing, Sales & Marketing, Internet, Business Issues, Social Media, Search, Search Engines, Search Engine Optimization, Sales, Sales, Storage, Marketwire, , Theater, Communications Technology, Internet Technology,
---