Seafood Watch Launches App for Android
(March 21, 2011)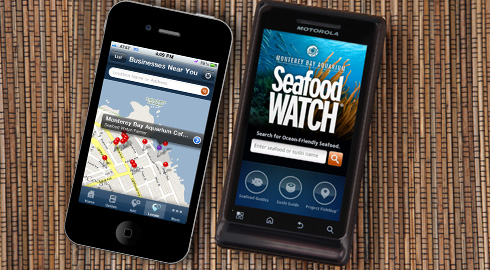 Monterey, California (Vocus/PRWEB) March 21, 2011
Starting today, Android users can download the free Seafood Watch app from the Android Market to get on-the-go access to sustainable seafood choices when dining or shopping. Find out more on our website and download the Android app.
The new Android app includes the aquariums crowdsourcing feature, Project FishMap, which allows users to tag any one of more than a million restaurants and markets across the United States whenever they find ocean-friendly seafood and to learn where others have found sustainable options.
With Project FishMap, anyone who buys sustainable seafood can now share their discoveries via the Android app, says Sheila Bowman, senior outreach manager for the Seafood Watch program.
Since Project FishMap was added to the aquariums popular iPhone app in December 2010, more than 1,200 individuals have logged over 2,100 seafood recommendations from over 400 cities.
Seafood lovers across the country from Chicago to California are letting others know where the best choices can be found in their neighborhood, said Bowman. This is just what we envisioned when we created this feature. Its really gratifying to see the database of sustainable seafood sources grow and were excited to see how many new locations well get as seafood advocates start downloading the new Android app.
Other key features of the new Android app include:
Access to over 365 recommendations for seafood found across the U.S., including the Great Lakes and Hawaii automatically selected according to geo-location.
A special guide for sushi lovers, including listings by Japanese names.
Option to add new restaurants and markets to the FishMap database.
Earn virtual badges for using Project FishMap and share sustainable seafood findings with friends via Facebook and Twitter.
Search function to find seafood quickly and easily by common market names.
Suggestions to sustainable alternatives for items on the Seafood Watch Avoid list.
Super Green list: seafood that is heart-healthy, low in contaminants, and a Seafood Watch Best Choice.
The Seafood Watch app is also available free for the iPhone and iPod Touch, and has been downloaded over 585,000 times since its debut in 2009.
To learn more about the Monterey Bay Aquarium, it's Seafood Watch program and all of the ways you can take action for the oceans go to montereybayaquarium.org.
###
Read the full story at http://www.prweb.com/releases/2011/3/prweb8220800.htm.
Page: 1
Related Keywords:
family, family planning, medical procedure/test, medical research, medical staff, medical specialisation, medical service, medical conditions, lifestyle and leisure, lifestyle (house and home), computing and information technology, satellite technology, wireless technology, science and technology, technology (general), identification technology, agricultural research and technology
---