Scrybe Announces Convo -- the Social Business Network That Unifies Collaboration and Messaging
Company Upgrades Platform, Releases Web and Mobile Apps to Extend Its Reach and Secures Convo.com Domain
(April 18, 2012)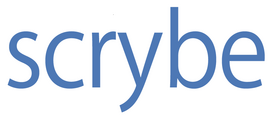 SAN FRANCISCO, CA -- (Marketwire) -- 04/18/12 -- Scrybe, Inc. today announced it has launched the next generation of Convo, its collaborative social business platform. The new release includes iPhone and Web applications and a more intuitive user interface across all platforms. Additionally, the company renamed its breakthrough collaboration environment from Convofy to Convo, launching the upgrade on their new site www.convo.com.
Launched in summer 2011, Convo is the communications platform that connects an activity stream with a team's online collaboration. Convo's unique social collaboration capability extends to dozens of content types, including documents, images and videos. It even enables collaboration on web pages and web apps. Initially released as a desktop application, the new release marks a significant expansion in service, enabling the same rich interactivity through a smart phone or browser.
"In the short time since we launched our product we have had tremendous positive feedback from our customers and prospects," said Faizan Buzdar, Scrybe founder and CEO. "With the next generation of Convo we are making it possible for users to effectively engage with their colleagues regardless of device or location with a new and even more intuitive interface that is helping to increase worker productivity."
Convo is the only application for the enterprise with the rich user experience and productivity that drives deeper engagement and broader adoption. Top Convo networks have an average of more than 17 daily interactions per user, far above the level of engagement in other social platforms. Interaction levels as high as 43 daily per user is common on networks that effectively run their business on the Convo platform.
Convo is an evolutionary step in social business because it goes beyond simple notifications and social updates like those found with Yammer and Chatter. By providing on-the-page markup and commenting, Convo enables collaborative conversations that are engaging, responsive and effective.
Convo Improves Customer Productivity
Customer experience has shown that Convo's integrated collaboration model, along with its real-time communication, drives deeper engagement, broader adoption and better results.
For Scott Williams, president of Emisare in Chapel Hill, N.C., Convo has made a huge difference. "The process has become more streamlined and our efficiency and productivity have shot up."
Oxford Leadership Academy, one of the world's top leadership consultancies, has a highly dispersed team with employees spread across 28 countries. Using Convo they are able to communicate and collaborate instantly to dramatically reduce the time it takes to provide sound strategy and expertise to their global client base.
"Companies often call on us when they are facing a crisis," said Brian Bacon, founder and chairman of Oxford Leadership Academy. "To respond to them in a timely manner, our consultants, who are spread across the globe, need to be able to work together and strategize as if they are under one roof -- brainstorming and sharing ideas to quickly come up with effective recommendations. Using Convo we are making that happen."
Convo Pricing, Information and Availability
Thousands of networks have been created on the Convo platform for collaborative communications. Global customers include marketing communication and design agencies, media outlets, schools, government organizations, customer support departments, and sales teams. Convo is free to use and enforces no limit on the size or volume of content shared. For organizations looking for more administrative control and deeper integration, Convo Premium is available for $5 per user, per month. For large organizations, special enterprise licensing is available. The new offerings are available immediately at www.convo.com.
About Scrybe
Scrybe is the creator of Convo, the world's first contextual collaboration platform that dramatically improves worker productivity. Founded in 2007 by serial entrepreneur Faizan Buzdar, and funded by Adobe Systems, Inc. & LMK Resources, Scrybe has U.S. Corporate headquarters in San Francisco with employees located in Boston, Los Angeles and Islamabad. For more information, go to www.convo.com.
Add to Digg Bookmark with del.icio.us Add to Newsvine
Media Contact:
Traci Massaro
Scrybe
617-877-1293
Email Contact


Copyright @ Marketwire
Page: 1
Related Keywords:
Scrybe, USA, Marketwire, Inc., , Apple Computer, Internet Technology, Business, Other,
---