Scorpio Partnership, Standard Chartered Private Bank and SEI Global Wealth Services Launch 2012 Futurewealth Report: A Customer Revolution
Pioneering Survey of 3,300 HNWs Concludes Redefining the Wealth Management Customer Journey Is Now Critical to Success
(January 17, 2012)

LONDON -- (Marketwire) -- 01/17/12 -- Scorpio Partnership, Standard Chartered Private Bank and SEI (NASDAQ: SEIC) announced today the launch of the 2012 Futurewealth Report: A Customer Revolution. This third worldwide Futurewealth survey captures insight from 3,300 high-net-worth individuals and finds wealth creators in all regions are less confident about their ability to make money in the coming year. The report concludes that those who target this elite customer group will have to try harder as these clients will be less willing to part with their hard-earned cash.
The report is part of the ongoing Futurewealth Project undertaken by Scorpio Partnership. The project is a long-term initiative to uncover the attitudes and expectations of wealth creators around the world. In spite of negative sentiment, this year there was an 87% growth in the number of high-net-worth consumers who took part in the survey. Overall more than 8,000 high-net-worth individuals have now taken part in the Futurewealth project, making it one of the largest continuous research studies on this valuable but hard-to-reach customer group.
The Futurewealth Project has been tracking the wealth confidence of international wealth creators since 2009 asking how much they made in the last year and how much they expect to make in the next year. On a 100-point scale, confidence for the future has slipped 10 points in the last year, even though actual performance was better this year than last.
Even in Asia, where increasing numbers of Futurewealthy are reporting actual wealth growth, short-term wealth confidence has fallen back 7 points. The gap between actual and expected performance is also narrower for those in this region, implying a more cautious optimism.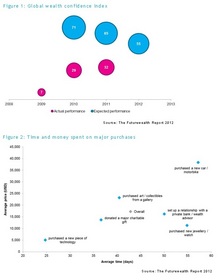 As the Futurewealthy become more conservative about money, the report looks at how high-end firms can tailor the customer experience to ensure they continue to attract and hold on to this valuable client group. It finds on average, clients spend USD 17,300 on major purchases or donations and take 43 days to decide. While generally firms deliver a customer experience that is 10% better than their Futurewealthy clients expect, more focus on staff efficiency and smooth order processing would ensure a more consistent customer experience.
Additionally, if firms want to provide a tailored customer experience using client segmentation approaches, the attitudes of Futurewealthy differ most by age, behavioural profile and geography, rather than by wealth level, gender or whether individuals are executives or entrepreneurs. Understanding the nuances between Generation X and Generation Y would enable firms to deepen their connection with existing clients, as well as more effectively manage client retention on the death of the primary wealth holder.
"The Futurewealth Project is continuing to pioneer the way to a customer revolution, where companies are able to deliver consistently on the promise of tailored and personal service. More than 8,000 high-net-worth individuals have now taken part in the Futurewealth Project. With this unprecedented volume of information about customer behaviour we can now see how different groups of wealthy individuals think and act when making decisions about spending, investing and giving away their money," says Sebastian Dovey, managing partner, Scorpio Partnership.
"It is encouraging to find in this research that private banks are meeting and beating client expectations in spite of the many challenges of recent years. However, more can and should be done. Beyond the initial marketing and hospitality touch points, private banks also need to focus on the transactional steps throughout the entire client journey. It is this long-term, consistent focus on delivering above and beyond every step of the way that will be crucial to deepening our engagements with the clients we serve today. We hope this research will continue to inspire new thinking about how we can achieve this for each of our clients," says Shayne Nelson, Global Head, Standard Chartered Private Bank.
"Many of Futurewealth's themes sync with our own experience of working with private banks and wealth managers, in that they want better and more efficient ways of handling and processing transaction and client data. We genuinely believe that technology can be used to power the client experience of financial services and this report provides plenty of food for thought on what the future of that experience might be," says Joseph P. Ujobai, Executive Vice President, SEI's Global Wealth Services.
The Futurewealth Project was launched in 2009 as an annual initiative to investigate the attitudes and buying preferences of the world's up-and-coming wealthy. As ambitious wealth accumulators, the Futurewealthy will become the most prized customers of the future. On average they are worth USD2 million today with a target to triple or quadruple that wealth within 10 years. The objective of the research is to understand what makes this customer group tick today so that high-end business can prepare and adapt for the future.
Key findings from the research are presented in more detail in the following pages. The full report can be downloaded at www.scorpiopartnership.com.
Notes
1. In total, 3,300 individuals took part in this second global poll of the Futurewealthy. The average level of wealth among these individuals was USD2.5 million.
2. Geographically, 39% of the sample group live in North America, 43% live in the Asia-Pacific region, 17% live in Europe and 1% live in other countries around the world. 76% are employees and 24% are business owners.
3. The research covered four topics:
Wealth confidence
The customer experience
Coveted brands
Wealth aspirations
4. The research on the customer experience compares 15 steps in the customer journey when:
Setting up a relationship with a private bank
Buying a car
Buying high-end technology
Buying jewellery or a watch
Purchasing art or collectibles
Making a major donation to charity
5. For behavioural profiling the research uses archetype analysis. This is a relatively new field of segmentation analysis that aims to understand behaviour by looking at its extremes rather than its norms. It is particularly useful for segmentation strategies that aim for a high degree of tailoring because it allows individuals to be a probabilistic mix of more than one profile.
6. The research was conducted using an online survey. Participants were identified using profiling techniques to determine their likelihood of qualifying as Futurewealthy candidates. They were contacted directly by email.
7. The research was conducted by Scorpio Partnership in collaboration with Standard Chartered Private Bank, SEI and Morar Consulting.
8. Scorpio Partnership is a pioneer in the art of translating the complex needs of wealthy clients into practical, innovative and profitable solutions to target these customers. This award-winning firm has interviewed over 8,000 millionaires and billionaires worldwide to collect opinions on what they will need next. In addition, through online projects such as this one, it has collated insight from almost 5,000 wealth holders on all continents of the globe. With this knowledge, the firm has implemented strategic research, practical consulting and business innovation projects in over 35 countries.
9. Standard Chartered Private Bank is the foundation sponsor of the Futurewealth Project. Standard Chartered Private Bank is the private banking division of Standard Chartered Bank. Headquartered in Singapore, the Private Bank has over 1,300 employees including over 450 relationship managers globally. It has 31 offices in Asia, Africa, Middle East, Americas and Europe. The Private Bank leverages the natural strengths of Standard Chartered: a heritage of over 150 years in international banking, an international network across more than 70 countries and strong local presence in growth markets. This puts the Private Bank in an advantaged position to build and deepen relationships with its clients.
10. SEI's Global Wealth Services is an outsourcing solution for wealth managers combining wealth processing technology and wealth management programs, coupled with business process expertise. The integrated offering aims to provide wealth management organisations the infrastructure, operations and administrative support necessary to capitalise on their strategic objectives in a constantly shifting market.
11. At the heart of the solution lies the Global Wealth Platform, which supports trading and transactions on 100 stock exchanges in 53 countries and 31 currencies, all using straight-through processing. For more information, visit www.seic.com/pwi.
12. SEI (NASDAQ: SEIC) is a leading global provider of investment processing, fund processing, and investment management business outsourcing solutions that help corporations, financial institutions, financial advisors, and ultra-high-net-worth families create and manage wealth. As of September 30, 2011, through its subsidiaries and partnerships in which the company has a significant interest, SEI manages or administers USD395 billion in mutual fund and pooled assets or separately managed assets, including USD162 billion in assets under management and USD233 billion in client assets under administration. For more information, visit www.seic.com.
13. Morar Consulting was founded to bring new approaches to brand strategy and brand measurement to help our clients grow the value of their brands. The success of our work is built on a combination of four key elements: insight, expertise, technology and action.
To download the full report please call us or visit www.scorpiopartnership.com
Important information:
Standard Chartered Bank (SCB) is incorporated in England and Wales with limited liability by Royal Charter 1853, Reference number ZC 18. The Principal Office of the Company is situated in England at 1 Aldermanbury Square London EC2V 7SB. Standard Chartered Bank is authorized and regulated by the Financial Services Authority under FSA register number 114276. Banking services may be carried out internationally by different SCB legal entities according to local regulatory requirements. Not all products and services are provided by all SCB branches, subsidiaries and affiliates. Product availability may vary depending on your Investment Centre.
The SEI Global Wealth Services may be offered internationally by different SEI Investment Company subsidiaries and affiliates according to local regulatory requirements. This material has not been approved by any of the SEI subsidiaries or affiliates as a financial promotion or marketing communication for any prospective investor. The information contained in this document has not been independently verified by SEI or any legal entity of the SEI Group of Companies. This document is not intended in any circumstances as an offer or solicitation to subscribe for or acquire any securities or sale of any securities in any jurisdiction.
Image Available: http://www2.marketwire.com/mw/frame_mw?attachid=1857160

Copyright @ Marketwire
Page: 1
Related Keywords:
SEI Global Wealth Services, Futurewealth, high-net-worth investors, wealth confidence, Africa, England, Singapore, Marketwire, , Financial, Business, Email, middle east, england, Other,
---