Scandit Launches First-Of-Its-Kind Barcode Scanning Analytics
(June 29, 2011)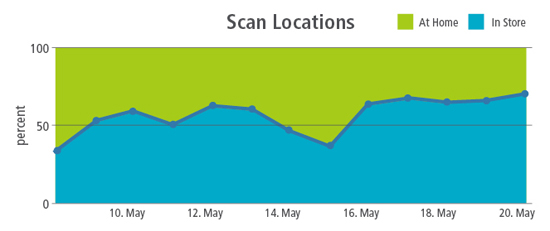 San Francisco, CA (PRWEB) June 29, 2011
Scandit, provider of the leading cross-platform mobile barcode scanner Scandit SDK, announced today the launch of its new Scanalytics feature. Scanalytics provides developers with convenient access to real-time barcode scanning analytics. By analyzing which products the mobile app users scan and how often and where they scan products, Scanalytics provides unique insights for developers, retailers and brand owners into how mobile app users are interacting with consumer products.
In a first step, Scandit is making available its free Scanalytics service to all iPhone and Android developers using its leading mobile barcode scanner. With mobile shopping applications becoming increasingly popular, developer competition for consumers is rising. Scandits Scanalytics feature enables developers to gather live consumer scan data to optimize their mobile apps, maximize user retention, identify additional revenue opportunities and compete more effectively.
Scanalytics provides unique information for the developer about mobile user scan behavior. said Scandit CEO, Samuel Mueller. With the fastest and most reliable barcode scanner and the new Scanalytics feature, Scandit offers the most complete mobile product interaction solution on the market.
During its recent beta tests Scandit stress-tested its Scanalytics service. As a company whose background includes handling millions of barcode reads and RFID scans, we are using our experience to provide a scaleable, real-time Scanalytics platform, said co-founder and COO, Christof Roduner. Our Scanalytics platform can support millions of scans.
Among the powerful new features available is the capability for developers to track the top products being scanned and the product categories scanned the most often. Developers can also monitor whether products are being scanned at home or in store to better understand how their mobile apps are used, where to make modifications and how to better serve their users.
To learn more about Scandit Scanalytics, please visit http://www.scandit.com.
About Scandit
Scandit, the leading technology to power, analyze and monetize mobile product interaction, offers best-in-class barcode scanning for mobile applications. Endorsed by the global barcode standardization organization as its preferred technology and already licensed to over a hundred parties in 25 countries, Scandits mission is to turn frictionless product interaction into a standard mobile phone capability.
Scandit is developed by Mirasense, a Zurich-based company founded in 2009 by entrepreneurs and former researchers at MIT and ETH Zurich. Mirasense is privately funded and has won several national and international entrepreneurship accolades.
###
Read the full story at http://www.prweb.com/releases/2011/6/prweb8609998.htm.
Page: 1
Related Keywords:
computer crime,software,computing and information technology,satellite technology,software,wireless technology,science and technology,technology (general),identification technology,agricultural research and technology,internet,computing and information technology,satellite technology,wireless technology,science and technology,technology (general),identification technology,agricultural research and technology,fishing industry,shipping service,cinema industry,radio industry,television industry,music industry,process industry,economy, business and finance,financial and business service,market research,
---