Santeon CEO to Speak at London's Technology Innovation Summit
(April 16, 2012)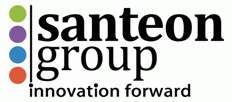 RESTON, VA -- (Marketwire) -- 04/16/12 -- Santeon Group, Inc. (PINKSHEETS: SANT) today announced that Dr. Ash Rofail, Santeon Chairman and CEO, is a featured keynote speaker at London's Technology Innovation Summit (www.innotechsummit.com) sponsored by Boris Johnson, Mayor of London. The Technology Innovation Summit ("InnoTech"), sponsored by HULT International Business School, is an ideal venue for entrepreneurs, technology companies and venture capital firms to share ideas on the future of technology and the impact of funding on innovation.
"We are in the midst of a digital revolution and London's entrepreneurs are leading the world in developing applications and services that resonate with the public. Growing the digital economy is key for future job creation in London and events like InnoTech are vital to help bring investors and startups together," said Boris Johnson, Mayor of London.
Santeon's CEO, Dr. Ashraf Rofail, will participate by discussing how innovative software development approaches can help entrepreneurs enter new markets with greater degrees of success. "I am honored to be part of this summit and to stand along-side the thought leaders here who have real experience in transforming organizations," commented Dr. Rofail. "Very few innovations that transform our lives are originated from large companies; an innovative idea without the proper execution framework will end up on the shelf or late to market. There is a strategic approach to reducing risk and to providing an environment for successful innovations," continued Dr. Rofail.
Santeon also announced today that Dr. Ahmed Sidky, Executive Vice President, will be the keynote presenter at VersionOne's Agilepalooza (http://agilepalooza.com/) in Portland, OR on April 13, 2012 on the topic of "Enterprise Transformation using Agile Methods."
Santeon is honored to be invited to conferences at the national and international level and will be sharing, very soon, more information on its participation in industry events.
About Santeon Group, Inc.
Santeon Group is a technology company Headquartered in Northern Virginia with offices strategically located in Reston, VA, Tampa, FL and Cairo, Egypt. Santeon offers products and services in Healthcare, Energy, Media and Agile Development. Santeon's goal is to serve emerging markets by providing technically superior products and solutions while reducing the cost of ownership and deployment of these solutions through a strong channel partner and distribution model. For more information please visit the web site at http://www.santeon.com/.
Safe Harbor Statement
This press release contains statements that may constitute forward-looking statements. These statements are based on current expectations and assumptions and involve a number of uncertainties and risks that could cause actual results to differ materially from those currently expected. For additional information about Santeon's future business and financial results, refer to Santeon's Annual Report on Form 10-K. Santeon undertakes no obligation to update any forward-looking statements that may be made from time to time by or on behalf of the company, whether as a result of new information, future events or otherwise.
Contact:
Mark Guirgis
Acting CFO
Phone: 703-970-9200
[email protected]


Copyright @ Marketwire
Page: 1
Related Keywords:
Santeon Group, Inc. , Egypt,Marketwire, Inc., ,Financial,Internet Technology,Computer Science,Business,
---