Sage Software Partners With Applianz Technologies to Offer Simplified IT Management and Remote Connectivity for Sage Abra HRMS Customers
(June 04, 2008)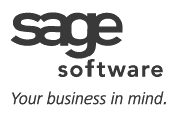 ST. PETERSBURG, FL -- (MARKET WIRE) -- 06/04/08 -- Sage Software today announced it is partnering with Wichita, Kan.-based Applianz Technologies, Inc. to offer Sage Abra HRMS, Sage Software's award-winning human resource management system (HRMS) for mid-sized businesses and organizations in North America, as a turn-key hardware and software solution. The Applianz server is designed and configured to reduce or eliminate the need for IT department support. Organizations can order Sage Abra HRMS pre-installed on an Applianz system, which includes the server hardware, Windows operating system, firewalls, and other required software. All the user needs is a high-speed network connection.
"Our goal is to provide Sage Abra customers with flexible, cost-effective, and secure deployment options," said Karl Grass, senior vice president and general manager for Employer Solutions, Sage Software. "The Applianz system is easily installed and administered by non-technical staff to reduce cost and complexity. It offers the benefits of traditional software hosting -- such as secure remote access from the office, home, or virtually anywhere in the world -- and a reduced need for IT resources, while still giving HR professionals the peace of mind that their HR and payroll data is being securely maintained on-site."
In addition to its low administration and support, the Applianz system offers built-in multi-platform support, allowing users to access Sage Abra HRMS from Macs, PCs, and a variety of web browsers. Bundled with one year of Applianz's CompleteAssurance(TM) service, the Applianz system also automatically performs routine server monitoring and maintenance, as well as automatic off-site data back-ups to help ensure the reliability of the Sage Abra HRMS software. Each Applianz server has an internal firewall, so all remote access is encrypted, plus Sage Abra customers can still integrate their data with other applications at local area network (LAN) speeds.
"We are proud to bring our best-selling Applianz turn-key system to Sage Abra HRMS customers," said Mark Janzen, president of Applianz Technologies, Inc. "With support for both PCs and Macs, secure remote access for every user, automatic back-ups, and overnight system replacement with our CompleteAssurance service, Sage Abra customers can be assured of reliable access to their software."
As Sage Software's flagship HR/payroll offering, Sage Abra HRMS comprises HR, payroll, benefits, training, recruiting, and compliance software solutions for mid-sized businesses. Its flexible design allows a company and organization to choose from database platforms, including SQL Server and Visual FoxPro, plus a comprehensive array of features and the powerful reporting and analysis capabilities needed to manage their workforce.
In addition to its best-of-breed status, Sage Abra integrates with Sage Software's Sage MAS ERP product line, Sage MIP Fund Accounting, Sage Accpac ERP, and Sage Timberline Office, plus the company's Sage Payroll Services and Sage Compliance Services offerings. It also integrates with numerous third-party solutions for mid-sized businesses.
Founded in 2002, Applianz Technologies, Inc. is a pioneering creator of virtual infrastructure appliances. With its patent pending software and high performance hardware platform, Applianz creates turn-key solutions for independent software vendors and their customers. Applications include accounting, human resources and medical practice management software. Bundled with Applianz's CompleteAssurance suite of services including one-click remote access, continuous monitoring, automated off-site backup, and support, Applianz systems are changing the way software is delivered and managed. Today, Applianz systems are powering small businesses across North America providing all the benefits of hosted software with the ease of use, performance and local control only on-site systems can provide.
The Applianz system for Sage Abra HRMS is available now. For more information or other details about Sage Abra HRMS, please visit www.sageabra.com or call 800-424-9392. For more information about Applianz Technologies, Inc., please visit www.applianz.com or call 316-263-4800.
About Sage Software
Sage Software supports the needs, challenges and dreams of nearly 2.9 million small and medium-sized business customers in North America through easy-to-use, scalable and customizable software and services. Our products support accounting, operations, customer relationship management, human resources, time tracking, merchant services and the specialized needs of the construction, distribution, healthcare, manufacturing, nonprofit and real estate industries. Sage Software is a subsidiary of The Sage Group plc, a leading global supplier of business management software and services to small and medium-sized businesses. Formed in 1981, Sage was floated on the London Stock Exchange in 1989. Sage Group now has 5.7 million customers and employs over 14,800 people worldwide. For more information, please visit the web site at www.sagesoftware.com or call (866) 308-2378.
© 2008 Sage Software, Inc. All rights reserved. Sage Software, the Sage Software logo and the Sage Software product and service names mentioned herein are registered trademarks or trademarks of Sage Software, Inc. or its affiliated entities.
Press Contacts:
Cynthia Sutton
Sage Software
(703) 793-2700 x 3032
[email protected]


Copyright @ Marketwire
Page: 1
Related Keywords:
HR, human resources, Applianz, Abra, payroll, Mac,OS9,OSX,Marketwire,healthcare,Appliances,Internet Technology,Business,Browsers,Other,
---