Sabre CentralCommand Preferred Back-Office Solution for Top Travel Management Companies
UNIT4 Business Software counts over 35% of Travel Weekly's 2012 PowerList as customers
(July 16, 2012)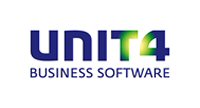 VICTORIA, BRITISH COLUMBIA and MANCHESTER, NEW HAMPSHIRE -- (Marketwire) -- 07/16/12 -- UNIT4 Business Software (EURONEXT AMSTERDAM:UNIT4), the North American subsidiary of UNIT4, the global business software group, continues to provide the back-office solution of choice for leaders in the travel industry. Influential trade publication Travel Weekly has announced its 2012 PowerList, and 35 percent of the travel management companies listed are using Sabre CentralCommand(SM) with Agresso as their back-office to improve efficiency, control costs, and make better business decisions.
Since 2002, Sabre Travel Network and UNIT4 Business Software have combined their travel and Enterprise Resource Planning (ERP) expertise into a powerful back-office solution that facilitates growth and change. The critical feature of the software is its post-implementation agility, or the ability for business users to make ongoing changes independently, without involving costly IT staff or re-implementing their back-office systems.
CentralCommand is a fully integrated business information system combining travel accounting with comprehensive back-office financial management and ERP tools. This integrated approach enables travel management companies to lower costs and increase margins, expand their businesses and grow their customer base with exceptional service delivery. For the growing number of travel businesses operating globally, CentralCommand's multi-currency, multi-language, and multi-company capabilities provide a single source of business information, delivered according to local requirements.
Willie Lynch, CFO of Travel Leaders Group, 10th on the 2012 PowerList states, "Bringing together the travel database with live interface to the general ledger saves time, reduces headcount and allows us to see, at any given moment, the complete picture of ARC sales and the agency's revenue. The new multi-client feature allows us greater flexibility to operate a multi-divisional agency with different business models and to rapidly integrate acquisitions."
"With its frequent mergers and acquisitions, regulatory changes, and competitive pressures, the travel industry is fertile ground for CentralCommand's ability to manage change," says Charles Johnston, director of travel industry solutions at UNIT4 Business Software. "Competition continues to drive down service fees and pressure margins; travel management companies can no longer operate efficiently using disparate, independent systems and manual interventions. To stay competitive and grow, especially into new lines of business and into new global markets, these companies need a modern back-office designed specifically to manage growth and change."
Among the 2012 PowerList companies that use CentralCommand are some of the largest travel companies in North America, including BCD Travel, HRG North America, Travel Leaders Group, Travizon, Short's Travel Management and Balboa Travel Management.
Visit here for more information on CentralCommand.
About UNIT4 Business Software
UNIT4 Business Software in North America (www.unit4software.com) is a wholly-owned subsidiary of UNIT4, a $602 million global cloud-focused business software and services company. UNIT4 Business Software helps dynamic public, private, non-profit and higher education organizations embrace change simply, quickly and cost effectively in a market sector it calls "Businesses Living IN Change (BLINC)(TM)". UNIT4 Business Software's leading back-office software for the travel industry, Sabre CentralCommand(SM) with Agresso, is a fully integrated travel and Enterprise Resource Planning (ERP) solution for travel management companies. Agresso Business World is widely acknowledged as the ERP solution that delivers the lowest Total Cost of Change. The software's unique Vita(TM) architecture allows for ongoing, post-implementation changes by business users, without the external IT costs typical of traditional ERP systems.
More than 3,000 companies and organizations in 100 countries deploy Agresso Business World for both operational support and strategic management. Agresso is a role-based, Web Services enabled solution that can be deployed on premise or in the cloud. It includes Financial Management, Budgeting and Forecasting, Human Resources and Payroll, Procurement Management, Project Costing and Billing, Reporting and Analytics, Business Process Automation, and Field Services and Asset Maintenance.
About Sabre
Sabre Travel Network, a Sabre Holdings Company, provides the most comprehensive travel procurement solutions for corporate travel and end-to-end solutions for leisure travel. The Sabre GDS is the foundation for these solutions, providing a ready-built efficient marketplace that connects travel suppliers, including hundreds of airlines and thousands of hotels, with more than 55,000 travel agency locations.
Contacts:
UNIT4 Business Software
Asmaa Methqal
Marketing Communications Manager
250.704.4484, or 250.516.2137
[email protected]
Twitter: @UNIT4SoftwareNA


Copyright @ Marketwire
Page: 1
Related Keywords:
UNIT4 Business Software , Marketwire, Financial, Internet Technology, Business,
---