STOIK Releases Image Enhancement SDK to Improve OCR Quality of Document Images
(March 24, 2011)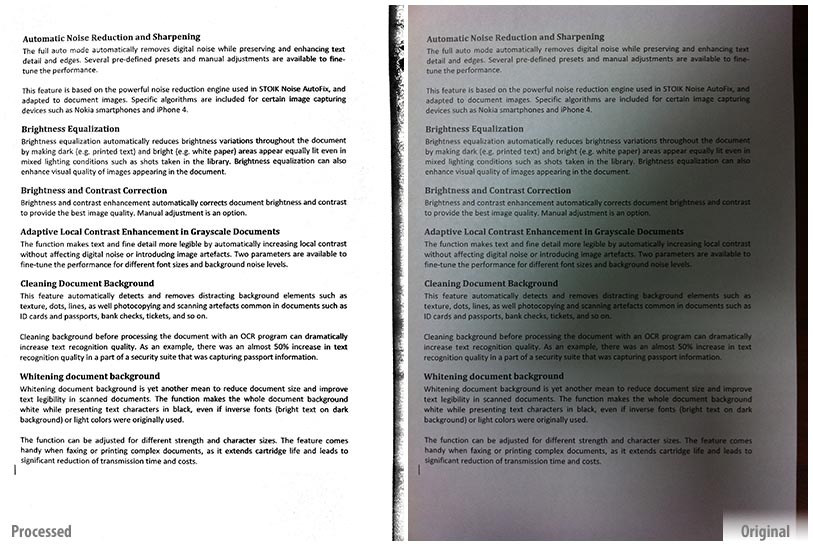 (Vocus/PRWEB) March 24, 2011
STOIK Imaging announced the release of STOIK Document Image Enhancement SDK, a developer toolkit to allow processing document images in full or semi-automatic modes.
Processing document images with the many functions of the new SDK provides higher quality text recognition (OCR); enhances text legibility and improves visual appearance of the document. In addition, processed document images take less storage space and save toner/cartridge resources when printed or scanned.
About STOIK Document Image Enhancement SDK.
The many functions of STOIK Document Image Enhancement SDK help developers to quickly implement automated processing of document images. Developers will gain the ability to quickly release applications allowing users to prepare document images taken with scanners, digital cameras or camera phones for text recognition, and improve OCR quality by correcting common issues in full auto and semi-automatic modes.
Applications created with STOIK Document Image Enhancement SDK will offer their users the ability to save on printing and faxing costs by spending less ink outputting non-white backgrounds, ensuring smooth and economic migration to paperless workflow. Pre-processed document images are proven to be taken easier by OCR programs, resulting in significantly improved text recognition quality.
STOIK Document Image Enhancement SDK: Functionality at a Glance.
STOIK Document Image Enhancement SDK implements a wide range of image manipulation functions, including the ability to suppress digital noise, automatically correct distortion, rotation and exposure problems, clean text background and extract document area to make subsequent OCR job smoother and easier with enhanced recognition quality and fewer errors. Processed documents feature improved text legibility and enhanced visual appearance.
Storing, faxing and printing processed images gets more economical thanks to reduced file size and white background free of textured background, dots, lines and gradients. The SDK implements the ability to whiten complex backgrounds used on check images, ID cards and other documents, making document images look clean and the text appear more legible for human readers and OCR applications.
Availability.
STOIK Document Image Enhancement SDK is immediately available in 32-bit and 64-bit editions, and supports current versions of Microsoft Windows, Apple iOS, and Symbian. A mobile edition is also available. A free evaluation version is available for download from the companys Web site upon request.
More information available at STOIK Document Image Enhancement SDK product page.
About STOIK Imaging
Established in 1994 by a group of talented physicists and mathematicians, STOIK Imaging develops innovative Windows and Mac software for still image and video processing. Its founders have extensive background in developing image processing and data acquisition projects for a Soviet space program. Today, the company produces a wide range of image processing solutions for consumer and professional markets, and provides independent consulting and development services. The company licensed its technologies to a number of companies from the Fortune 500 list.
###
Read the full story at http://www.prweb.com/releases/stoik/document-enhancement-sdk/prweb8236325.htm.
Page: 1
Related Keywords:
computer crime,computing and information technology,satellite technology,wireless technology,science and technology,technology (general),identification technology,agricultural research and technology,computing and information technology,satellite technology,software,wireless technology,science and technology,technology (general),identification technology,agricultural research and technology,economy, business and finance,financial and business service,business enterprises,business (general),computer crime,computing and information technology,satellite technology,wireless technology,science and technology,technology (general),identification technology,agricultural research and technology,
---