SPECvirt Virtualization Performance Benchmark Record Achieved Using Solarflare 10GbE Server Adapter
Test Results Set New Record for Performance and Virtual Machine Scalability With HP ProLiant DL980 Servers and Red Hat Enterprise Linux 6 Operating System
(February 02, 2012)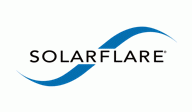 IRVINE, CA -- (Marketwire) -- 02/02/12 -- Solarflare, a leader in application-intelligent 10 Gigabit Ethernet (10GbE) networking software and hardware, today announced a new SPECvirt virtualization benchmark record with its 10GbE server adapter.
The test environment included Solarflare's SFN5122F 10GbE server adapter utilizing SR-IOV (single root I/O virtualization) and running Red Hat Enterprise Linux 6 operating system on an HP ProLiant DL980 G7 server. The test results establish a new scalability SPECvirt_sc2010 record with [email protected] VMs. This is an increase of 21 percent from the previous record.
The benchmark results highlight Solarflare's SR-IOV support for Red Hat Enterprise Linux 6 with Kernel-based Virtual Machine (KVM) hypervisor and for Red Hat Enterprise Linux as a guest. Solarflare enables leading 10GbE performance by reducing CPU utilization, increasing bandwidth and decreasing latency. In addition, Solarflare's hybrid SR-IOV model provides direct guest access for application acceleration, while maintaining support of the management and high availability features of the hypervisor, such as live migration.
Solarflare server adapters provide the industry's highest line-rate performance and most scalable architecture for today's demanding applications. Featuring kernel and hypervisor bypass, the company's products alleviate I/O bottlenecks and provide IT managers the ability to allocate server I/O resources directly to physical and virtualized applications.
"This benchmark validates the system-level performance our unique server adapter provides," said Mike Smith, VP / GM of host solutions at Solarflare. "Our virtualized hardware architecture and hybrid SR-IOV solution clearly enables unmatched performance. Equally important, it allows customers to use their existing virtualization management applications such as live migration, teaming and network failover."
"Red Hat has a unique approach to collaborative engineering and testing that helps Red Hat Enterprise Linux to perform and scale effectively in large, virtualized enterprise computing environments," said Jim Totton, vice president and general manager, Platform Business Unit, Red Hat, Inc. "The SPECvirt benchmark results verify that Red Hat Enterprise Linux 6 with the KVM hypervisor can effectively accommodate heavy workloads for optimized performance."
"In today's evolving business landscape, enterprises need flexible, high-performance virtualization solutions to quickly address changing demands," said Martin Whittaker, vice president, Systems and Solutions Engineering, Enterprise Servers, Storage and Networking, HP. "HP ProLiant servers help enterprises create agile, high-performing, virtual IT environments that increase competitive advantage."
The SPECvirt_sc2010 is a vendor-neutral benchmark from the Standard Performance Evaluation Corp (SPEC) that measures the end-to-end maximum performance of data center servers used for virtual server consolidation. The benchmark uses workloads representative of server virtualization, including mail servers, database servers, applications servers, web servers and file servers. Scaling is achieved by running additional sets of virtual machines (called "tiles") until overall throughput reaches a peak or workloads fail to meet required quality of service (QoS) criteria.
To receive an RSS feed for all of Solarflare's news, please visit http://live.lewispr.com/solarflaresd/ and click on subscribe.
About Solarflare
Solarflare develops network interface software and hardware to transform the way applications use networks, providing industry-leading application acceleration for the most demanding scale-out compute environments. Solarflare's products are available from leading distributors and value-added resellers, as well as Dell, IBM and HP. Solarflare is headquartered in Irvine, California and operates an R&D facility in Cambridge, UK.
For more information, please visit www.solarflare.com
All product and company names herein may be trademarks of their registered owners. Red Hat, the Shadowman logo and JBoss are registered trademarks of Red Hat, Inc. in the U.S. and other countries. Linux is a registered trademark of Linus Torvalds.
Katelyn Perkins / Brittney Wolff
LEWIS PR for Solarflare
619-677-2700
Email Contact

Nicole E. Martin
Solarflare Communications
415-860-9194
Email Contact


Copyright @ Marketwire
Page: 1
Related Keywords:
Solarflare, Red Hat, virtualization, SPEC, HP, 10GbE, application acceleration, Linux, networking, Applications, Storage, Networking, Database, Internet, Hardware, Software, Misc, Database, Networks, Server Hardware, Server Computers, Other, Architecture, Internet Server Applications, Web Servers, Management, IT Managers, Unix, Linux, USA, Marketwire, Inc., , HP, Internet Technology, Business, Other,
---