SOA Software and Red Hat to Host API Management Webinar
Effectively Leverage SOA and APIs to Increase Business
(April 17, 2012)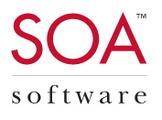 LOS ANGELES, CA -- (Marketwire) -- 04/17/12 -- SOA Software, a leading provider of SOA governance, cloud and enterprise API Management products, announced today that it has joined forces with Red Hat to present a webinar on the subject of API management. The live April 24th event is titled "The benefits of API Management with JBoss Enterprise SOA Platform's ESB and SOA Software." Topics of discussion include how SOA can provide a foundation for an API program, and how approaching APIs with a combination of a sound SOA platform and end-to-end SOA governance promotes API service levels (SLA), security, and policy compliance.
"Service Oriented Architecture drives agility and efficiency, providing a foundation for APIs that can increase revenue," said Roberto Medrano, Executive Vice President of SOA Software. "But, as with so many other emerging technologies, how you implement your APIs can make a huge difference in how well you achieve your goals. This presentation is intended to give our audience new ways of thinking about both API implementation and sharing -- two of the core elements of API success."
SOA Software and Red Hat decided to present the webinar after working with numerous clients that were struggling with APIs on heavyweight, complex proprietary SOA platforms. The webinar will describe how some of the world's largest companies have used SOA Software and JBoss Enterprise SOA Platform's ESB solutions to plan, build and operate their SOA & API environments. The presentation will also detail how automated SOA governance and API management help enterprises more effectively leverage SOA and APIs to increase business output while cutting their spending.
Pierre Fricke, Director of Product Line Management, SOA Products, at Red Hat and Ian Goldsmith, Vice President, Product Management, at SOA Software will jointly present the webinar. Mr. Fricke is responsible for strategy and enterprise messaging for these Red Hat products. Mr. Ian drives product management for SOA Software. The two executives have extensive knowledge and experience in the arena of API Management, SOA implementation and SOA governance.
The webinar will be presented at the following times:
Tuesday, April 24, 2012 | 13:00 UTC / 9 a.m. (New York) / 3 p.m. (Paris) / 6:30 p.m. (Mumbai)
Tuesday, April 24, 2012 | 18:00 UTC / 2 p.m. (New York) / 8 p.m. (Paris) / 11:30 p.m. (Mumbai)
Register here
For more information about SOA Software API Management see: www.soa.com/atmosphere
For more information about SOA Governance for Red Hat see: www.soa.com/JBoss
About SOA Software
SOA Software is a leading provider of unified SOA governance, cloud and enterprise API Management products that enable organizations to plan, build, and run enterprise services and open APIs. The world's largest companies including Bank of America, Pfizer, and Verizon use SOA Software solutions to transform their business. Gartner placed SOA Software in the Leaders Quadrant for the 2011 "Magic Quadrant for SOA Governance Technologies." The company is also recognized as a "Leader" by the Forrester Research Waves for Integrated SOA Governance and SOA Life Cycle Management. For more information, please visit http://www.soa.com.
SOA Software, Atmosphere, atmos.phe.re, Policy Manager, Portfolio Manager, Repository Manager, Service Manager, and SOLA are trademarks of SOA Software, Inc.
Add to Digg Bookmark with del.icio.us Add to Newsvine
For more information, please contact:
SOA Software
Email Contact


Copyright @ Marketwire
Page: 1
Related Keywords:
API Management, Soa governance, JBoss, Red Hat, SOA Software, Security, Management, Marketwire, Inc., , Business, Other,
---