SOA Software Delivers Business Impact Analysis
Repository Manager Automatically Detects, Enforces and Informs SOA Community of Dependencies Between On-Premise and Cloud Processes, Services and Schemas
(November 29, 2011)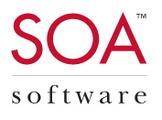 LOS ANGELES, CA -- (Marketwire) -- 11/29/11 -- SOA Software, a leading provider of SOA governance, cloud and enterprise API Management products, today announced Repository Manager Version 6.4 which provides crucial support to enterprise SOA governance efforts by automatically discovering dependencies across processes, services and schemas, ensuring the discovered dependencies conform to organizational standards and notifying key stakeholders when change occurs. Combining these advanced capabilities with Repository Manager's leading support for service and operation-level consumption governance enables organizations to establish an effective ongoing change management discipline for their SOA, giving both business stakeholders and architects clear and detailed visibility over how businesses processes connect via services to underlying data within the enterprise.
Repository Manager is SOA Software's industry leading development governance platform that simplifies the creation, integration, management and promotion of enterprise assets and services throughout the complete development lifecycle. Repository Manager serves to automate the path to SOA and Cloud, enabling customers to rapidly develop, govern and deploy services within the SOA service lifecycle. With its strong integration with leading application development environments such as Eclipse and Microsoft Visual Studio, federation with all major run-time registries including IBM WSRR, HP SOA Systinet and UDDI registries, and its extensive integration with SOA Software's Policy Manager, Repository Manager enables customers to rapidly govern and deploy services and other software assets from a single point of control within the SOA enterprise lifecycle. Repository Manager is used by Fortune 500 customers to drive application agility and reduce cost and risk in their SOA deployment.
"Companies are embracing SOA Development Governance to become more agile and to prepare them for cloud and mobile initiatives," said Brent Carlson, senior vice president of technology at SOA Software. "Repository Manager 6.4 gives customers deep insight into their SOA as it matures and evolves, and ensures that changes are well managed, proactively dealt with, and remain aligned with core SOA architectural principles."
Key features of Repository Manager 6.4 include:
Impact Analysis for more Key SOA Standards - By automatically discovering dependencies across all primary SOA XML filetypes (XPDL, BPEL, WSDL and XSD), enforcing that standards such as namespace uniqueness, use of only governed (i.e. canonical) schemas, and attribute and element naming conventions are complied with, and building subscription-based dependency relationships across and within types, Repository Manager ensures that the enterprise's SOA efforts remain aligned with architecture decisions and also provides architects and other stakeholders with a deep view into the world of loosely coupled SOA dependencies.
Expanded Search Options - Organizations can create tailored search types as desired, hiding the complexity of search rules under a clear and simple to use user interface. Repository Manager 6.4's automated indexing of all XML-based content including Microsoft Office 2007 and 2010 documents, combined with its support for configurable multi-field search forms whose fields are tied to strongly-typed XPath-based search criteria gives IT organizations an extremely powerful search environment coupled with superior ease of use.
Intuitive User Experience - Repository Manager 6.4 introduces a fully redesigned asset layout leveraging the latest AJAX technology. Creating and understanding services, schemas, processes, applications and other development assets flows naturally from intuitive AJAX-based forms with seamless navigation across dependencies, giving Repository Manager users an efficient, concise and easy to use asset governance working environment.
Automation for IBM Rational Team Concert - IBM Rational Team Concert is now added to the extensive list of AnySource Asset Adapter automations alongside Microsoft Team Foundation Server, IBM Rational ClearCase, Serena PVCS and Dimensions, Perforce, CVS, Subversion and any WebDAV-enabled repository. AnySource automatically navigates through repository contents, discovering relevant files and metadata through customer-configured rules and creating and updating development assets in Repository Manager on an event-triggered or periodic batch basis, thereby alleviating much of the manual effort commonly associated with asset governance, simplifying developers' lives and improving content accuracy.
Repository Manager's Existing Capabilities include:
Development Governance - manage heterogeneous asset types from a single source. These assets can include services, components (e.g., .NET, J2EE), legacy systems, and/or knowledge assets, such as patterns and best practices, used by development teams. Repository Manager provides seamless integration with Microsoft, SAP, IBM, and other development platforms.
Federation with Service Registries - discover and publish services from and to runtime service registries including HP SOA Systinet, IBM WSRR, Software AG CentraSite and any UDDI registry to ensure consistency of service definitions through the enterprise.
Integration with Leading Software Development Platforms - reference and replicate assets and artifacts from common SCM solutions. Provide seamless governance processes across all enterprise software development platforms including Microsoft, SAP, IBM, Eclipse and others.
Service Operation-Level Governance - Enables fine-grained service governance by allowing companies to define and automate policies around the consumption of service operations as well as services.
Impact analysis at an operation level - Enterprises can get a more detailed view of their SOA implementation with operation-level impact analysis.
Automated Virtual Policy Assignment - Repository Manager and Policy Manager combine to automatically assign provider-side operational policies to one or more virtual services. This automated approach abstracts operational service policy concepts at development time and greatly reduces the potential for human error in the virtual service generation process.
Graphical Configuration Designer - Customers can efficiently control their enterprise SOA governance process via Repository Manager's sophisticated Eclipse-based Configuration Designer to support graphical support type/template mapping, configuration of email notifications and custom validation as well as automation task management.
Fine-Grained Asset Editing and Presentation Control - Administrators have full control over which users/roles can create what asset types. For example, customers can configure a "Service Developer" role to allow creation and editing of Service and Schema assets only, while an "Enterprise Architect" role could create only Best Practice and Design Pattern assets. Repository Manager also associates icons with asset types presenting a distinctive visual indication on a per-type basis allowing for fine-grained control over presentation.
Effective Asset and Service Management and Deployment - deep integration with SOA Software's Policy Manager provides compliance policy validation to ensure cross-enterprise compatibility of services and other software assets. Repository Manager processes can automatically provision service and schema definitions under development to Policy Manager which in turn automatically applies the correct compliance policies for those definitions. Strong integration with development tools ensures efficient operation of the development process.
Discover Assets and Services Collaboratively - comprehensive technical and business search capabilities to ensure that created applications meet business needs.
About SOA Software
SOA Software is a leading provider of unified SOA governance, cloud and enterprise API Management products that enable organizations to plan, build, and run enterprise services and open APIs. The world's largest companies including Bank of America, Pfizer, and Verizon use SOA Software solutions to transform their business. www.soa.com
Follow us:
http://twitter.com/#!/SOASoftwareInc
http://www.youtube.com/SOASoftware
http://www.linkedin.com/groupRegistration?gid=2283974
http://www.soa.com/index.php/news/feed
SOA Software, Atmosphere, atmos.phe.re, Policy Manager, Portfolio Manager, Repository Manager, Service Manager, and SOLA are trademarks of SOA Software, Inc.
Add to Digg Bookmark with del.icio.us Add to Newsvine
For more information, please contact:
SOA Software
Email Contact


Copyright @ Marketwire
Page: 1
Related Keywords:
SOA development governance, SOA governance, SOA Repository Manager, SOA Software, Applications, Productivity Applications, Internet, Business Issues, Software Development, Other Applications, Architecture, Search, Internet Server Applications, E-mail, Search Servers, Web Servers, Tools, Platforms, Visual Studio, Eclipse, .NET, Management, Marketwire, Inc., , HP, Computer Science, Business, Email, Other,
---