SOA Software Announces Availability of Atmosphere Cloud
Free Cloud Service Complements Existing On-Premise Enterprise API Management Solution
(November 07, 2011)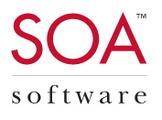 SANTA CLARA, CA -- (Marketwire) -- 11/07/11 -- Cloud Computing Expo -- SOA Software announced today the availability of Atmosphere Cloud, the cloud-based version of its award winning Enterprise API Management solution. Combined with the on-premises 'behind the firewall' deployment option that was announced in June, Atmosphere customers can now choose how they want to configure and deploy their API Management environment.
Atmosphere brings together API providers and Application developers in an integrated Enterprise API Management Community. It is a connecting point where APIs can be published, promoted, and managed in a secure, scalable environment. API providers can create and manage their own developer community, or just plug into the existing community. Creative people can discover and harness enterprise APIs blending them with complementary APIs from partner companies. Atmosphere provides a social environment where developers can work together, share ideas, and support each other in new and productive ways.
"Enterprises now have a choice in how they provide APIs. They can use Atmosphere Cloud to manage their developer community, and process messages on-premise," said Alistair Farquharson, Chief Technology Officer, SOA Software. "This provides companies with complete control over their API traffic without requiring a large internal infrastructure to support their developer community."
Atmosphere Cloud was created in order to offer a massive cloud-based API management community. It is free to all app developers and API providers, and provides the essential elements that make up today's API management environment: API registration, developer onboarding, API and app monitoring, quota management and security.
"SOA software has carefully assessed the current API landscape and applied their enterprise expertise to the business of managing APIs," said Kin Lane, author of the popular blog The API Evangelist and the book The Business of APIs. "Whether it is your first API initiative or you are a global company looking to extend your existing services investment, Atmosphere should be on your short list."
Atmosphere provides the same set of social features within both public and private communities, for both on-premise and cloud deployments. This allows for discovery and dialog between app developers and their peers, and the API providers. The result is a rich flow of information with collaboration and developer support that promotes faster innovation for businesses to grow and proliferate in ways that they never thought possible.
For more information on Atmosphere Cloud, please visit http://atmos.phe.re.
About SOA Software
SOA Software is a leading provider of unified SOA governance, cloud and enterprise API Management products that enable organizations to plan, build, and run enterprise services and open APIs. The world's largest companies including Bank of America, Pfizer, and Verizon use SOA Software solutions to transform their business. For more information, please visit http://www.soa.com.
SOA Software, Atmosphere, atmos.phe.re, Policy Manager, Portfolio Manager, Repository Manager, Service Manager, and SOLA are trademarks of SOA Software, Inc.
Add to Digg Bookmark with del.icio.us Add to Newsvine
For more information, please contact:
SOA Software
Email Contact


Copyright @ Marketwire
Page: 1
Related Keywords:
Atmosphere, API Management, Cloud, SOA Software, Mashup. App, Mobile, Lifecycle, SOA, SOA Software , Marketwire, Inc., ,Business,Other,
---