SNP America Launches T-Bone Software to Automate Enterprise Application Transformation Process
First-of-Its Kind Software Streamlines Corporate Transformations With Lower Costs and Greatly Reduced Downtime
(March 21, 2012)

MCLEAN, VA -- (Marketwire) -- 03/21/12 -- SNP America announced today the availability of its SNP Transformation Backbone® (SNP T-Bone) software, a new product that reduces enterprise application transformation time by 50 to 70 percent over conventional IT consulting.
With its unique combination of software and expert analytical and implementation support, SNP T-Bone significantly reduces the lag time in IT transformation by automating and streamlining common processes. T-Bone also enables the preservation of a seamless data history and achieves completion of critical integration and harmonization steps in record time and with significantly reduced costs. The decreased cost, and reduced transformation time makes IT systems agile and able to adapt quickly to CEOs' strategic decisions such as mergers, acquisitions, or sell-offs.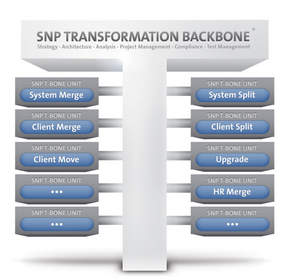 "Four out of five CFOs and IT executives feel that it takes too long to adapt corporate software and data to business structural changes," said Dr. Andreas Schneider-Neureither, Chairman of the Board of SNP America. "In today's rapidly changing global economy, the speed with which companies transform their IT resources must match the speed of their overall business transformations. If one lags behind the other, the success and future viability of any enterprise is compromised."
Drawing on SNP's experience conducting more than 1400 transformation projects for global businesses like Siemens, ThyssenKrupp and L'Oreal, SNP T-Bone ensures higher levels of transparency. And the company's proven "near-zero-downtime" approach helps keep vital systems available for production applications -- usually keeping downtime to just several hours. SNP T-Bone also fulfills all regulatory requirements for conversion of accounting-relevant data, and includes features that support data masking for test processes to protect confidential information.
For more information, visit www.transformation-ready.com.
About SNP America
SNP America Inc. is part of SNP AG, the leading supplier of software and software-related services for the transformation of business enterprise systems resulting from the restructuring of companies or technical innovation. SNP supplies the first available standard software to adapt IT landscapes with its product SNP Transformation Backbone®. The company was founded in Heidelberg, Germany in 1994 and operates offices in Austria, Switzerland, South Africa, and the US. The company is listed in the General Standard at the Frankfurt Stock Exchange. In the fiscal year 2011 SNP AG posted sales of EUR 26.7 million ($35.6 million).
For more information, visit www.snp-ag.com
Image Available: http://www2.marketwire.com/mw/frame_mw?attachid=1924381

Public Relations Contact:

Todd Scott
Godfrey Public Relations
40 N. Christian Street
Lancaster, PA 17602
(717) 393-3831
[email protected]


Copyright @ Marketwire
Page: 1
Related Keywords:
SNP America, Sales,Applications,Sales & Marketing,Productivity Applications,Other Applications,Sales,Sales,Africa,Germany,Austria,Switzerland,Marketwire, Inc., ,Business,Other,
---