SNAP Interactive Reports Second Quarter 2011 Results
Revenue Increases 288 Percent Over Year-Ago Quarter and Grows 29 Percent Over Prior Quarter; SNAP's Ninth Consecutive Quarter of Revenue Growth
(August 09, 2011)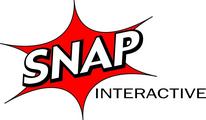 NEW YORK, NY -- (Marketwire) -- 08/09/11 -- SNAP Interactive, Inc. ("SNAP" or the "Company") (OTCBB: STVI), a leading social application developer with over 49 million installs across its properties, today announced financial results for its 2011 second quarter ended June 30, 2011. SNAP posted record quarterly revenues of more than $4.82 million for the second quarter of 2011, putting it on an annualized revenue run-rate of more than $19 million based upon second quarter revenues. Our significant financial results follow:
Second Quarter Results (2011 vs. 2010)
Revenue increased 288 percent to $4,826,723 compared to $1,243,082;
Net loss increased to $632,868 compared to a net loss of $68,861; and
Deferred revenue increased 291 percent to $2,823,714 compared to $722,866.
In addition, deferred revenue at June 30, 2011 increased to $2,823,714 compared to $2,393,024 at March 31, 2011; and net loss for the quarter ended June 30, 2011 decreased to $632,868 from a net loss of $920,746 for the quarter ended March 31, 2011. Finally, while our reported net loss for Q2 was $632,868, the actual net cash used in operating activities for Q2 was only $438,966.
SNAP's Revenue By Quarter
-------------------------------------- Second Quarter 2011 $ 4,826,783 -------------------------------------- First Quarter 2011 $ 3,736,905 -------------------------------------- Fourth Quarter 2010 $ 2,791,418 -------------------------------------- Third Quarter 2010 $ 1,706,691 -------------------------------------- Second Quarter 2010 $ 1,243,082 -------------------------------------- First Quarter 2010 $ 927,436 --------------------------------------
SNAP's Key Product Highlights for the Second Quarter
AreYouInterested.com brand added more than 10 million new installs during the quarter;
AreYouInterested.com iPhone Mobile Dating app was downloaded more than 370,000 times during the quarter and grew to more than 221,000 new downloads during July 2011;
Introduced revenue-generating features on AreYouInterested.com iPhone app -- including recurring subscriptions launched during Q2;
WhoIsNear.com added more than 647,000 new installs during the quarter; and
WhoIsNear.com has grown to more than 1.3 million total installs as of July 31, 2011.
"We are excited to announce another quarter of significant revenue growth as well as the ninth consecutive quarter in which our revenue has increased," commented SNAP's President & Chief Executive Officer, Clifford Lerner. "At the midway point of 2011 we have already well-exceeded our revenue for all of 2010, and this quarter's revenue total puts us at an annual revenue run-rate of more than $19 million. I'm pleased with the fact that we were able to continue executing our plan and growing the business while using only approximately $439,000 in net cash for operating activities during the second quarter. As a result, we have nearly $10 million dollars in cash and cash equivalents and investments, which we believe provides us with ample resources to continue building SNAP into a leading company in the social space. Expanding our presence on mobile platforms is a core objective for us moving forward. We believe that mobile dating applications and location-based services will offer significant opportunities in the future and have increased the resources allocated to these products with the goal of positioning us as a leading provider of these products. We are investing heavily on the engineering and user acquisition fronts while mobile platforms are still in the early stages of development and user acquisition costs are inexpensive. Growing the subscription base of AreYouInterested.com on the Web remains an objective; however, our priority for AreYouInterested.com and WhoIsNear.com remains to expand their mobile presence. Although revenue opportunities on our mobile products are not currently as prevalent as they are on our Web-based products, we are pursuing this course of action because we have a long-term view for our product roadmap and believe this will better position our products for long-term success as more and more Web browsing and online activity shifts to smart phones and other mobile devices."
Lerner continued, "We continue to see exciting growth in both user count as well as in feature-sets on AreYouInterested.com and WhoIsNear.com. AreYouInterested.com remains a leading dating application on Facebook Platform and has also grown into a leading mobile dating application on the iPhone due to our increased focus on mobile development. We experienced some declines in monthly active users on our Facebook app toward the end of the quarter and into July; however, we believe this was not reflective of any decrease in engagement by existing users but rather resulted from what we believe to be a temporary decrease in inventory for acquiring users through our existing paid acquisition channels. We have seen available inventory and active user totals begin to increase again recently, and we also used this opportunity to direct some of those marketing resources toward acquiring users on other platforms, including mobile. We also began dedicating additional resources toward improving the user experience on AreYouInterested.com, including initiatives targeted at achieving more re-engagement from existing users and further integration between the Web and mobile user experiences. Meanwhile, WhoIsNear.com continues to develop with the primary objectives of launching new features and increasing its user base. Our principal focus with WhoIsNear.com remains to build a best-in-class feature set in order to continue gaining market share in the location-based services space. We are prioritizing growth ahead of immediate revenue generation for WhoIsNear.com because we believe the long-term potential for a large location-based services app far exceeds the benefit of any near-term revenue generated at the expense of growth."
SNAP's revenues are primarily generated from subscriptions and premium sales on its AreYouInterested.com social dating application. Generally accepted accounting principles in the United States require that revenues from multi-month subscriptions be recognized over the length of the subscription term rather than when the subscription is purchased. Because subscription revenues are collected in full at the time of purchase, a portion of the gross cash receipts from subscriptions with terms of three or six months may not fully be recognized in the quarter in which the subscriptions were actually purchased. Accordingly, our gross cash receipts in the quarter exceeded our reported revenue. The difference between the gross cash receipts collected and the revenue from those sales recognized during that reporting period will appear as deferred revenue in our financial statements. Deferred revenue at June 30, 2011 was $2,823,714. While a portion of the subscription revenue collected is not recorded in the quarter in which the subscriptions are purchased, the entire advertising and marketing cost associated with acquiring those users is expensed immediately. As a result, our reported net loss for the quarter is more than the actual net decrease in cash during the quarter. Our reported net loss for Q2 was $632,868 however the actual net cash used in operating activities for Q2 was only $438,966.
About SNAP Interactive, Inc.
SNAP Interactive, Inc. develops, owns and operates online dating and social networking applications that can be accessed by users on various social networking websites and platforms, such as Facebook®, and iPhone® users, as well as an online dating website and a location-based social networking application and website. SNAP has in excess of 49 million total installations across all its AreYouInterested.com® and WhoIsNear.com application brands. SNAP's portfolio of applications for singles is led by the AreYouInterested.com® brand, which consists of AreYouInterested.com, the AreYouInterested.com iPhone® Dating Application, and the AreYouInterested.com Facebook® Application. SNAP also has a location-based social application, WhoIsNear.com. For more information visit www.snap-interactive.com. The references to our websites are inactive textual references only and not hyperlinks. The contents of our websites are not part of this press release, and you should not consider the contents of these websites in making an investment decision with respect to our common stock.
Facebook® is a registered trademark of Facebook Inc. iPhone® is a registered trademark of Apple Inc. Are You Interested?® is a registered trademark of SNAP Interactive, Inc.
Forward-Looking Statements
This press release contains "forward-looking statements" made under the "safe harbor" provisions of the Private Securities Litigation Reform Act of 1995 that are based on current expectations, estimates, forecasts and assumptions and are subject to risks and uncertainties. Words such as "anticipate," "assume," "believe," "estimate," "expect," "goal," "intend," "plan," "project," "seek," "target," and variations of such words and similar expressions are intended to identify such forward-looking statements. All forward-looking statements speak only as of the date on which they are made. The Company undertakes no obligation to update any forward-looking statement or statements to reflect events or circumstances after the date on which such statement was made. Such forward-looking statements are subject to certain risks, uncertainties and assumptions relating to certain factors, including, without limitation, the following: the ability to obtain additional financing to implement the Company's long-term growth strategy; the ability to effectively manage the Company's growth; the ability to anticipate and respond to changing consumer trends and preferences; reliance on the Company's sole officer and director and the Company's ability to attract and hire key personnel; reliance on a very limited number of third party platforms to run the Company's applications and the ability of third party platforms to take action against these applications, including the ability to restrict access to platform functionality, to remove an application from the platform, to force the Company to use their method of payment or to restrict the methods of collecting payments through their platform; the intense competition in the online dating marketplace; the ability to establish and maintain brand recognition; the ability to develop and support successful applications for mobile platforms; the ability to advertise the Company's products through a variety of advertising media; the possibility that the Company's members and subscribers may be harmed following interaction with other members and subscribers; the risk that the Company is deemed a dating service provider rather than an online personal services provider; the ability to develop and market new technologies to respond to rapid technological changes; the Company's protection of its intellectual property; the potential impact of a finding that the Company has infringed on the intellectual property rights of others; the ability to create and maintain secure websites and protect its technology from hackers; the risk of disruption or restriction on our email deliverability; the risk of programming errors or flaws in the Company's products; the Company's dependence on a single vendor to host the majority of its application traffic; increased governmental regulation of the online dating, social networking or Internet industries; reliance upon credit card processors and related merchant account approvals; and other circumstances that could disrupt the functioning of the Company's applications and websites.
These risks and uncertainties, as well as other risks of which the Company is not aware or which the Company does not currently believe to be material, may cause actual future results to be materially different than those expressed by these forward-looking statements. In evaluating the statements, you should specifically consider various factors that may cause actual results to differ materially from those expressed in these forward looking statements. Readers should carefully review the risk factors under "Risk Factors" in the Company's Form 10-Ks, Form 10-Qs and other recent Securities and Exchange Commission filings.
Add to Digg Bookmark with del.icio.us Add to Newsvine
Media Contact:
Leah Taylor
Email Contact


Copyright @ Marketwire
Page: 1
Related Keywords:
revenue, earnings, tech stock, social media, Facebook developer, financial, subscriptions, mobile, Sales, Applications, Advertising, Marketing, Sales & Marketing, Networking, Internet, Business Issues, Social Media, Internet Server Applications, E-mail, Finance/Accounting, Sales, Finance/Accounting, Sales, USA, Marketwire, Inc., Apple Computer, Financial, Personal Services, Internet Technology, Business, Internet, Social Networking, Email, Other,
---