SMART Modular Technologies Announces 64GB DDR3 Load-Reduced DIMM
The New 64GB DDR3 LRDIMM Scales Next-Generation Enterprise Server Memory to Higher Capacity and Bandwidth
(March 06, 2012)

NEWARK, CA -- (Marketwire) -- 03/06/12 -- SMART Modular Technologies ("SMART Modular"), a leading independent manufacturer of memory modules and embedded flash products announces its 64GB DDR3 load-reduced DIMM (LRDIMM). SMART Modular's 64GB LRDIMM is optimized for high-end servers and will be launching in Q2'12 to serve scientific, engineering, and financial computing applications that require high memory capacity and performance. Specifically, this product targets next-generation Intel® Sandy Bridge and Ivy Bridge server platforms for high-performance computing applications.
The new LRDIMM combines innovative module packaging technology leveraging off-the-shelf commodity DRAMs to provide the industry's highest density LRDIMM at the lowest possible cost. Highlighting SMART Modular's design expertise, the new 64GB LRDIMM utilizes a single JEDEC-compliant memory buffer chip, a dual PCB structure and a leading edge interconnect technology to provide maximum performance and density while achieving server-grade quality and reliability.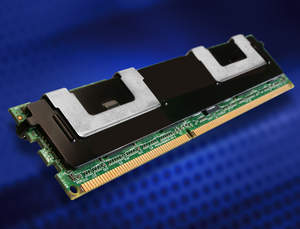 "We are very pleased to offer OEMs an industry-standard 64GB LRDIMM solution that enables them to run their servers at the maximum memory capacity and performance," said Mike Rubino, SMART Modular's VP of Engineering. "We are equally pleased to offer this solution at a competitive price by combining best-of-class technology with commodity DRAM components."
By selecting this LRDIMM solution, designers can populate all of the memory sockets in a system to their maximum density while operating at the highest data rates. SMART Modular's 64GB LRDIMM is configured as 4Gx72 with eight ranks using 8Gb x4 DDP DRAMs running at DDR3-1333. Using rank multiplication allows the LRDIMM to enable more ranks of DRAMs to be populated on the memory module and be seamlessly accessed by the CPU memory controller.
The new LRDIMM is currently under evaluation by multiple OEMs with volume production expected to begin in Q2'12. It joins SMART Modular's DDR3 product portfolio that is one of the most comprehensive in the industry. For additional information on SMART Modular's 64GB LRDIMM (SG8197LR310493MDNC) modules, visit www.smartm.com.
About SMART Modular Technologies
SMART Modular Technologies is a technology leader in the design, development and deployment of current and next-generation memory products. Combining leading-edge design and manufacturing with proven world-class support, SMART Modular leverages its deep expertise in DRAM, SRAM and Flash architectures with world-class board-layout design. SMART Modular delivers high-quality, high-reliability solutions to a broad customer base, including tier one computing and telecom OEMs. In support of these designs, SMART Modular provides award-winning innovations in memory and embedded storage technologies. SMART Modular is part of the SMART family of global companies. See www.smartm.com for more information.
About SMART Worldwide Holdings
The SMART family of companies are leading designers, manufacturers and suppliers of electronic subsystems for the most demanding OEMs around the world. The SMART companies have led the way over the past 23 years providing standard and custom products to today's leading global OEMs crossing all major electronic industries. These industries include PC, enterprise and industrial servers, networking, telecom, defense, aerospace, gaming and embedded application markets. Taking innovations from the design stage through manufacturing and delivery, SMART Modular Technologies has developed a comprehensive memory product line that includes DRAM, SRAM and Flash memory in various form factors. SMART Storage Systems offers high-performance, high-capacity SSDs for enterprise, defense, aerospace, industrial automation, medical and transportation markets. SMART's presence in the U.S., Europe, Asia and Latin America enables it to provide its customers with proven expertise in international logistics, asset management and supply-chain management worldwide. See www.smartm.com for more information.
Intel, Sandy Bridge and Ivy Bridge are registered trademarks of Intel Corporation.
Image Available: http://www2.marketwire.com/mw/frame_mw?attachid=1909275

Contact:
Joy Donohue
SMART Modular Technologies
(978) 303-8564
joy.donohue@smartm.com


Copyright @ Marketwire
Page: 1
Related Keywords:
SMART Modular Technologies, Manufacturing, Applications, Suppliers, Manufacturing/Production, Robotics, Manufacturing, asset management, Storage, Networking, Misc, Server Hardware, Server Computers, Management, USA, Marketwire, , Financial, Asset Management, Family,
---