SMA Alliance and USAutoplex Gearing Up Innovative Buyer Financing for Clients on Advertising Platform
(June 11, 2012)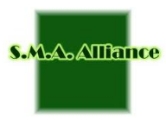 NASHVILLE, TN -- (Marketwire) -- 06/11/12 -- SMA Alliance, Inc. (PINKSHEETS: SMAA) through its wholly owned subsidiary USAutoplex, is currently developing a platform to provide subprime auto financing to USAutoplex vehicle buyers. SMA Alliance will soon launch Autoplex Credit through USAutoplex's exclusive agreement with Credit Union Dealer Network (www.credituniondealers.com).
This latest platform will allow subprime lending at lower interest rates and will offer 6 month and one-year dealer service contracts in order to maximize long-term relationships with dealers. Completion of the network will build a finance inventory site for all automotive dealerships.
According to recent report published by Experian Automotive (http://www.experian.com/assets/automotive/white-papers/2012-q1-state-of-automotive-financing.pdf), auto loans in the U.S. totaled $663 billion during the first quarter of 2012. This represents an increase of $26 billion over 2011. The total sub-prime share of those loans is up 11% from 2011 numbers.
"With sub-prime lending increasing in 2012, offering a financially advantageous option for our dealer client buyers' fits into the SMAA business model of service excellence. Offering this platform to dealers will assist in securing each dealer's share of the 89% of vehicle sales that are financed yearly. SMA Alliance will now have an enormous advantage over our competitors not just with our current software, but with a contract that offers automotive financing and credit union customer's pre-approved financing," stated Timothy Stephens, CEO of Strategic Marketing Alliance.
Safe Harbor Statement:
This news release includes forward-looking statements pertaining to future anticipated projected plans, performance and developments, intended to qualify for the safe harbor from liability established by the Private Securities Litigation Reform Act of 1995. Any statements on this news release that are not statements of historical fact should be considered forward-looking statements. These forward-looking statements generally can be identified by phrases such as "believes," "expects," "anticipates," "foresees," "forecasts," "estimates," "intends," or other words or phrases of similar import. Similarly, statements in this news release that describe the Company's business strategy, outlook, objectives, plans, intentions or goals also are forward-looking statements. All such forward-looking statements are subject to certain risks and uncertainties that could cause actual results to differ materially from those in forward-looking statements.
Contact:
SMA ALLIANCE, INC.
Investor Relations
1.888.330.6623


Copyright @ Marketwire
Page: 1
Related Keywords:
SMA Alliance, USA, Marketwire, Inc., Business, Other,
---