SEAL Innotech Announces appsFreedom Enterprise Mobility Suite Available for Cisco Cius Tablet
(July 20, 2011)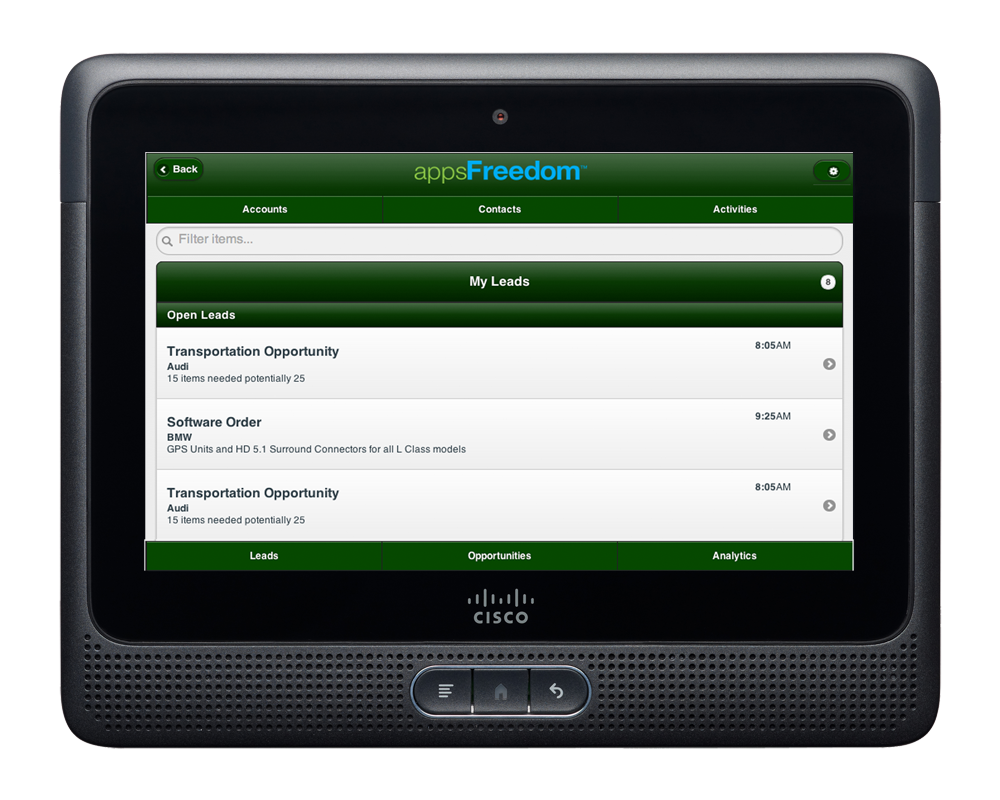 Chandler, AZ (PRWEB) July 20, 2011
SEAL Innotech, a leading provider of cloud-based enterprise mobility solutions, announced today the availability of its appsFreedom solution for the new Cisco® Cius, a tablet purpose-built for the enterprise.
The appsFreedom application suite can be downloaded from Cisco AppHQ, to provide Cisco Cius users added security with mobile access to SAP environments, including CRM, procurement, workflow and analytics.
The Cisco Cius is an innovative, highly secure business tablet created for the enterprise that combines voice, video, collaboration and virtualization capabilities in a single portable device. AppHQ, an enterprise application center that complements and directly supports Cisco Cius, provides new ways to create, manage and rapidly deploy mobile business applications across organizations.
Cisco Cius users can improve the effectiveness and efficiency of collaboration through the Cisco Unified Communications embedded on the tablet. While using appsFreedom on the tablet, users can see other online users through the instant messaging functionality, and with a click, instantly launch the tablets video conferencing capability.
The appsFreedom solution offers the enterprise a variety of single-task, highly secure apps that can be implemented individually or bundled to simplify and optimize access to the SAP suite of applications. SEAL Innotech has a number of enterprise clients currently live on the appsFreedom suite, several pilot engagements underway and a queue of new pilot engagements scheduled.
The appsFreedom solution is being rapidly adopted by enterprises based on several key decision criteria, including:

Value a free pilot program and Mobility-as-a-Service model with minimal start-up costs make appsFreedom a smart, low-risk economic choice for enterprises ready to test user adoption, features and functionality of available mobility solutions.
Speed with no SAP system configuration required and no hardware or servers needed, the solution is typically live in just a few weeks.
Device agnostic organizations can deploy appsFreedom to users on a variety of existing smart phone and tablet devices, and then easily transition the apps when new devices are rolled out.
Were actively working on the next wave of apps under the appsFreedom suite, and looking forward to working with Cisco on supporting the Cisco Cius as they continue penetrating the enterprise market, said Vaidy Iyer, CEO of SEAL Innotech.
//About SEAL Innotech//
SEAL Innotech, a Cisco Partner, an SAP software solution partner and a 2011 SAP Pinnacle Award finalist, is a leading provider of cloud-based mobility solutions for the enterprise. The companys appsFreedom suite of packaged, pre-integrated micro-apps gives users secure, real-time access to enterprise applications from vendors such as SAP from any desktop or mobile device including smart phones (e.g. iPhone, BlackBerry, Android), tablets (e.g., Cius, iPad, Galaxy) and laptops. Apps are delivered as a service (SaaS model) and are implemented in just weeks since no development, configuration or hardware is required. The appsFreedom suite includes solutions for CRM, procurement, workflow and analytics. For more information, or to schedule an online demo or pilot program, visit http://www.sealinnotech.com.
# # #
Read the full story at http://www.prweb.com/releases/2011/7/prweb8651480.htm.
Page: 1
Related Keywords:
internet,computing and information technology,satellite technology,wireless technology,science and technology,technology (general),identification technology,agricultural research and technology,computing and information technology,satellite technology,software,wireless technology,science and technology,technology (general),identification technology,agricultural research and technology,economy, business and finance,financial and business service,business enterprises,marketing,business (general),economy, business and finance,waste management and pollution control,financial and business service,business enterprises,management change,business (general),fishing industry,
---