Ryan Systems Intermodal Cargo Testing Utilizes Intelleflex Freshness Management Solution to Identify International Food Safety and Quality Risks
International Shipment Case Study Documents How RFID-Enabled Temperature Monitoring Can Support Compliance With Food Safety Modernization Act Across Global Supply Chains
(March 13, 2012)

SANTA CLARA, CA -- (Marketwire) -- 03/13/12 -- Intelleflex, a leading provider of on-demand data visibility solutions and Ryan Systems, a supply chain traceability consultancy, today announced the results of intermodal freight tests involving land and sea transport that document the effectiveness of RFID-enabled temperature-monitoring technology in improving global food safety and detecting compromised quality. Utilizing Intelleflex temperature-monitoring solutions, Ryan Systems worked with packing houses, freight forwarders, homeland security and customs officials to track the temperature and quality of fresh produce from San Diego area farms and from Taiwan's Keelung port to distribution centers in Hawaii.
The Hawaii State Department of Agriculture, Global Tracking Systems (Taipei, Taiwan), Armstrong Produce (Hawaii), Giumarra (California), and ARKNAV (Taiwan) participated in the tests, bringing a wide array of policy and industry perspectives to the international research. Utilizing Intelleflex's Freshness Management Solutions to provide insights into the temperature status of international shipments en route, the study revealed:
Significant pallet-level temperature variation occurred while moving produce in and out of trucks, packing houses and ships.
Temperatures during freight transportation indicated that products on pallets warmed slowly throughout the trip, possibly indicating problems with the cooling system.
Container transportation to the pier revealed temperature disruption, indicating that the cooling units had been turned off during transport.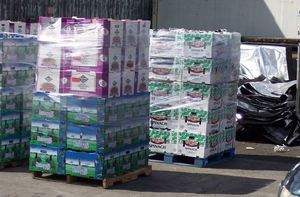 "Collectively, these pioneering tests in RFID temperature-monitoring technology reveal data that food industry suppliers need to solve some of their most challenging problems," said Dr. John Ryan, proprietor of Ryan Systems and an acknowledged expert in food safety. "This real-life case study indicates that RFID-based temperature monitoring solutions like Intelleflex can play a key role in guaranteeing the safety and quality of food, particularly for international shipping."
This important study comes at a time when more and more perishable commodities are shipping internationally. According to the Food and Drug Administration's U.S. Government Accountability Office, imports account for nearly two-thirds of the fruits and vegetables consumed in the U.S. The global supply chain requires the cooperation of producers, distributors, shippers, homeland security and border protection officials all abiding by international regulations to ensure the safety of the nation's food supply.
Despite industry's collective efforts, in 2010 only 2.1 percent of the 10 million shipments of imported food in the U.S. were able to be physically examined (according to the December 2011 issue of Food Safety Magazine); 1 in 6 people got sick from food-borne illnesses (according to the CDC) and post-harvest losses of horticultural crops are estimated to be more than 50% of the production due to poor post-harvest handling techniques such as bad temperature management (Cambridge University Press, 2008). A 2006 article in Forbes cited the loss at $35 billion annually.
The impact of food-borne illness is even greater, costing the U.S. more than $150 billion a year according to a report by the Pew Charitable Trust's Produce Safety Project. In light of these issues, the FDA created the Food Safety Modernization Act (FSMA) in January, 2011 -- which the FDA calls "the most sweeping reform to our food safety laws in 70 years." The primary goal of the FSMA is to "ensure that safety measures are shifted from responding to contamination to preventing it." By signing the FSMA into law, President Obama challenged importers and exporters to meet new food safety demands, including identical food safety requirements for all parties in the supply chain.
The studies conducted by Ryan Systems address the need for improved management and monitoring of international food safety systems, farm-to-fork traceability requirements, and proactive track and trace methodology for all parties by demonstrating the common need for data that shows the status and condition of shipped produce throughout the cold supply chain. Intelleflex temperature-monitoring solutions provided the data measurement capability in this study -- TMT-8500 temperature monitoring tags and the Intelleflex HMR-9090 handheld readers -- which compared data measuring the precise temperature of food at the pallet level with ambient temperature data recorded at the container level to document the temperature variations between the cargo container monitors and the pallet monitors.
Prior to the study's findings, shippers assumed that all temperatures in a container were maintained at close to 45-degrees Fahrenheit for the duration of the food's transit. In reality, the tags placed with the pallets reported a myriad of temperature variations as the produce traveled from the Port of Los Angeles to Hawaii as well as from Taiwan to Hawaii. Shipping perishables at incorrect temperatures can dramatically increase the risk of food safety issues and increases the potential for spoilage.
The previously undocumented temperature variations provide significant new insights into the scope and challenge of maintaining consistent product temperature throughout the shipment lifecycle. This information can help growers, shippers and transporters correct problems before they occur while pallet-level monitoring ensures the freshness and provides valuable data for safety and traceability. According to Ryan "adulteration of perishables due to lack of proper controls can be prevented at a cost far below potential losses and continuous monitoring of all shipments ensures adherence to best practices, while meeting traceability requirements at no additional cost." The stakes of implementation of proper temperature monitoring are high. Ryan continues: "When one player in the transportation process fails, they all fail; yet with cooperation, such as shared temperature-monitoring data, the right solutions track levels of risk, assign liability, and can be cost-effectively deployed to properly address food quality and safety issues."
"Proper end-to-end temperature management of the cold chain is critical for ensuring the freshness and safety of our domestic and international food supplies," said Peter Mehring, CEO of Intelleflex. "The studies by Ryan Systems reaffirm the value that Intelleflex provides with powerful pallet-level temperature monitoring that delivers a positive ROI, often in a single harvest, by helping avoid loss by continuously monitoring freshness, which enables delivery routing based on shelf life."
To learn more about the study and read the full results download the Ryan Systems case study International Food Safety: The Importance of Temperature Monitoring, also available on the Intelleflex website at www.intelleflex.com.
About Intelleflex
Intelleflex® provides on-demand data visibility solutions for cold chain and asset management. Its industry-leading XC3 Technology™ RFID products enable a range of solutions for fresh produce, perishable food, and pharmaceutical temperature monitoring, asset tracking, personnel monitoring, retail, healthcare and other applications. These real-time monitoring solutions can help organizations reduce shrink or loss, more closely track and manage assets, reduce cost of operations, and increase profitability. For more information, visit www.intelleflex.com.
Intelleflex is a registered trademark, and XC3 Technology is a trademark of Intelleflex. All other trademarked names in this document are the properties of their respective owners.
Image Available: http://www2.marketwire.com/mw/frame_mw?attachid=1915381

Add to Digg Bookmark with del.icio.us Add to Newsvine
Editorial Contacts

Kevin Payne
Senior Director of Marketing
Intelleflex
408-200-6567
kpayne@intelleflex.com

Dr. John M. Ryan
President
Ryan Systems
(951) 746-2294
jryan@ryansystems.com

Ross Perich
Trainer Communications
925-271-8203
Pr-intelleflex@trainercomm.com


Copyright @ Marketwire
Page: 1
Related Keywords:
Intelleflex, RFID, Temperature Monitoring, Cool Chain, Perishables, Food Safety, Ryan Systems, FSMA, Applications, Shipping & Receiving, asset management, Security, Management, CEO/CFO, USA, Taiwan, Marketwire, , Shipping, Medical, Other,
---