RunRev Unveils New Computer Studies Resource for Education Professionals
New Education Microsite Packed Full of Valuable Hints, Tips and Advice for Computer Studies Educators Worldwide
(March 15, 2012)

EDINBURGH, UNITED KINGDOM -- (Marketwire) -- 03/15/12 -- RunRev today unveiled at The Education Show in Birmingham, UK, a new resource aimed at supporting education professionals who teach or plan to utilise Computer Studies in their lessons. The RunRev education microsite features tutorials, case studies, guides and other material that can be freely downloaded, all designed to help educations teach students to love programming. The microsite can be found on the RunRev website here.
With the continued emphasis on making Computer Studies courses and programs more engaging for students and relevant to the needs of industry, education professionals face the challenge of keeping their material current and fresh. Michael Gove's recent announcement about the relaxation of the Department of Education's Programme of Study guidance adds to this challenge, as the onus is now placed on teachers to develop appropriate course content. The RunRev education microsite provides invaluable material and practical advice on how to use the LiveCode software development environment to build tailored teaching aids or an entire course. One such example, which is available on the microsite, is the course work created by Steven Whyte, Computer Studies teacher at Gracemount School Edinburgh.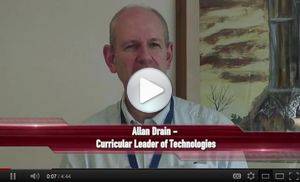 "With the changing emphasis on how Computer Studies is taught in schools, our goal is to support teachers in meeting these new demands and expectations," said Kevin Miller, CEO of RunRev. "The education microsite is first and foremost a free resource that we hope will encourage and empower education professionals to embrace software development in their work and utilise its potential to create and develop teaching aids and course material that engages and stimulates students studying Computer Studies. Teaching is a demanding job and education professionals already face many challenges, therefore our goal is to make both teachers and students love programming."
LiveCode in Practice - Gracemount School, Edinburgh
Steven Whyte felt there was a dire need to teach his computing students, aged 13-15, modern programming languages and how to use them to create apps. He turned to LiveCode to create a series of workshops and course notes. Students are shown how to build programs that are of interest to them, and are encouraged to go farther and develop ideas of their own. The nature of the programming language allows the students to devise, test and build their own programs. Through this they learn valuable lessons about software development, rather than getting bogged down in layers of coding and syntax and thus losing interest. The result is students who create programs in their free time and who continue to study Computer Science beyond Standard Grade (equivalent of GCSE in England).
RunRev at The Education Show
RunRev is exhibiting at The Education Show, Hall 4 Stand E82, in Birmingham, UK, March 15-17. The Education Show is the UK's leading event in the promotion and development of all learning and teaching. Steven Whyte will give a 40-minute presentation at the event, Saturday the 17th from 2:00-2:45PM, on his work with the LiveCode platform.
RunRev also announced today a significant deal with East Lothian Council that will see LiveCode deployed across all secondary schools in the region. East Lothian Council is a high achieving education authority nestled on the outskirts of Edinburgh, UK. The new initiative represents one of the larger deployments of LiveCode in an education environment and will take place in stages over the course of 2012.
LiveCode Development Environment
The LiveCode development environment is a full-featured cross-platform solution that enables shared code across multiple platforms and devices. In addition to LiveCode for mobile devices, deployment packs include Windows desktops, Mac OS X desktops, Linux desktops, and popular Web browsers on Windows, Mac and Linux, including Internet Explorer, Safari, Chrome and Firefox. LiveCode pricing begins at $99 (£79) for a one-seat, personal use license, with additional pricing options for various commercial and academic environments.
About RunRev Ltd.
RunRev makes the LiveCode cross-platform development environment for building sophisticated mobile, Web, desktop and server applications. The company aims to open doors with technology by empowering people to create apps through an intuitive and easy-to-learn programming language. The LiveCode English-like language and focus on instant results appeals to a wide range of users, from individuals and educators to corporate and enterprise developers. Considered a modern descendent of HyperCard, LiveCode offers a robust yet flexible path to cross-platform app creation. For more information, please visit http://www.runrev.com.
LiveCode and RunRev are trading names of Runtime Revolution Ltd. All trademarks are the property of their respective owners.
Video-Link Available: http://www2.marketwire.com/mw/frame_mw?attachid=1918524

Media Contacts:

US Media:
Samantha Steinwinder
1-206-760-9809
Email Contact

UK Media:
Ajay Nawathe
0781 356 4099
Email Contact


Copyright @ Marketwire
Page: 1
Related Keywords:
Technology, Education, Education Technology, Mobile App Development, Computer Studies, Unix, Mac, Linux, OS9, OSX, Marketwire, , Education Technology, Internet Technology, Computer Science, Internet, Science, Browsers, england, Teachers, Other,
---