Rorke Data Launches High-Performance Infiniband-SAS SAN Storage Appliance at IBC Targeting the 2K/4K Film Post Market
Galaxy(R) Aurora IB, Newest Member of the Galaxy Performance-Driven, Value-Based Family of RAID Solutions, Delivers +1700 MB/s, RAID 6 Data Protection, SAN File System in a 4RU All-in-One Enclosure for Under $2 per GB
(September 11, 2008)

AMSTERDAM, THE NETHERLANDS -- (Marketwire) -- 09/11/08 -- Rorke Data Inc., a data storage-centric, end-to-end solutions provider that is a wholly owned subsidiary of Bell Microproducts (PINKSHEETS: BELM), today announced the general availability of its new Galaxy® Aurora IB all-in-one SAN appliance. With an MSRP starting at less than two dollars per gigabyte of storage, the Galaxy Aurora IB features high performance capability of over 1,700 MB per second, as well as an integrated SAN file system, making it the highest performing, lowest cost per gigabyte storage solution available for the 4K or multi-stream 2K/HD post-production marketplace.
Digital technology is reshaping the motion picture industry. Digital image capture, visual effects, mastering, and final color grading are rapidly replacing legacy analog processes and creating a next generation post facility. Currently, storage solution providers in the 2K/4K film production market are forced to rely on multiple striped hardware RAID controllers and complex multi-connect Fibre Channel topologies that include switches, multiple cables and separate servers to manage the SAN file system application. These factors aggregate into a complex solution with a corresponding high cost per gigabyte despite the utilization of non-enterprise-class SATA drives.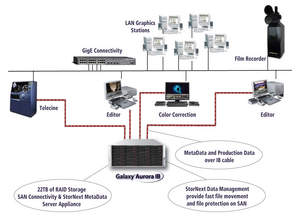 According to Joe Swanson, Rorke Data's president, "The Galaxy Aurora IB is uniquely suited to supporting these new digital processes. Galaxy Aurora IB is our highest performance product, yet delivers breakthrough low cost of ownership with high performing enterprise-class Seagate SAS drives in a simple, single connect InfiniBand network topology. Although Rorke Data positions this product to address the demanding needs of 2K and 4K film applications, the applications for this performance at this price point are far reaching in the storage industry."
The InfiniBand network approach provides a greatly simplified solution when compared to Fibre Channel -- it is easier to use and delivers data at the speed required for 4K film and other high performance computing applications, as well as the SAN MetaData all over a single cable.
"Rorke Data's long history and deep understanding of the media market make them a perfect partner for StreamScale and our patent pending, breakthrough RAID software," commented Michael H. Anderson, president of StreamScale, Inc., a leading provider of high-performance storage solutions for the digital media market. "The Galaxy Aurora IB combines hardware/software solution sets from both companies, setting a new standard in price and performance for digital media, and is only the first of several planned products."
The Galaxy Aurora IB will introduce new levels of speed, simplicity and cost savings to the post production industry, offering superior application performance and connectivity to the professional content creator's desktop application environment.
"Rorke Data has approached the market with a blend of high-capacity and cost-optimized data storage solutions targeting professional film and HD post production video industries," said Ian Williams, executive director Nearline Storage, Seagate Technology LLC. "By utilizing Seagate's Enterprise SAS storage family, including our 1TB Nearline SAS product and our Cheetah(TM) HDD, Rorke Data will be delivering a high performance, high reliability storage solution that takes advantage of native SAS benefits including superior error handling and reporting with the highest enterprise drive reliability in the industry. And because of the unique design of Seagate HDD products, the Galaxy Aurora IB delivers an even higher level of performance for 4K film applications when utilizing the optional Seagate 15,000 RPM SAS drives. "
Available with a complete suite of service deliverables including onsite installation and 24 x 7 support, Galaxy's RAID and NAS storage solutions can be purchased at www.rorke.com and also through Bell Microproducts. Please visit www.bellmicro.com or call 1-800-800-1513 for more information.
About Galaxy
Galaxy provides customers with the most cost-effective, scalable and easy to use purpose-built RAID storage solutions and NAS solutions available.
Galaxy RAID and NAS solutions are manufactured by Rorke Data Inc., a wholly owned subsidiary of Bell Microproducts in ISO 9001:2000 and ISO 13485-2003 certified facilities. All Galaxy solutions are delivered only after a rigorous test and approval process preformed by trained technical teams, and systems arrive to customers pre-formatted and ready to install. All systems are backed with a broad range of services including interoperability testing, complete system integration, and pre- and post-sales support. Galaxy has been successfully installed by thousands of customers in a wide variety of fields, from video editing to healthcare imaging. Galaxy RAID is an FDA registered device.
About Rorke Data
Founded in 1985, Rorke Data is both an ISO 9001:2000 and ISO 13485:2003 certified data storage-centric, end-to-end solutions provider with expertise in primary and tiered storage architecture, integrating RAID, NAS, SAN, DVD, tape and optical libraries. Rorke leverages certified expertise in Linux, Windows and Mac platforms to deliver high bandwidth storage and network solutions for fixed and content-rich media application environments. Rorke's products are backed with comprehensive global professional services. Founded in 1985, Rorke Data is composed of four divisions: Healthcare & Diagnostic Imaging, Digital Video & Broadcast, Digital Prepress & Publishing, as well as a Technical & Professional Services division. More information about Rorke Data can be found at http://www.rorke.com. Rorke Data is a wholly owned subsidiary of Bell Microproducts, Inc. (PINKSHEETS: BELM).
Seagate, Seagate Technology and the Wave logo are registered trademarks of Seagate Technology LLC in the United States and/or other countries. Cheetah is a trademark or registered trademark of Seagate Technology LLC or one of its affiliates. All other trademarks or registered trademarks are the property of their respective owners. When referring to hard drive capacity, one gigabyte, or GB, equals one billion bytes and one terabyte, or TB, equals one trillion bytes. Your computer's operating system may use a different standard of measurement and report a lower capacity. In addition, some of the listed capacity is used for formatting and other functions, and thus will not be available for data storage. Actual quantities will vary based on various factors, including file size, file format, features and application software. Seagate reserves the right to change, without notice, product offerings or specifications.
Image Available: http://www2.marketwire.com/mw/frame_mw?attachid=833158

Add to Digg Bookmark with del.icio.us Add to Newsvine
Media Contact:
Dena Grigas
Lages & Associates
(949) 453-8080
[email protected]
IBC
Hall 7, Stand H49
September 12-16, 2008
Amsterdam


Copyright @ Marketwire
Page: 1
Related Keywords:
Rorke Data InfiniBand RAID SAN storage post-production Seagate StreamScale, Applications,Storage,Hardware,Services,Software,Misc,Metadata,Broadcast,Post/Production,Digital,Non Linear Editors,Visual FX,Director,Camera/Film,Tape,Film Production,Broadcast Technology,Production/Post,Broadcast,HDTV,Hardware,Software,Facilities,Post Production,Production,Film Production,Facility (Post Production),DVD,OS (Operating System),Storage,Unix,Mac,Linux,OS9,OSX,USA,Marketwire,IBC Attendees,healthcare,Application Software,Film,Medical,Family,Other,
---