Robert Rodriguez Reveals New Animation Studio, Quick Draw Animation
Filmmaker Unveils Austin-Based Animation Studio, Strategic Partnerships With VMG Entertainment and AMD at SXSW 2012
(March 15, 2012)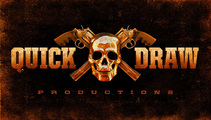 AUSTIN, TX -- (Marketwire) -- 03/15/12 -- SXSW -- Filmmaker Robert Rodriguez announced today the launching of Quick Draw Animation, an animation studio to be based in Austin, TX. The new venture is a partnership between Quick Draw and London, UK based VMG Entertainment, a 100% subsidiary of Varam Media, a Chennai, India based media Company. Quick Draw Animation will allow Rodriguez to develop, produce and green-light animated film and television projects. "I started my career as a cartoonist when I created the Los Hooligans comic strip. It is nice to come full circle and return to animation. Quick Draw Animation will give me a whole new set of tools to create fantastic characters and to tell great stories."
VMG Entertainment Chairman Mr. Ramkhumar Narasimhan said, "We are thrilled to be working with a filmmaker of Robert Rodriguez's caliber and stature. Robert has created significant franchises such as The Mexico Trilogy, Sin City, Spy Kids and the Machete films; his prolific output and visual storytelling make animation a great fit for him." Quick Draw's Aaron Kaufman and Iliana Nikolic will produce for Quick Draw Animation.
VMG Entertainment CEO Mr. Sukumar Subramanian said, "With this partnership under the creative leadership of Robert Rodriguez and our huge talent pool across Europe and India, we are keen to make a niche in Hollywood showcasing our ability to quickly turn around high quality products continuously in the coming years, matching to the pace and creativity of Robert Rodriguez."
Quick Draw Animation has started developing two animated features, each expecting to start production in the next year. One of the new company's first projects is a family focused animated feature and the other is the multi-media realization of Heavy Metal inspired by the cult animated film and long running magazine. Rodriguez teased the audience with a glimpse of what the next generation of Heavy Metal will look like at last year's Quick Draw Comic-Con presentation.
Quick Draw Animation will also include a technology partnership with AMD, part of a larger strategic alliance between Quick Draw and AMD, which will put AMD's APU and cloud computing technologies at the heart of Quick Draw's animation method. Said Leslie Sobon, AMD Corporate Vice President Marketing, "Robert Rodriguez has always used technology to push the boundaries of what is possible in filmmaking, and we look forward to seeing what Robert does with AMD technology in the realm of animation."
About Quick Draw Productions, LLC
In 2010, writer/producer/director Robert Rodriguez launched Quick Draw Productions, a development, production and financing company, giving the filmmaker capabilities to develop and produce his own media projects across film, television, gaming and interactive platforms while closely controlling the creative process. Rodriguez's next feature under his new banner, "Machete Kills" begins production in early May, 2012.
About VMG Entertainment
VMG Entertainment is a UK based Creative Studio, actively contributing to the global animation industry. We are part of a $200 million Indian business conglomerate Vrone Energy Private Limited. VMG Entertainment has a proven track record of creating cutting edge content for high caliber clients around the world.
With our global offices in US, a production facility in India and partner in France and Germany and with many years of experience in animation production, VMG Entertainment has steadily climbed the ladder to become the go-to-studio for producers looking for world class animation combined with accessibility and healthy long term relationships.
About AMD
AMD (NYSE: AMD) is a semiconductor design innovator leading the next era of vivid digital experiences with its groundbreaking AMD Accelerated Processing Units (APUs) that power a wide range of computing devices. AMD's server computing products are focused on driving industry-leading cloud computing and virtualization environments. AMD's superior graphics technologies are found in a variety of solutions ranging from game consoles, PCs to supercomputers. For more information, visit http://www.amd.com.
Contact:
Erin Pargas
for Quick Draw Productions
(310) 497-6293
Email Contact


Copyright @ Marketwire
Page: 1
Related Keywords:
Quick Draw Animation, France, Germany, India, Marketwire, , Film, Television, Game Technology, Business, Entertainment, india, mexico, Family, Other,
---