RingCentral Survey Reveals: 57% of Business Owners Rely on Cloud Services to Operate Over Half of Their Business-Critical Applications
(March 28, 2012)

SAN MATEO, CA -- (Marketwire) -- 03/28/12 -- Small and medium-sized business owners across all industries now rely on cloud services to power more than half of their business, according to an annual survey released today by RingCentral, a leading provider of cloud business phone systems.
The survey asked over 300 RingCentral customers, consisting of small and medium-sized businesses (SMBs), about their mobile device adoption and cloud use. According to the results, 57% of business owners responded that the majority of their business-critical applications are currently run in the cloud. The study also reveals that heavy reliance on cloud services coincides with a dramatic increase in tablet adoption among business owners.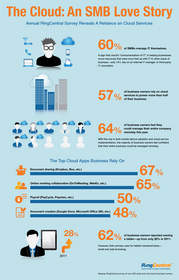 Additional trends and takeaways from the 2012 mobile survey include:
60% of SMBs have no IT manager - Only 14% said they fully rely on an internal IT manager or a third-party IT consultant, a sign that cloud's 'consumerization of IT' is helping SMBs move resources once tied up with IT to other areas of business.
64% of SMB owners feel they could manage their entire business remotely this year - With the rise in both mobile device adoption and cloud service implementation, the majority of business owners feel confident that their entire business could be managed remotely from outside the office or using a mobile device.
67% of business owners use document-sharing cloud apps - For business owners, document sharing in the cloud is critical in supporting a mobile, remote workforce, allowing workers to access documents and collaborate with team members from anywhere. Other leading cloud applications business owners report relying on most include online meeting collaboration, payroll, and document creation and sharing.
62% reported owning a tablet - In a dramatic spike from 2011, the majority of business owners said they owned a tablet -- up from only 28% last year. 53% of respondents reported using tablets multiple times per day for business, primarily to access email, web browsing and to take notes.
"We're seeing that the cloud is fundamentally changing the way businesses operate," said Naveen Gupta, chief product officer at RingCentral. "Legacy hardware and systems no longer fit the way modern businesses work. Small and mid-sized businesses are adopting solutions that are flexible, mobile and affordable, and the survey data clearly speaks to this trend."
About the Survey: Conducted during a two week period from February 16-February 29, 2012 the two-part survey was created principally to gauge the current usage of smartphone, tablet and cloud applications among SMBs in 2012. Respondents were over 300 randomly selected RingCentral customers.
RingCentral released its first survey on mobile devices and business cloud use in April 2010. The third iteration of the study tracks the mobile and cloud data and trends of its customers, exploring how devices and hosted services are being used by SMBs.
RingCentral executives are available to discuss both the findings of the survey and other ongoing trends in the adoption of cloud technologies within the SMB market. Survey results are available on request.
About RingCentral
RingCentral is a leading provider of cloud business phone systems designed for today's mobile and distributed workforce. By combining a hosted, multi-extension business phone system with advanced voice and fax functionality, RingCentral delivers ease of use, flexibility and mobility, which cannot be provided by complex and expensive on-premise legacy phone systems. Headquartered in San Mateo, California, RingCentral is privately held with funding from Sequoia Capital, Khosla Ventures, Cisco, Scale Ventures, and DAG Ventures. For more information on RingCentral products, call 1-877-268-2403 or visit www.ringcentral.com.
Image Available: http://www2.marketwire.com/mw/frame_mw?attachid=1931479

Media Contact
LaunchSquad for RingCentral
Peter Sadler or Katie Dally
415-625-8555
[email protected]


Copyright @ Marketwire
Page: 1
Related Keywords:
voip, business, phone, phone system, ringcentral, tablet, cloud computing, SMB, cloud based, pbx , Internet,Communications,Web,Smart Phone,Applications,EMail,Applications,Internet,Hardware,Cloud Computing,Internet Server Applications,E-mail,Business,PDA/Smartphone,email,Marketwire, ,Internet Technology,Business,Email,Other,
---