Rethinking Real Estate -- Why Auctions Are a Smarter Way to Sell Your Home; Expert Pam McKissick's New Book Helps Homeowners Understand the Auction Process and Empowers Sellers to Take Control
(February 29, 2012)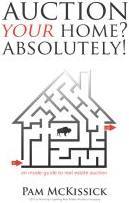 TULSA, OK -- (Marketwire) -- 02/29/12 -- Pam McKissick's new book, "Auction Your Home, Absolutely! An Inside Guide to Real Estate Auction," debuted today.
Entertaining and informative, the book walks readers through the auction process, includes anecdotal stories about selling at auction (including her own) and addresses the biggest psychological angst about selling real estate -- "the number in your head."
"The number in your head is the dollar amount you 'know' your home is worth, if only you could get someone to agree by writing you a check," McKissick says. "Your home is your refuge from the world, a reflection of your hard work, the embodiment of your lifestyle, so, when it comes time to sell, your home can also become your psychological Samsonite. What your real estate 'is worth' often becomes synonymous with what 'you' are worth."
The book asks consumers to re-evaluate everything they've ever been taught about the way we value, list, and sell real estate, which McKissick says is frustrating, inefficient, and simply archaic. Using the traditional sales method, the average home spends 225 days on the market and often sells for less than the list price.
"A paradigm shift is underway. Smart consumers are now selling their homes at auction because auction empowers them, eliminates the middlemen and allows sellers to move on with their lives. I wrote this book to help people understand how auction works, the psychology behind it, and the inherent benefits, so readers can determine if auction is right for them," adds McKissick.
Listen to Pam discuss her book at http://www.pammckissick.com/about-the-book-video/. The book is available now in print through Amazon.com at http://www.pammckissick.com/amazon. It will be also be available as an eBook through iTunes, Nook and Kindle in the coming weeks.
About Pam McKissick
Pam is a trained auctioneer, a licensed real estate agent and an active member and supporter of the National Auctioneers Association. She is also the co-owner and CEO of Williams, Williams & McKissick (WWM), LLC, the parent company to Williams & Williams® Worldwide Real Estate Auction, Auction Network®, where she oversees all aspects of the WWM businesses and drives the strategic vision for the company. Building on the company's rich auction history, she is leading the company's mission to empower the open exchange of real estate worldwide. Prior, to her tenure at WWM, she was the president and COO of TV Guide Television Group, and vice president of network specials at Disney Studios and she spearheaded the launch of Walt Disney's Epcot Center.
For more information, visit http://www.pammckissick.com/amazon
Media Contact:
Heather Pond
Atomic PR
415.593.1400
Email Contact


Copyright @ Marketwire
Page: 1
Related Keywords:
Real estate, auction, homeowners, home, home sellers, auction process, sell real estate, sell , Marketwire, ,Television,Lifestyle,
---