Restaurant.com Goes 'Behind the Menu' in March for American Cuisine
(March 11, 2011)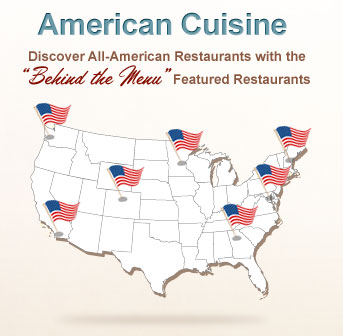 Arlington Heights, IL (PRWEB) March 11, 2011
American cuisine is a culinary carnival, as diverse and entertaining as its people. It is a fusion of different cultures, regions and personalities that produces gastronomical delights to please every palate.
So what are some specific examples of American cuisine? Ask a half-dozen restaurants and youll likely get a half-dozen different answers. Meatloaf and mashed potatoes? Mac n cheese? A sizzling steak? Barbecue? Apple pie or a root beer float?
Restaurant.com proudly announces its March edition of Behind the Menu, starring seven restaurants specializing in American cuisine (Restaurant.com/BehindTheMenu).
Were excited to showcase seven great restaurants that dish up American cuisine, says Cary Chessick, Restaurant.com president and CEO. When I think of cuisine thats distinctly American, I think of comfort food. And all these restaurants serve creative fare that makes me hungry just looking at the menus. Theyre very deserving of this recognition.
This months featured restaurants include: Academe Maine Brasserie & Tavern at the Kennebunk Inn in Kennebunk, Maine; BeaterVille Café in Portland, Ore.; Garrys Grill & Catering in Severna Park, Md.; Georgia Rib Company in Marietta, Ga.; The Ugly Mug & Roc Bar in Minneapolis, Minn.; Denos Mountain Bistro in Winter Park, Colo.; and Jimmy Loves in San Diego, Calif.
Were thrilled to be honored by Restaurant.com for our distinct American fare, said Shanna Horner OHea, chef and owner (along with husband, Brian) of Academe Maine Brasserie & Tavern. Restaurant.com introduces us to new patrons and we introduce them to our unique dishes. OHeas lobster pot pie was featured recently on the Food Networks The Best Thing I Ever Ate: Reinvented Classics.
BeaterVille Café is an old timey style café that serves a big breakfast in the midst of outlandish decór thats a mash-up of old car parts, yard art and what lesser minds might dismiss as junk. We have hearty food, huge helpings and more traffic thanks to Restaurant.com, says owner Bill Lockner. We like the recognition and the customers Restaurant.com brings us.
Every month Behind the Menu focuses on a culinary theme that defines and inspires restaurants across the country, then celebrates the Restaurant.com restaurants that bring that theme to life. The monthly Behind the Menu theme is selected based on cultural relevance and seasonality, and the restaurants are chosen on how they relate to the theme based on criteria including the restaurants popularity with diners, high standards for service, unique cuisine, memorable ambiance and more.
Restaurant.com is passionate about recognizing the wonderful cuisines and characteristics of its restaurant partners, and is dedicated to helping its restaurant partners create an emotional connection with their patrons. While Behind the Menu celebrates American cuisine in the March edition, last month BTM featured romantic restaurants in honor of Valentines Day.
To learn more about Behind the Menu and the spotlighted restaurants for March, visit: Restaurant.com/BehindTheMenu.
About Restaurant.com
Restaurant.com is the trusted and valued source connecting restaurants and diners nationwide. The company offers savings at more than 18,000 restaurants nationwide with more than 45,000 daily gift certificate options. Restaurant.com brings people together to relax, converse and enjoy well-prepared and well-served meals at affordable prices. To date, Restaurant.com customers have saved more than $500 million through the gift certificate program. Restaurant.com has operated since 1999 and is based in Arlington Heights, Ill.
Contact Information: Gerry Oher (847) 481-5523 pr(at)restaurant(dot)com
###
Read the full story at http://www.prweb.com/releases/2011/03/prweb5152914.htm.
Page: 1
Related Keywords:
economy, business and finance, financial and business service, business enterprises, business (general), fishing industry, cinema industry, radio industry, television industry, music industry, process industry, food, beverage, food, food safety, lifestyle and leisure, lifestyle (house and home), economy, business and finance, financial and business service, business enterprises, business (general), , fishing industry, food, cinema industry, radio industry, television industry, music industry, process industry,
---