Remedy Interactive Launches Drive-to-Zero Initiative With a No Cost Online Injury Prevention Solution for Office Workers
New Initiative Encourages Companies to Achieve Zero Injuries and Discomfort by Delivering Personalized Ergonomic Recommendations to Each Employee
(June 04, 2012)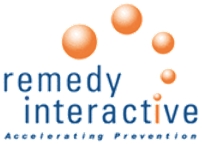 SAN FRANCISCO, CA and DENVER, CO -- (Marketwire) -- 06/04/12 -- Remedy Interactive, Inc., a leading provider of enterprise injury prevention software solutions, today announced that it has officially launched a new initiative aimed at helping companies drive to zero injuries and discomfort. To enable companies to achieve this goal, Remedy Interactive is introducing an easy-to-implement, no-cost office ergonomic injury prevention software solution. Click here for details on the program and to get access to the solution.
The reasons to drive to zero are compelling. OSHA's Assistant Secretary of Labor Dr. David Michaels recently stated that "work-related musculoskeletal disorders remain the leading cause of workplace injury and illness in this country..."(1) Also after a decade of delivering office ergonomic software to global enterprises, Remedy Interactive has evidence that over one-quarter of all office workers experience frequent discomfort while working.
Free Online Injury Prevention Solution
Safety professionals can play an important role in cutting costs and keeping productivity high by preventing and decreasing discomfort. With Remedy Interactive's no-cost online solution, safety professionals can create an office injury prevention program that easily identifies and reduces issues that cause discomfort.
The software will allow them to:
Quickly set up an ergonomics resource website for their company
Provide online ergonomic and discomfort assessments for all employees
Deliver personalized recommendations tailored to each employee
Monitor changes in employees' risk of injury and comfort levels
"At Remedy Interactive we believe that the solutions necessary to achieve zero injuries and discomfort should be available to every company in the world," said Kim Weiss, CEO of Remedy Interactive. "We've made the solution easy to implement and we've removed the cost barrier so your employees can get on the road to a safer and more productive work environment in no time. The data you uncover will not only help get you to zero but also create a culture of safety."
About Remedy Interactive, Inc.
Remedy Interactive, Inc., headquartered in Northern California, delivers a comprehensive suite of software solutions to help organizations prevent workplace injuries, reduce injury-related costs, and increase productivity and profitability. For more information, visit: www.remedyinteractive.com.
1. Obama Administration Backtracks on Musculoskeletal Disorders. OSHA says it wants "greater input from small business." Retrieved from http://www.consumeraffairs.com/news04/2011/01/obama-administration-backtracks-on-musculoskeletal-disorders.html
Media inquiries:
Rebekah Mitchell
Email Contact


Copyright @ Marketwire
Page: 1
Related Keywords:
injury prevention, ergonomics, employee injuries, musculoskeletal disorder, risk assessment, Marketwire, Inc., Business,
---