Remedy Interactive Announces Major Advancements to Employers' Ability to Monitor Workplace Risk for Office Workers
(April 26, 2010)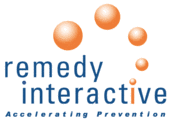 SAUSALITO, CA -- (Marketwire) -- 04/26/10 -- Remedy Interactive, Inc., a leading provider of enterprise software solutions that help organizations prevent workplace injuries, announced today a new version of its flagship product, OES Office. OES Office 3.8 is the only solution that continually and objectively measures changes in office employees' risk of injury and automates responses to mitigate that risk.
In 2004, Remedy Interactive introduced the first solution ever that integrated measured computer usage with information from employees (available through self assessments). Since then, more than 60% of Remedy Interactive's customers have elected to take advantage of this integrated solution.
Millions of data points from this experience have been used for this new version to further enhance OES Office and its risk algorithms. The data is now being analyzed by leading researchers who are advancing the science of injury prevention and whose findings will further inform Remedy Interactive's risk algorithms.
This latest version of the OES platform builds on these pioneering efforts and will be the:
Only software in this category to automatically increase or decrease injury prevention efforts for individual employees based on computer usage thresholds, allowing companies to allocate injury prevention resources more efficiently


First software in the category to accurately measure risk factors for people who utilize multiple workstations, ensuring more accurate risk prediction


Only solution in the category that integrates desktop and web-based solutions for employees who use the spectrum of computing platforms, including 32-bit and 64-bit Microsoft Windows platforms, popular Linux platforms, and Apple Macintosh OS.


First software in the category to be audited by a third-party for security and information protection, ensuring compliance with enterprise IT requirements


"Now more than ever -- because of the need for high productivity and because of rising healthcare costs -- employers are taking action to keep their employees healthy and comfortable while they're working," said Kim Lopez, CEO of Remedy Interactive. "OES Office 3.8 presents exciting new possibilities to scientifically measure and drastically decrease injury risk and discomfort. This software has the potential to fundamentally change the way injury prevention for office workers can be accomplished."
OES Office 3.8 will be available in June 2010.
About Remedy Interactive, Inc.
Remedy Interactive, headquartered in Northern California, delivers a comprehensive suite of software solutions to help organizations prevent workplace injuries, reduce injury-related costs, and increase productivity and profitability. Remedy Interactive's OES Office is the only scalable solution to produce quantifiable savings for Global 1000 organizations. For more information, visit: www.remedyinteractive.com.
MEDIA CONTACT:
Rebekah Mitchell
415.933.6253
Email Contact


Copyright @ Marketwire
Page: 1
Related Keywords:
ergonomic software, repetitive strain injury, computer related injuries, office risk,Unix,Mac,Linux,Marketwire, Inc.,healthcare,Computer Science,Science,
---