Release Planning, Control and Deployment Automation Combined in New Version of UC4 Application Release Automation Solution
Kabel Deutschland Keeps Pace With Rapid Growth Through Centralized Control and Automation
(March 13, 2012)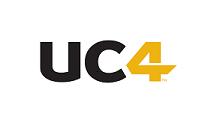 BELLEVUE, WA and VIENNA, AUSTRIA -- (Marketwire) -- 03/13/12 -- UC4, the leader in IT Process Automation, today announced the general availability of UC4 Application Release Automation V2, which enables IT organizations, for the first time, to plan software releases, track progression and perform automated deployment -- all from a single Web-based interface. The new version also simplifies implementation by delivering built-in support for common middleware, source code management tools and issue tracking tools.
"Many enterprise IT organizations are struggling to 'tame' the application release process. The use of manual deployment procedures, non-integrated toolsets, and excessive communication between stakeholders create a management nightmare," said Wes Pullen, Vice President of Application Release Automation Technologies at UC4. "The new version of the UC4 Application Release Automation solution adds a centralized planning and control layer to the UC4 scalable automation engine, turning application release into a coordinated, repeatable and predictable process."
"Over the past several years we shifted from a monolithic IT architecture to a distributed, service-oriented architecture. We were tasked to serve an increasing number of applications which introduced new complexities into our release and deployment processes making centralized control and automation the only answer," according to Andreas Eusterholz, Team Leader of Release Management at Kabel Deutschland, Germany's largest cable operator. "After Implementing UC4 Application Release Automation for release planning and control, we are able to cope with a rapidly growing number of software deliveries and deployments while maintaining the same headcount and increasing transparency of application lifecycle."
What's New in UC4 Application Release Automation V2
UC4 Application Release Automation V2 includes the following new capabilities:
New Web-based user interface supports drag-and-drop deployment process definition and enables users to manage release processes from a simple, integrated interface
Application and component modeling minimizes failures by identifying unmet dependencies
Test environment scheduling ensures required test and staging environments are available at the right time, preventing unnecessary project delays
Built-in Application Server support for deploying applications on IBM WebSphere, Oracle WebLogic, JBoss and Microsoft IIS application servers accelerates implementations
Built-in integration support for Source Code Management tools, such as Concurrent Versions System (CVS), Apache Subversion (SVN) and Microsoft Team Foundation Server (TFS), makes it easy to fully automate deployment in testing, staging and production
New unified roles and access control management capabilities enhance security and help ensure compliance with industry regulations
Support for deploying incremental application updates expedites the deployment process
New Application Management Database (AMDB) with API accessibility for integration with CMDB and other repositories
"UC4 Application Release Automation V2 adds the environment control, release planning, and dependency mapping that our enterprise customers need to handle the complexities of application deployment across the full DevOps lifecycle," said Andy Cureton, Partner at Forest Technologies, a consulting company specializing in IT automation solutions for financial services, healthcare and SaaS companies.
To learn more about UC4 Application Release Automation V2 product, join our Webinar, Three Steps to Unlocking Release Bottlenecks with Automation.
About UC4 Software
UC4 Software is the world's largest, independent IT Process Automation software company. UC4's ONE Automation platform delivers IT Process Automation for organizations facing increasingly dynamic applications and infrastructure, and those migrating to next generation service models for cloud, DevOps and big data. ONE Automation unifies workload, application release, application process, run-book, data transfer, and VM automation, with predictive analytics based on complex event processing technology. Unified process automation is proven to help IT Operations gain greater control and significantly improve both service delivery and cost savings.
With 25 years of experience, UC4 automates tens of millions of operations a day for over 2,000 customers worldwide. Rethink IT automation at www.UC4.com.
Casy Jones
Finn Partners for UC4 Software
312-329-3976
Email Contact


Copyright @ Marketwire
Page: 1
Related Keywords:
application release, workload automation, DevOps, IT-as-a-service, IT process automation, Applications, Productivity Applications, Security, Business Issues, Other Applications, Law & Regulations, Accessibility, Management, Austria, Marketwire, , Financial, Other,
---