Registration for Social Media Week Toronto 2012 is Now Open
The Annual Festival is Back With Even More Free Events for Attendees
(January 17, 2012)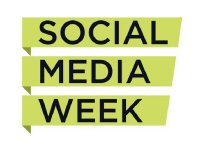 TORONTO, ONTARIO -- (Marketwire) -- 01/17/12 --
Editors Note: There is one video associated with this press release.
Registration for the free digital culture festival Social Media Week Toronto (SMWTO) happening Feb. 13-17 is now open. Anyone interested can sign up for one or more of the 70 events available on a first-come, first-served basis.
"This year's event is the largest one we've ever held," says Eli Singer, president and founder of Entrinsic, the agency producing SMWTO for the past three years. The number of events offered through SMWTO 2012 has grown by 40 percent since the previous festival ran just a year ago.
The week-long distributed conference held in different venues throughout Toronto has evolved in several additional ways this year: sponsorship support for the event has more than doubled since 2011; key media partnerships have been established for SMWTO; and each day of the festival has a unique theme.
"Social media and the digital screens of our lives are changing our world in fundamental ways. Be it collaborative or disruptive, our web world is affecting politics, business models, marketing, the family and our co-existence as a species," says Eli Singer, president and founder of Entrinsic, the digital culture and communications agency producing SMWTO. "We are very excited to be one of 13 international cities participating in what has grown to be the world's largest simultaneous multi-city conference," notes Singer.
Watch the globally produced video for SMW: Social Media Week.
Social Media Week Toronto Sponsors
Doubling in size, this year's sponsors include a wide range of participation from some of Canada's most digital-savvy companies.
At the theme sponsor level: Bank of Montreal (A Social Society), LinkedIn (Business and Information at Light Speed) and General Motors (Innovative Minds and technology).
At the event sponsor level: ComScore, Marketwire-Sysomos, and VIA Rail.
The festival's media sponsors are: The Globe and Mail, Marketing Magazine and Green Rabbit Media (official LiveStreaming partner).
About Social Media Week
Reflecting the global impact of social media - and its role as a catalyst in driving cultural, economic, political and social change in developed and emerging markets - Social Media Week is one of the world's most unique global platforms, offering a series of interconnected activities and conversations around the world on emerging trends in social and mobile media across all major industries.
In just under three years, Social Media Week has expanded to 21 cities, including New York, San Francisco, Los Angeles, Chicago, Toronto, Vancouver, Sao Paulo, Rio De Janeiro, Bogota, Buenos Aires, Mexico City, Istanbul, London, Paris, Rome, Milan, Glasgow, Berlin, Moscow, Beirut and Hong Kong. Starting in 2012, SMW is adding Tokyo, Singapore, DC, Hamburg and Miami.
Annually, SMW attracts more than 60,000 attendees across thousands of individually organized events, with half a million connecting to the conference online and through mobile.
"Social Media Week does not disappoint. It is a real-world manifestation of some of the best that new technology has to offer - ideas, strategies and insights shared by the people who are shaping the future," Ellen McGirt, Senior Writer, Fast Company.
Social Media Week is owned and operated by Crowdcentric Media LLC.
About Entrinsic
Entrinsic is a digital culture and communications agency. The Toronto-based company designs and executes tailor made strategies using cutting-edge research and analytics for clients that have included Google, BMO, MoMA, Rogers and the Bank of Montreal.
Community is embedded into the DNA of Entrinsic. For the third consecutive year the agency is producing Social Media Week Toronto, part of the global event Social Media Week - the largest simultaneous multi-city conference in the world. President and founder of Entrinsic Eli Singer is the Canadian Ambassador for the Webby Awards, the leading international honour for websites, interactive advertising, online film & video and mobile. Singer is also a member of the iMedia25 Class of 2011 Internet Marketing Leaders and Innovators, a list recognizing the accomplishments of key influencers in interactive marketing, who not only excel in their own business roles but are also able to execute on innovative ideas, share them with peers and consumers, and push this vital field to new levels of success and significance.
For the current event schedule visit: socialmediaweek.org/schedule.
To submit a presentation for SMWTO visit: http://socialmediaweek.org/submit-event/.
To view the video associated with this release, please visit the following link: http://www.youtube.com/watch?v=aXLIL0VMt1s.
Contacts:
For media inquiries contact:
Vivant Communications
Christina A. Marshall
416-686-4116
[email protected]
Twitter: @vivantcom

For sponsorship inquires contact:
Entrinsic
Amanda Lynne Ballard
(416) 537-5264
[email protected]
Twitter: @smwto


Copyright @ Marketwire
Page: 1
Related Keywords:
Social Media Week , Social Media Week Toronto , Entrinsic , social media , Eli Singer , SMW , SMWTO , Singapore, Hong Kong, Marketwire, , Film, Internet Technology, Biology, Genetics, Business, Internet, Politics, mexico, Family,
---