Reggae Rock Band Street Pharmacy Launches Founding Fan
Founding Fan Brings Fans "Inside the Tent" With Exclusive Music, Videos, Private Show and More
(May 28, 2012)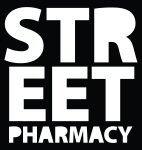 WELLAND, ONTARIO -- (Marketwire) -- 05/28/12 -- Reggae rockers Street Pharmacy today unveiled Founding Fan (http://buy.streetpharmacymusic.com), a new and unique way for fans to connect with the band "inside the tent."
Founding Fan offers a rich, multimedia fan experience built around the band's music. Members get first access to exclusive video and music content, a Soundcheck Pass to a private show where they can meet Street Pharmacy before upcoming concerts, and high quality, DRM-free copies of the band's entire back catalogue and the upcoming album "Alimony." They can even join the band as they record Alimony via live streaming video, and help shape the music in real-time by sending their suggestions on Twitter.
Exclusive new content will come online almost daily over the next few weeks, up to the release of Alimony in early June. All of this is available for just $10 at http://buy.streetpharmacymusic.com.
"We are really excited to offer fans so much more than a song or album," says band leader/vocalist/guitarist Ryan Guay. "Founding Fan is an experience. It's a new way for fans and the band to connect in a members-only area. We invite our loyal fans to come inside the tent, and new fans to join us for the ride."
Founding Fan picks up the direct-to-fan approach of comedian Louis CK's "Live at the Beacon Theater" special and takes it to the next level by bringing fans into the creative process, offering extra content, connecting via social media and more.
Founding Fan is powered by Waterloo's ArtBarn Media (http://artbarnmedia.com), a collective of media and technology industry professionals. ArtBarn Media leverages social media channels to innovatively engage consumers.
Join Founding Fan today at http://buy.streetpharmacymusic.com.
Media Passes
Founding Fan media passes are available for free to media, on request. If you are a member of the media, please send your request to don@hogarthpr.com.
About the Band
Street Pharmacy (www.streetpharmacymusic.com) is a four-piece reggae rock band hailing from Welland, Ontario. Led by Ryan Guay, the band has written and recorded four full length albums since its start in 2006 and has gained a cult following in much of Southern Ontario. Street Pharmacy offers a fresh sound that combines 90s alternative rock with reggae grooves and lyrical flow reminiscent of Golden Age Hip Hop. The band has a solid and growing fan base, with about 7,000 likes on Facebook, an album that achieved sales of 10,000 copies, and a Walk Off the Earth/Street Pharmacy YouTube video with 1 million views. Street Pharmacy was a recent co-winner of the popular MuchMusic series DisBAND. The band released its 4th album, Divorce, on the Handsome Boy/Fontana North label in late 2011 and plans to release a new album, Alimony, in June 2012.
Lead singer and songwriter Ryan Guay started Street Pharmacy right after he was released from a Hamilton mood disorder clinic. This came after the discovery that he had been misdiagnosed with schizophrenia following a physical illness that had caused brain swelling. Ryan began writing songs about these experiences, which also inspired the band's name. As a teacher in his native Welland, Ont., Ryan Guay goes the extra mile to share his knowledge and passion for music with students. A "School of Rock"-style music club he started released a single on iTunes to raise money for music education and was recently featured across Canada in National Youth Arts Week.
Street Pharmacy is...
-- Ryan Guay - Vocals / Guitar -- Nate Triano - Guitar -- Brandon Ventresca - Bass -- Dan Fretz - Drums
Upcoming concert dates:
-- June 1 - Springlicious, Niagara Falls -- June 3 - Hockeyfest, Brantford -- June 30 - Friendship Festival, Ft. Erie -- July 20 - Zooz, Niagara Falls (opening for Blue Rodeo)
http://www.facebook.com/streetpharmacy
http://www.myspace.com/streetfarmacy
http://www.youtube.com/streetpharmacymusic
http://twitter.com/StreetPharmacy
http://www.reverbnation.com/streetpharmacy
Contacts:
Hogarth Communications
Don Hogarth
416-565-8920
don@hogarthpr.com


Copyright @ Marketwire
Page: 1
Related Keywords:
Street Pharmacy , Broadcast, Streaming, Internet Media, Social Media, Canada, Marketwire, , Music,
---