Reduce Stress While Empowering Kids Battling Cancer? Yep, There's an App for That
Kids Kicking Cancer Launches Celebrity PSA Campaign and Free iPhone & BlackBerry Application to Share Stress- & Pain-Reducing Techniques
(April 01, 2011)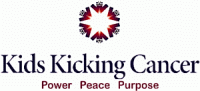 NEW YORK, NY -- (Marketwire) -- 04/01/11 -- Today the non-profit group Kids Kicking Cancer launched a public service campaign with the goal of empowering kids with cancer to share their stress- and pain-reducing techniques with the public. The campaign is centered around the the group's new "Breath Brake" -- a one-of-its-kind iPhone and BlackBerry app containing videos of the kids teaching techniques aimed at helping people to reduce stress in their everyday lives.
For 11 years, Kids Kicking Cancer has been using the teachings of martial arts to coach children with cancer or cancer-related illnesses. These children learn deep-breathing, relaxation and meditation skills that can help them through the pain of their illness. The martial arts they learn also gives them a sense of power, peace and purpose.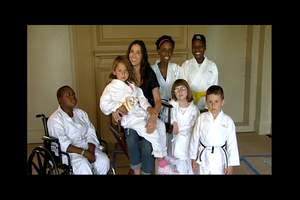 "The Breath Brake creates a unique circle of motivation, helping people to blow out the stressors in their lives while at the very same time helping young children in pain," says Rabbi Elimelech Goldberg, Founder and Director of Kids Kicking Cancer. "When our children know that they are helping others, they feel powerful and needed. We've used this feedback loop for years, and now these new technologies enable us to take the message to the world -- which is our goal."
Helping to share these teachings through a national public service campaign are some familiar faces -- Gerard Butler, Demi Moore and Miley Cyrus.
"I have learned so much from these kids during my work with Kids Kicking Cancer -- and am constantly in awe of their strength, determination and indomitable spirits," says Gerard Butler. "I am honored to be a part of this campaign to support these kids and raise the visibility of this organization so they can do more of this important work."
"The power breathing and meditation that Miranda has learned, she uses every time we go in for chemo. The needle stick that would have her screaming, she doesn't even feel now because she's able to relax," says Miranda's mother, Maria Wiggins. "Now, she's so excited to see that these skills she's been taught are going to be able to help other people. Especially Gerard Butler!"
How Does the Breath Brake Work?
After downloading the free Breath Brake application, users set an alarm to remind them to take the Brake. At the set time, a video of one of the KKC kids will play, talking them through a deep-breathing exercise to help relieve stress and achieve a state of calmness.
The children are then notified that they are bringing peace to peoples' lives, thereby giving them power and purpose knowing they are making a difference to others.
To download the "Breath Brake" application for either your iPhone or BlackBerry, please visit: www.kidskickcancer.org.
The campaign could not have been possible without the generous support of Kids Kicking Cancer's partners who, in addition to donating their expertise, continue to provide their support - Chamberlain Healthcare Public Relations, WestGlen Communications, Ignite Health, Sam Attisha and Joe Szacon.
About Kids Kicking Cancer
Kids Kicking Cancer, a 501(c)3 nonprofit organization, was founded by Rabbi/Professor Elimelech Goldberg, known as Rabbi G to his students, who is both a black belt in the martial arts and a father who lost his first child to cancer in 1983. Rabbi G created the Kids Kicking Cancer program after serving for 12 years as the Director of a New York based summer camp for children with cancer.
KKC provides a range of services, not only for the kids, but by the kids to fulfill its mission to ease the pain of very sick children while empowering them to heal physically, spiritually and emotionally. In addition to providing weekly classes for children, both inpatient and outpatient, in the mind-body techniques found in the martial arts, Kids Kicking Cancer also instructs the parents, siblings and the medical personnel in these methods. Our instructors are invited to accompany their students and further assist them in the hospital rooms and clinics as they undergo painful procedures such as spinal taps and bone marrow aspirations.
Kids Kicking Cancer, with assistance from the Centers for Disease Control, has also created a stress seminar for companies called the HR Toolbox, in which the KKC kids teach adults their breathing, meditation and imaging techniques.
Embedded Video Available: http://www2.marketwire.com/mw/frame_mw?attachid=1537091
Image Available: http://www2.marketwire.com/mw/frame_mw?attachid=1537093

Add to Digg Bookmark with del.icio.us Add to Newsvine
Media Contacts (Chamberlain Healthcare Public Relations):
Glenn Silver
212-884-0646
[email protected]

Nancie Steinberg
212-884-0667
[email protected]


Copyright @ Marketwire
Page: 1
Related Keywords:
Kids Kicking Cancer, Demi Moore, Miley Cyrus, iPhone, Blackberry, App, Children Cancer, Breath Brake, Marketwire,Apple Computer,Disease,healthcare,Children,Sports,Healthcare,Silver,Celebrities,Medical,Cancer,Martial arts,Adults,Children,Parents,Other,
---