Redknee Expands Cloud Offering With Windows Azure
Further Investment in Microsoft's Cloud Platform Brings Greater Agility to Redknee's Cloud-Based Converged Billing Solutions
(January 31, 2012)

TORONTO -- (Marketwire) -- 01/31/12 -- Redknee Solutions, Inc. (TSX: RKN), a leading provider of business-critical billing, charging and customer care software and solutions for communications service providers, is pleased to announce that it is expanding its strategic alliance with Microsoft Corp. to support Redknee's strategy to deliver on-premise, private cloud, and public cloud-based converged billing solutions. The integration of Redknee's real-time converged billing platform to Windows Azure will reinforce the commitment by Redknee and Microsoft to develop solutions that deliver greater scalability and agility while reducing capital expenditure for communications service providers across the world.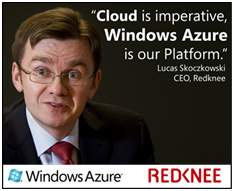 Redknee's expanded cloud offering will enable service providers in competitive and fast growing markets to invest in a real-time converged billing and customer care solution based on the open and scalable Windows Azure public cloud. It will bring additional flexibility to Redknee's multi-tenant converged billing solution, which enables service providers to scale as required with a 'pay as your grow' model and minimizes risk. Redknee's cloud solution is supporting the growth of group operators, Tier 1 sub-brands, MVNOs, and MVNEs by enabling them to reduce CAPEX, standardize their billing operations, and launch into new markets quickly and effectively.
Lucas Skoczkowski, Redknee's CEO, commented: "Redknee's commitment to invest in Windows Azure reiterates our common goal with Microsoft to deliver solutions for communication service providers that empower them with greater business agility. This joint solution provides exceptional flexibility for service providers that lower the barriers to entry for next generation converged billing solutions by taking advantage of the benefits of the cloud. At Redknee, we continue to invest in developing cloud-based and on-premise monetization solutions to enable service providers to increase revenues, improve the customer experience and grow profitability."
The pre-integration of Windows Azure follows earlier investment by Redknee to pre-integrate its converged billing solution with Microsoft SQL Server 2012, formerly code-named "Denali," and Microsoft Dynamics CRM 2011.
Walid Abu-Hadba, Corporate Vice President of the Developer & Platform Evangelism Group at Microsoft, commented: "We are delighted to see Redknee launching a cloud strategy for the communications service provider community, with Windows Azure at its core. Microsoft's cloud platform delivers greater business agility to service providers, while significantly reducing capital expenditure so that they can focus on their core business. With this commitment to Windows Azure, Redknee advances its vision of creating a suite of agile, flexible solutions for communications service providers. Redknee's adoption of Windows Azure highlights the scalability, the reliability and the performance of the Microsoft cloud platform. Together we are ready to meet the most demanding needs of telecommunications service providers around the world."
For more information about Redknee and its solutions, please go to www.redknee.com.
About Redknee
Redknee is a leading global provider of innovative communication software products, solutions and services. Redknee's award-winning solutions enable operators to monetize the value of each subscriber transaction while personalizing the subscriber experience to meet mainstream, niche and individual market segment requirements. Redknee's revenue generating solutions provide advanced converged billing, rating, charging and policy for voice, messaging and new generation data services to over 90 network operators in over 50 countries. Established in 1999, Redknee Solutions Inc. (TSX: RKN) is the parent of the wholly-owned operating subsidiary Redknee Inc. and its various subsidiaries. References to Redknee refer to the combined operations of those entities. For more information about Redknee and its solutions, please go to www.redknee.com.
Image Available: http://www2.marketwire.com/mw/frame_mw?attachid=1870776

Add to Digg Bookmark with del.icio.us Add to Newsvine
For additional information please contact:

Redknee Solutions:
Ashleigh Young, Corporate Communications
+1 905 625 2733
David Charron, Chief Financial Officer
+1 905 625 2943

Investor Relations:
Matt Glover or Michael Koehler
Liolios Group, Inc.
+1 949 574 3860


Copyright @ Marketwire
Page: 1
Related Keywords:
Redknee Solutions, Inc., Business Issues, Cloud Computing, Public cloud, Marketwire, Inc., , Financial, Business,
---