RealtyPartner: Our Real Estate Market Still Isn't Looking Too Good
(May 21, 2011)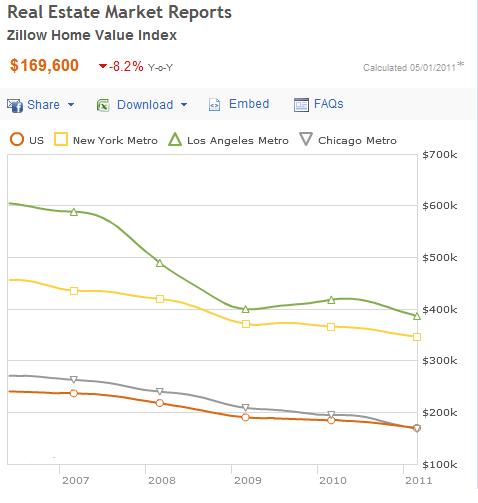 New York, NY (PRWEB) May 21, 2011
The U.S. housing market has officially entered a double-dip recession. The housing market continues to under perform. The real estate values is still on the decline. Today, prices are on the verge of reaching new lows. The prices are pushed down due to the abundance of foreclosed homes on the market.
"Last year, the US real estate market showed signs of improving. Some economists forecast that housing would hit the bottom later this year. I for one beg to differ on the outlook." -- Mark Quinones, RealtyPartner's Chairman and Founder.
Now, let's take a look at these facts from RealtyPartner's Research & Development:

11.4% of all U.S. homes (or 18.4 million homes) are vacant.
30% of the borrowers owe more than what their homes are worth
Real estate value fell by 3% in the 1st quarter, compared to the previous quarter
Mortgage companies Fannie Mae and Freddie Mac have sold more than 94,000 foreclosed homes during the first quarter, a new high (a 23% increase compared to the previous quarter)
In some cities, prices are half of what they were before the housing market collapsed in 2006 and 2007.
Over 4.5 million households have missed three monthly payments or are already in the process of being foreclosed upon.
The steep decline in home prices along with mortgage rates near their lowest levels in decades have helped make housing more affordable than at any time in the past 30 years.
Unfortunately, many potential buyers who could qualify for loans are worried that prices will fall further. Home owners are hesitant to put their own homes on the market when prices are dropping.
Many mortgage lenders have tightened their lending standards, thus discouraging potential home buyers from entering the market. During the boom, unqualified borrowers can easily receive loans. Now with the tight mortgage standards, people who can afford the loans cannot get them easily.
Hence prices are going to drop down to a level where only people with cash money can get them.
Businesses are not hiring and banks are not lending. Building permits are also at historic lows. Builders cannot get loans to build them.
The real estate market won't be able to recover, unless the millions of foreclosed homes are off the market. Unless the unemployment rate drops below the 10% mark, there would not be enough people who can qualify for a home mortgage.
Thus, the current glut of homes for sale uses will remain.
The combination of high supply and low demand is bad for the American housing market. It is unreasonable to expect home values to return to stability by the end of this year. It could be a very long time before the domestic real estate market stabilizes and moves to the upside. In a survey, some 54% of Americans believe a recovery is at least another two and a half years away.
# # #
Read the full story at http://www.prweb.com/releases/realtypartner/real_estate/prweb8468508.htm.
Page: 1
Related Keywords:
society, family, family planning, economy, business and finance, financial and business service, business enterprises, business (general), government aid, government debt, government contract, government health care, government, national government, government departments, non government organizations (NGO), computer crime, plastic art, entertainment award, entertainment (general), arts (general), arts, culture and entertainment
---