RadioFlag Launches Effort to Network Live Radio Listeners in Real Time, Looking to Re-Establish Traditional Radio as the Original Social Media
(March 31, 2011)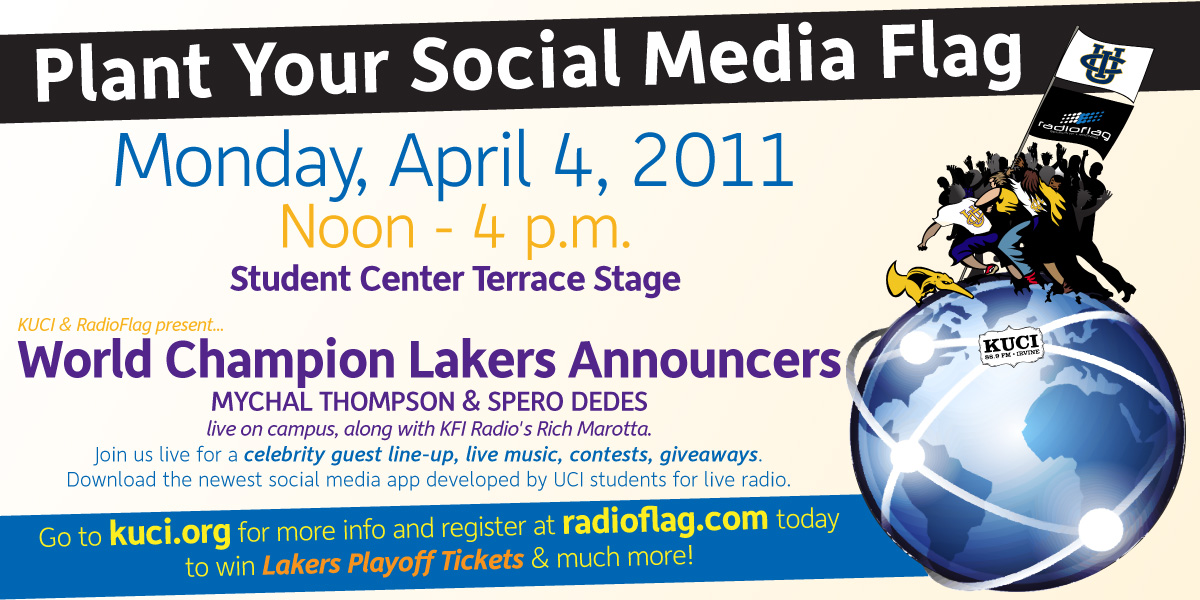 Irvine, CA (PRWEB) March 31, 2011
RadioFlag goes live on Monday, April 4th, 2011, with its first version of their labeled Selective Listening experience. The launch event will be broadcasted on the air and streamed live on the internet exclusively from station KUCI 88.9 FM (http://www.kuci.org), from the campus of University of California, Irvine, from 12pm to 4pm. Special guest radio broadcasters will be co-hosting the event. In person and phone in celebrities will also make appearances. RadioFlags first version launch includes their web and free mobile applications.
RadioFlag offers real time, online social interaction between members of a live radio audience, by networking a massive community of listeners here in the U.S. to start. Here you will be introduced to fellow listeners who share your present interests, and others who will open your ears to new, fresh and exciting content and ideas, where together you can share them on a focused and personalized level.
RadioFlags live radio content search engine, powers its web and smart phone software applications, filtering on air content, by searching broadcasts and delivering to listeners, via its proprietary and powerful social network, the music, live interviews, information, news and entertainment they most desire... from the broadest topic and category to the most niche and obscure. Real time conversation between listeners will buzz around each broadcast.
Traditional radio is alive and thriving despite what the upstarts want you to believe, says RadioFlags founder, Anthony Roman. Social media applications to a large degree have ignored broadcast radio until now, so we intend to give it and its 239 million listeners in the U.S. alone, the respect they deserve. We are proud to have KUCI , one of Americas most innovative stations officially introduce us to the social media scene.
RadioFlag was developed by a team of creative and passionate radio listeners, who are also accomplished professionals from the fields of business, technology and the broadcast industry. The self funded company began development in May of 2010. The 18 member team believes no medium is better positioned than radio to empower and enlighten people by entertaining and informing them. Today's many entertainment options, and fast moving - changing events and issues, make RadioFlag a must have! Roman mentioned that in addition to already being exposed to new music, he also first heard of the devastating earthquake in Japan through their own RadioFlag Android application, when only being used by a very limited number of beta testers.
RadioFlags applications connect listeners using flags based on their favorite music, interests, topics, favorite stations, shows, hosts, fellow listeners, etc A users flags can also be shared through email and with Facebook and Twitter. The listener driven applications will initially be available on the web, Android and iPhone platforms. The applications can also be accessed on the iPad and iPod Touch. Additional platforms are already in development. The links to these applications will be on the RadioFlag website (radioflag.com). The company is adding stations to its database daily, which will also soon include independent internet only live stations and international stations. Satellite radio is also part of the companys plan. APIs will also soon be available to listeners to submit stations they want added.
About RadioFlag
RadioFlag, was founded in April 2010, in Irvine, CA. RadioFlag creates applications to filter broadcasts and deliver to listeners a Selective Listening experience by connecting fellow listeners though a social network interface. The RadioFlag logo depicts two flags the one in blue representing socially connected listeners and the other in white - the broadcasters they tune into. For more information, visit http://www.radioflag.com.
About KUCI
KUCI (kuci.org) founded in 1969, is one of the nations most cutting edge stations, being one of the very first to offer online streaming all the way back in 1996, and is run by an all volunteer staff. They consider themselves the voice of freedom for all independent music that gets snubbed by the major labels, and encourage expression of all kinds . examining subjects mainstream radio won't. In addition to featuring the most prominent authors, academics, artists and activists of our time, some artists first heard on KUCI before hitting commercial radio include: Depeche Mode, The Pretenders, Elvis Costello, The Cure, Red Hot Chili Peppers, Metallica, No Doubt, The Cult, Nirvana, Pearl Jam, U2, The Police, The Beastie Boys, etc
###
Read the full story at http://www.prweb.com/releases/RadioFlag/Social-Radio-App/prweb5210404.htm.
Page: 1
Related Keywords:
economy, business and finance,financial and business service,business enterprises,business (general),restraint of trade,international (foreign) trade,trade dispute,trade agreements,trade policy,trade balance,computing and information technology,satellite technology,wireless technology,science and technology,technology (general),identification technology,agricultural research and technology,radio,fishing industry,cinema industry,radio industry,television industry,music industry,process industry,mass media,news media,media,social security,
---